Neighborhood Spotlight: Union Square
Laura Schier
| April 13, 2018 | Published in
Neighborhood News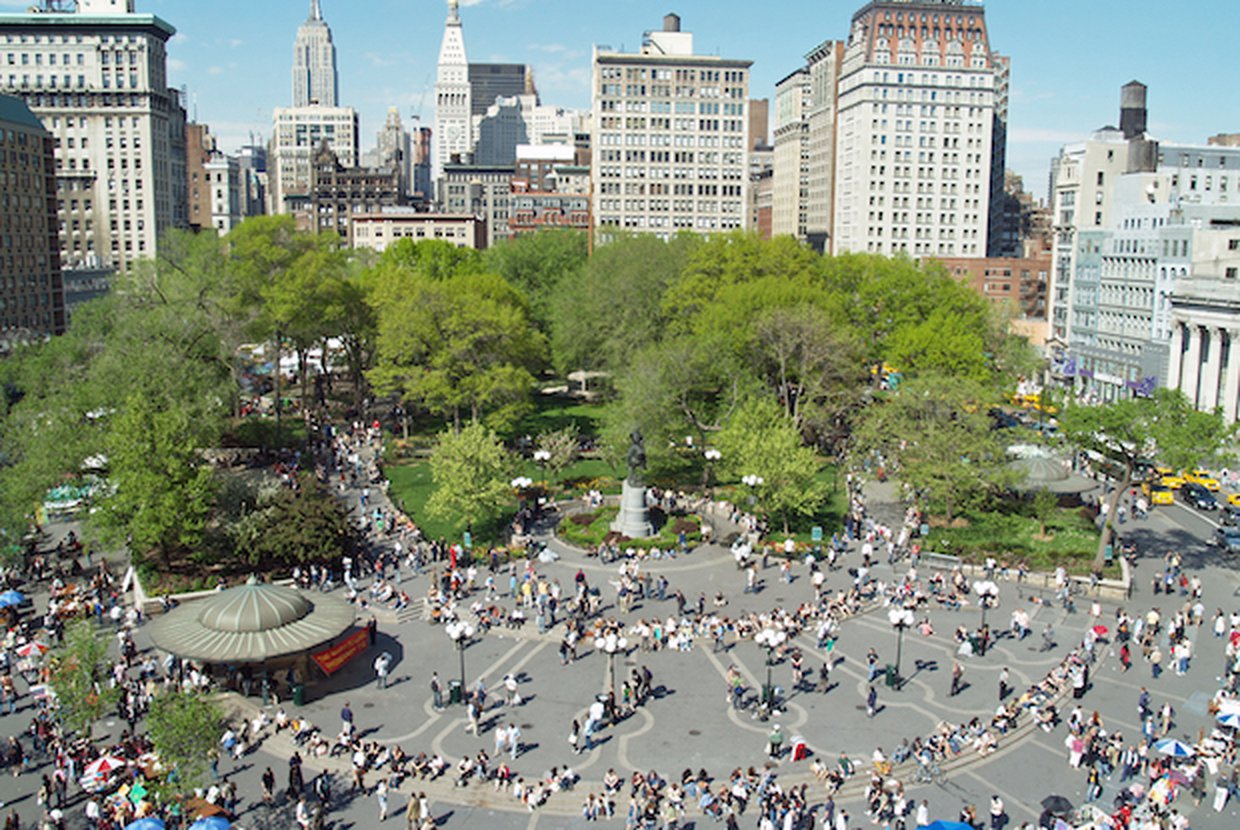 Union Square is not only one of NYC's busiest spots, but one of its most unique and trendy areas as well. From galleries and music venues to the long-running farmers market, Union Square boasts a variety of scenes and creative activities, not to mention a scenic park and convenient location.
Neighborhood visitors and residents can enjoy indoor and outdoor art throughout the area. One prominent work of art in Union Square is the Metronome and Countdown Clock, installed by artists Andrew Ginzel and Kristin Jones. This giant clock looks over 14th Street and shows time in a 24-hour format, displayed by LED numbers. Some other well-known displays located in Union Square Park include a statue of Mohandas Gandhi, created by Indian artist Kantilal Patel, and life-size sculptures of George Washington and Abraham Lincoln, created by Henry Kirke Brown. Located on the east side of the park is the Talwar Gallery, where visitors can view works of art created by painters, sculptors, and other artists from the South Asian diaspora and the Indian subcontinent.
Food-lovers visiting Union Square can enjoy the world-famous Union Square Greenmarket. During peak season, 140 regional fishers, farmers, and bakers sell a wide variety of products such as award-winning farmstead cheeses, fresh fruits and vegetables, heritage meats, artisan bread, pickles, jams, ciders, and maple syrup, to name a few. Around 60,000 market-goers will visit the Greenmarket on a typical market day, and can learn about seasonality, try samples, and watch cooking demonstrations by some of NYC's best local chefs.
Union Square Park, the center of the neighborhood, spans from 14th Street to 17th Street, and from Union Square East to University Place. The park, which has existed for almost 170 years, is a hub for recreation and entertainment, as well as labor and political events. The park's lush grounds and winding paths were inspired by London's elegant residential squares. Union Square Park officially opened in 1839, and gradually became an important residential and commercial center as hotels, stores, offices, houses, manufacturing establishments, and cultural facilities such as theaters and music venues sprang up in the surrounding area. In 1871 the park was redesigned by architects Frederick Law Olmsted and Calvert Vaux, who planted more trees, widened the paths, and removed the fence and hedge which enclosed the park, thus creating a more open space. Over a century later, in 1985, the park underwent significant renovations as well. The park's redesign included relocating the paths to make the park more easily accessible to the public, installing two subway kiosks and new lighting, creating a plaza on the south side of the park, and planting a central lawn. Today, Union Square Park is the perfect spot to listen to music played by bands and park musicians, check out a variety of vendors selling anything from rare books to jewelry, or just sit on one of the park benches and admire the view.
"When people ask me where to go to experience the full vibrancy of Manhattan, I tell them to walk around Union Square Park. The energy radiating from the park is undeniable. There's this incredible fusion of different cultures, arts, music, and performers that you don't see anywhere else. You'll see people from all walks of life gathered together," said Elegran Real Estate Agent Brett Michaels.
Union Square stretches from East 13th Street to East 18th Street, from Fifth Avenue to Irving Place. The area is easily accessible; the L, N, Q, R, 4, 5, and 6 subways all stop at the 14th Street Union Square Station, and numerous buses have routes that pass through the area as well. Information on apartments for sale in the Union Square neighborhood and surrounding areas can be found here.