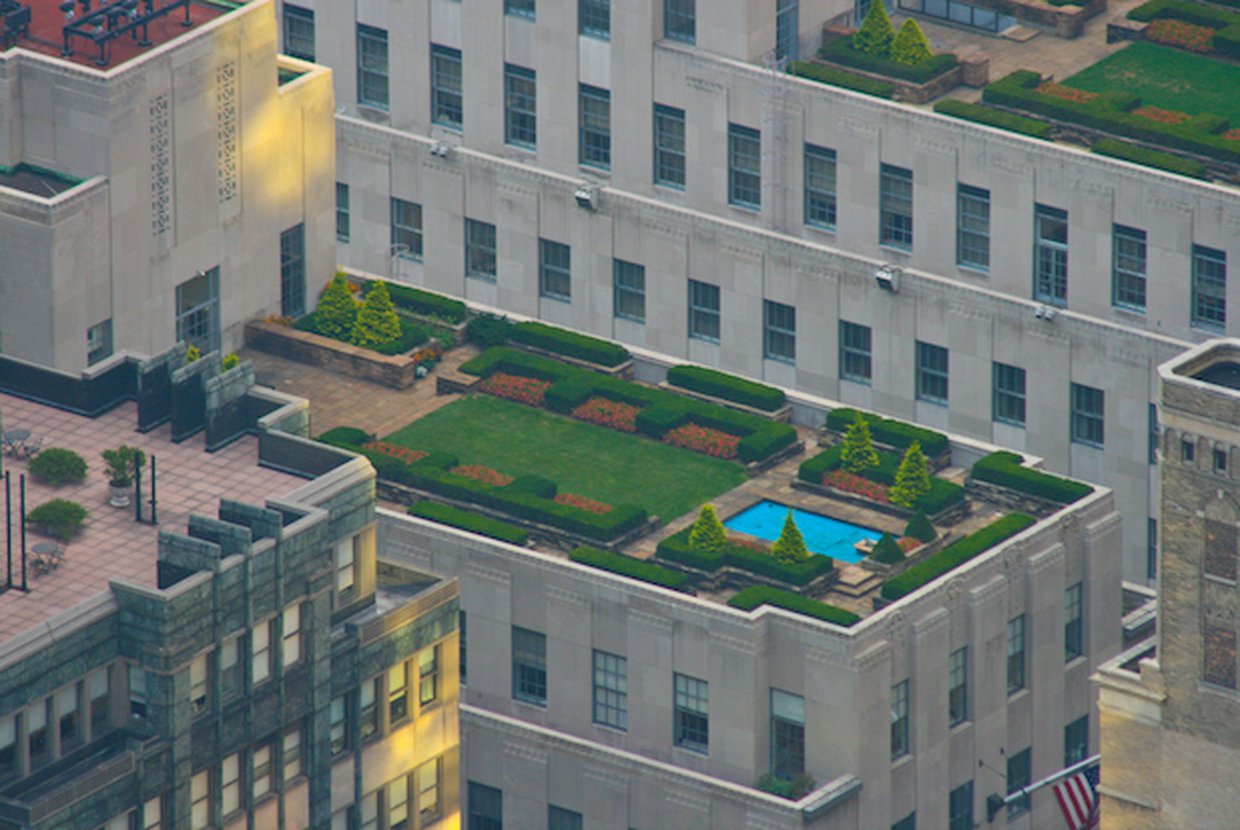 Last year, the Department of Buildings reversed its crackdown on rules involving apartment rooftops and has become more lenient regarding how residents can use the space. Before this reversal, there were restrictions on creating rooftop amenities, but now residents with access to their roof are free to make the most out of the space they have. With that in mind, here are some ways to transform your Manhattan rooftop into the perfect place to relax and unwind after a long day. Note that when planning to transform your rooftop, it is important to make sure you're following your building's guidelines and regulations.
1. Garden
Creating a garden is the perfect way to turn your rooftop into an urban oasis. If you have limited space, acquiring vertical plants such as vines, hedges and small trees could be the perfect way to go. You can add some multifunctional furniture as well, such as small benches with storage space to hold gardening tools.
An important factor to consider before creating a rooftop garden is the roof's microclimate. Whether the roof has access to water is something to take into account, as well as whether there is a good drainage system and if there are any big objects on the roof that cast a lot of shade. Not to worry though, there are workarounds to all of these issues. If there is not much access to water, try to stick to container-based plants and use sub-irrigated containers which easily hold and retain water below the soil. These will also help if there is no good drainage system as they will prevent damage to the rooftop when it acquires puddles. And if your roof doesn't get much sunlight, stick to plants that can easily grow in the shade, such as apricot trees.
2. Terrace
You can't go wrong with a rooftop terrace. Having a place to relax and enjoy the view of the city can make for a perfect end to the day, and you can easily personalize your terrace to give it the perfect atmosphere. Adding some seats and a coffee table to your rooftop is a simple way to enjoy the space. Additionally, planting some tall grasses for privacy and shade and throwing in a small fountain to help drown out the traffic will maximize relaxation and comfort. You can turn your rooftop into a living area with an all-weather sofa and a rug, or you can go a different route and add chaise longues for a sunbathing area.
If your rooftop has a lot of space, you can designate multiple areas for different functions. For instance, you can create a dining area with a table and chairs in one area, and a mini greenhouse for growing vegetables in another; the possibilities are endless.
3. Farm
With the right tools and preparation, you can have your very own rooftop farm in the middle of the concrete jungle. By installing raised beds and using lots of soil, you can plant fresh flowers, vegetables, herbs, or the plants of your choice. And you can check out some of NYC's best rooftop farms for inspiration, such as the Brooklyn Grange and Eagle Street Rooftop Farm, which invites residents to visit its market and try out some farm-fresh vegetables once a month, for free.
4. Theater
A rooftop theater is perfect for entertaining friends or simply enjoying a relaxing night at home. Install an outdoor screen of the size you choose, or simply hang up a white sheet to use as your screen and invest in a projector. Next, add a comfortable seating area with cushions, sofas, a and rug. To make the area more easily accessible at night and give it a calm, cheerful vibe, add some string lights or lanterns. For the colder weather, you could add some blankets, and even consider using an outdoor heater.
If all of this seems like too much work, you can always search for a new NYC home in a building that has a landscaped rooftop lounge as one of its luxury amenities.