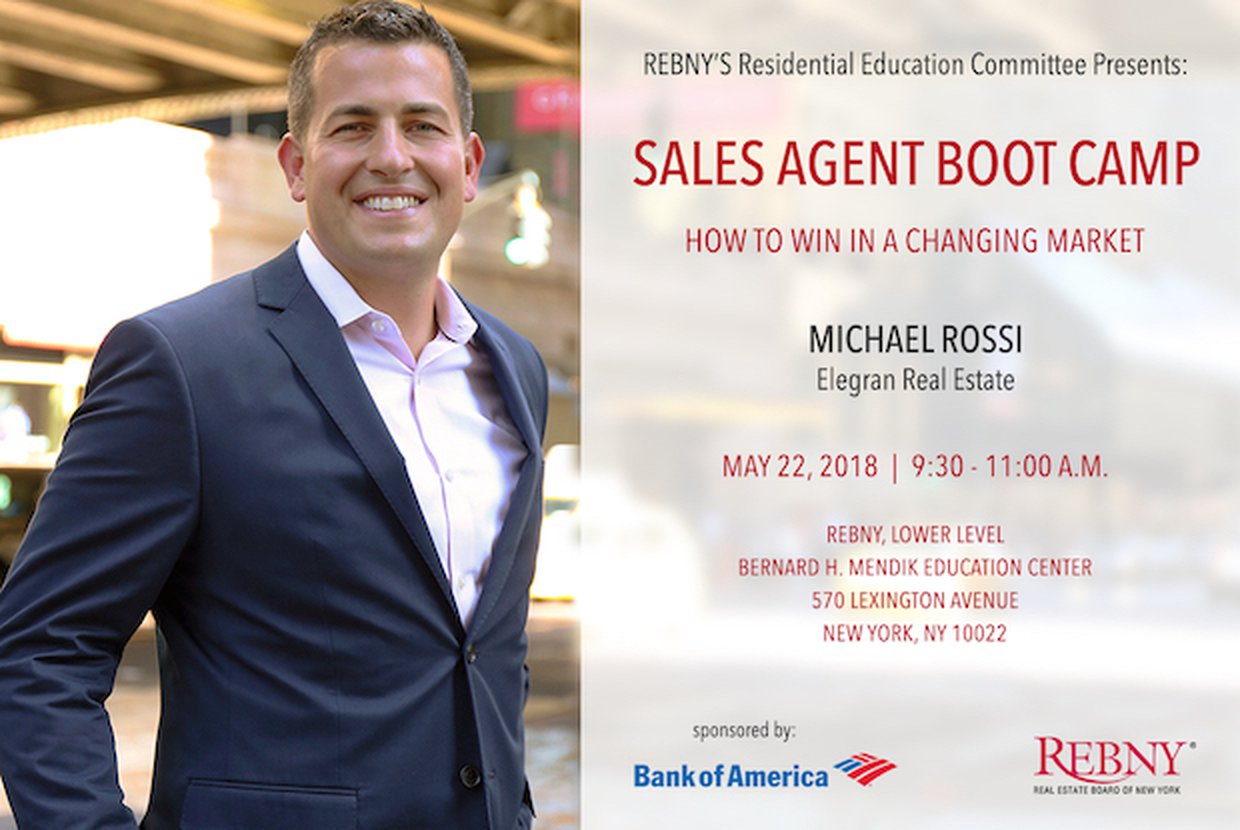 Next week, Elegran founder and CEO Michael Rossi will be a featured speaker at the Real Estate Board of New York (REBNY) quarterly Sales Agent Boot Camp. The title of the event is "How to Win in a Changing Market" and Michael will be sharing the qualities of a successful modern NYC brokerage which include a collaborative culture, a focus on creating efficiencies through innovative technology, and a dedication to providing professional development, coaching and support.
The REBNY Sales Agent Boot Camp is a free seminar offered to REBNY members who have been licensed for three years or less. The topic changes each year, but they are always presented by real estate experts who are committed to helping new agents succeed. This is the perfect fit for Michael, who has spent a large portion of his career mentoring agents who are new to the industry and paving a path to help them generate four times the revenue of a traditional Manhattan real estate salesperson.
"I've received a lot of support from the amazing agents at Elegran who have allowed me to shadow them and brought me in to help with deals. I also think that one unique thing about Elegran is how accessible the CEO Michael Rossi is, even to new agents who haven't been fully integrated into the industry yet," said Elegran agent Anna Carlson.
People are the heart of Elegran's strategy; identifying talented agents, fostering professional development and empowering them with the tools they need to succeed. These tools include Elegran's proprietary technology suite which not only helps agents procure clients but also manage their time more efficiently, allowing them to provide superior service and generate more revenue.
Under Michael's leadership, Elegran has developed a reputation for being one of the most tech-forward companies in the real estate industry. In 2017, Inman News named Elegran the "Most Innovative Brokerage in the Country."
The REBNY Sales Agent Boot Camp event will be held Tuesday, May 22 from 9:30-11:30.