New Frontiers and Silver Linings: The Real Deal's 11th Annual New York Real Estate Showcase and Forum
Julia Troy
| May 21, 2018 | Published in
Real Estate Market Trends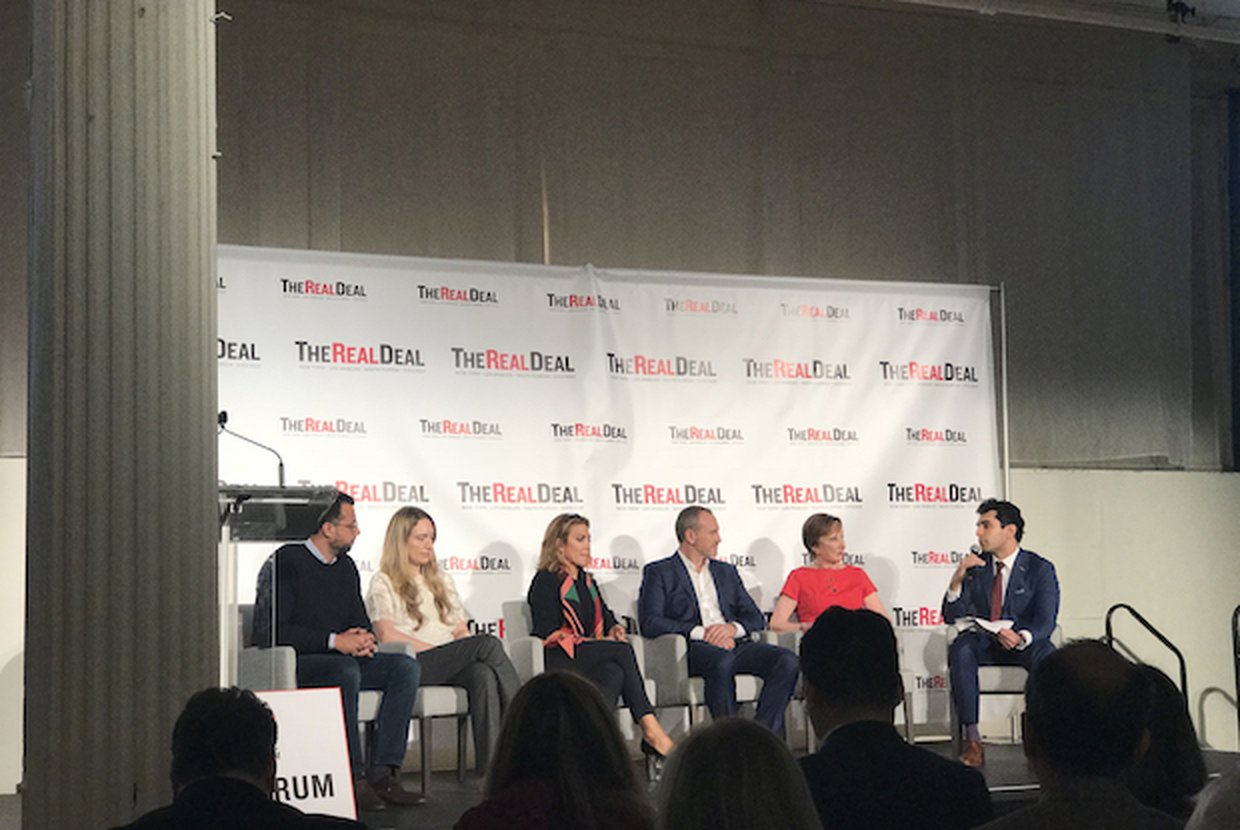 Last Monday, members of the Elegran team attended The Real Deal New York Real Estate Showcase and Forum, an annual event that brings together some of the biggest names in NYC real estate to discuss the past, present, and, most importantly, the future of the market. This year, panelists included Bess Freedman, Co-President of Brown Harris Stevens, Shaun Osher, Founder and CEO of Core Real Estate, Marty Burger, CEO of Silverstein Properties, and Andrew Heiberger, Founder and CEO of Town Residential.

While the panelists discussed and debated a wide range of topics related to the New York residential market, one question that continued to arise was "can the traditional residential brokerage succeed in today's industry?" In the end, the answer was a resounding "yes."
Exploring New Frontiers

The first panel of the day was titled "New Development Frontiers" and explored the influx of new developments that have risen and are planned to rise in NYC. Panelists Marty Burger, Ken Horn, President of Alchemy Properties, Bently Zhao, Chairman and CEO of New Empire Real Estate and Development, and Ziel Feldman, Chairman and Founder of HFZ Capital group, addressed concerns surrounding whether NYC actually needs all of the new developments that are currently under construction. They agreed that while it may seem like there is an overabundance of new office space, when you compare NYC to the rest of the world it is merely a drop in the bucket.
"If you look at London in the last 20 years, London's replaced 50 percent of their stock with new office space. If you go to Hong Kong, that number is 80 percent. If you go to New York that number is 7 percent," said Silverstein Properties' CEO Marty Burger, quoted by The Real Deal.
In regards to new residential development, the panelists sang the praises of famed architects like Bjarke Ingels and Robert A.M. Stern, explaining that their designs consistently attract buyers, no matter how many new Manhattan buildings bare their signature touches.
In the end, Ziel Feldman expressed confidence in the future of the residential market stating that regardless of market conditions, "people still always want to come live in NYC."
The Talk of Town
Immediately following the first panel was a much-anticipated discussion between Andrew Heiberger, founder and CEO of Town Residential and Real Deal publisher Amir Korangy. Town recently shuttered its sales and leasing business, a seemingly sudden move that sent shockwaves throughout the NYC real estate industry.
Korangy began the discussion by asking Heiberger when he knew the moment had come to close up shop. Heiberger said that the final blow came the night before the decision when he was examining Town's first-quarter figures and realized that they were way off from what had been projected and that the outlook for the next three quarters was just as bleak.
This move followed months of the CEO trying everything he could to keep the business afloat, from closing offices in Brooklyn and Queens to reducing salaries. But despite the fact that Town had closed more than $13.5 billion in real estate deals since opening in 2010, Heiberger found that his business model was unable to keep up with the modern NYC market.
"I don't think the traditional brokerage model is sustainable," said Heiberger, quoted by The Real Deal. "We've been disrupted."
He repeated this sentiment throughout the course of his talk with Korangy, stressing the belief that traditional brokerages cannot compete in a market where fixed costs and commission splits are constantly rising. Panelists at the next forum, however, seemed to disagree.
Residential Silver Linings
Following Heiberger's talk was a panel titled "Residential's Silver Linings Playbook" which featured Diane Ramirez, CEO of Halstead Property, Bess Freedman, co-president of Brown Harris Stevens, Douglas Elliman's Raphael De Niro, CORE CEO Shaun Osher and Warburg Realty president Clelia Peters.
These panelists held a much more positive view of the current state of the traditional NYC brokerage firm, with Shaun Osher stating that the traditional brokerage model is "sustainable if it's run correctly," adding that there are still many great opportunities for agents out there, as long as they put in the effort and become experts in the product, a statement that the rest of the group seemed to be in accordance with.
After the panel ended, we had the opportunity to briefly speak with Bess Freedman, who confirmed that she shared Osher's view of the current state of traditional NYC brokerage firms.
"The traditional residential brokerage is not dead," said Freedman. "This is a very exciting time in the NYC market and there are lots of deals still to be done."
Elegran shares Freedman's outlook. We do believe, however, that the traditional brokerage will continue to undergo market pressures as the industry experiences change. Elegran has been able to win market share during this exciting time by leveraging our proprietary technology suite to help our agents generate four times the revenue of the average NYC real estate salesperson. At Elegran, we believe that identifying and fostering talent, maintaining a collaborative culture, and giving agents the tools they need to succeed are the best ways to remain a prosperous modern brokerage. The tools we provide our agents empower them to work more efficiently, allowing them to focus on building relationships and going above and beyond for their clients.