Developers to Bring New Rental Building to the Revamped Bedford-Union Armory
Laura Schier
| June 26, 2018 | Published in
Urban Design
,
Neighborhood News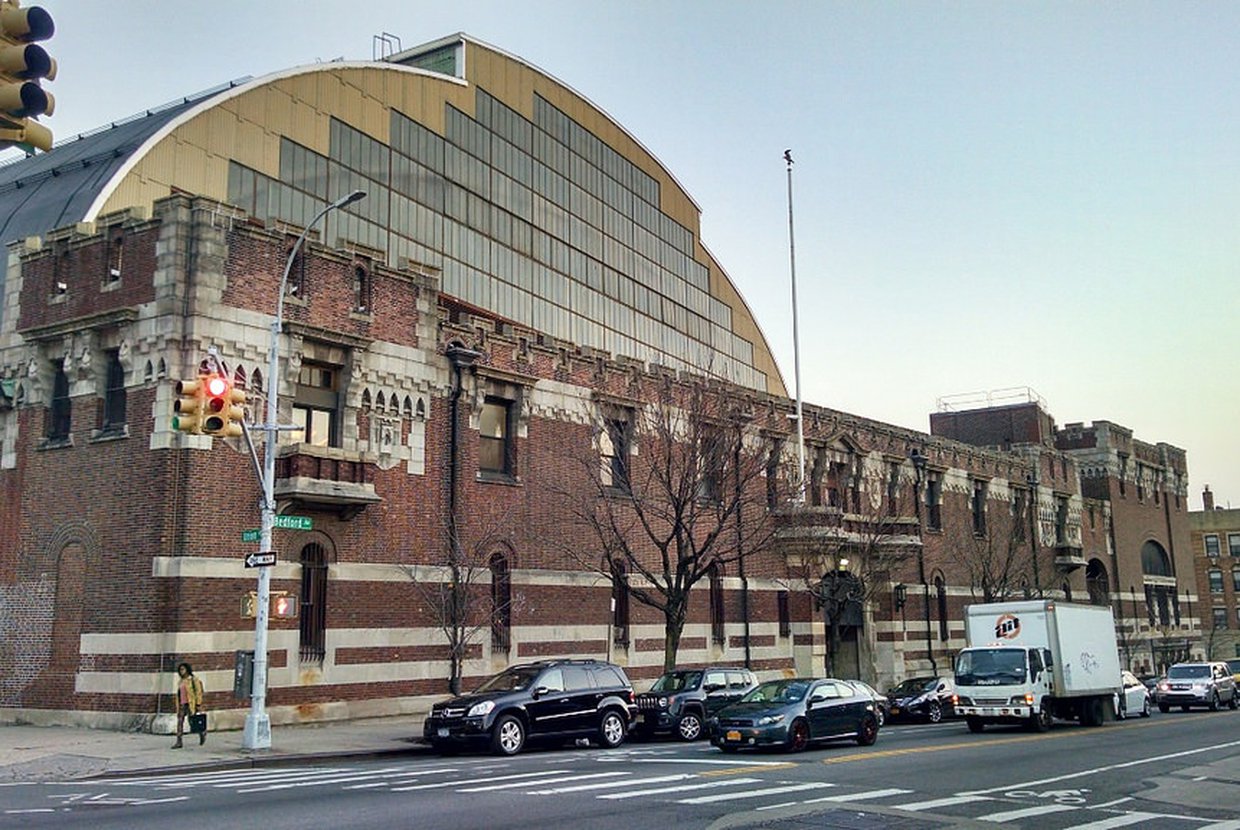 Development company BFC Partners has recently filed permits to construct a second building in Crown Heights' Bedford-Union Armory, which has been in the process of undergoing a major revamp. BFC submitted the plans for the building on June 14, and the developer is still waiting for approval of a state Supreme Court judge.
The residential building will be located on President Street between Bedford and Rogers Avenues, and, if plans are approved, will have eight stories and 60 apartments. The building is one of two rentals in the complex, which will offer both affordable and market-rate housing and all 60 of its apartments will fall into the "affordable" category. These apartments will be offered to individual and family residents who make 30 to 60 percent of the median income in the neighborhood. Additionally, 25 units will be exclusively offered to formerly homeless individuals. Some features of the residential tower include a recreation space in the basement and storage space for 35 bicycles, as well as an inpatient medical service on the ground floor offering treatment on a "broad care" spectrum.
The tower will be constructed on the site of the military complex's former stable wing, which held over 100 horses in the 19th century after the armory was constructed. The stable is the only historic structure on the site planned to be entirely demolished during the armory's redevelopment, according to BFC spokesman Sam Spokony.
Originally, the eight-story building was going to contain luxury Brooklyn apartments, but the plans were changed due to numerous critics, as well as to gain the necessary support of Crown Heights Councilwoman Laurie Cumbo. Although this tower's apartments will all be affordably priced, there will also be 165 market-rate apartments situated in the revamped armory. These, along with the rest of the affordable housing apartments, will be located in the second residential tower, which is planned to rise to 15 stories. Plans for the second tower were originally rejected by the city's Department of Buildings after being submitted by BFC back in March, but the developer's architects are currently working on its redesign and are scheduled to file new plans soon.
BFC is planning to give the armory a complete transformation as well, according to The Brooklyn Paper. New amenities of the complex will include an affordable public recreation and event space, featuring fitness facilities, a swimming pool, and basketball courts.