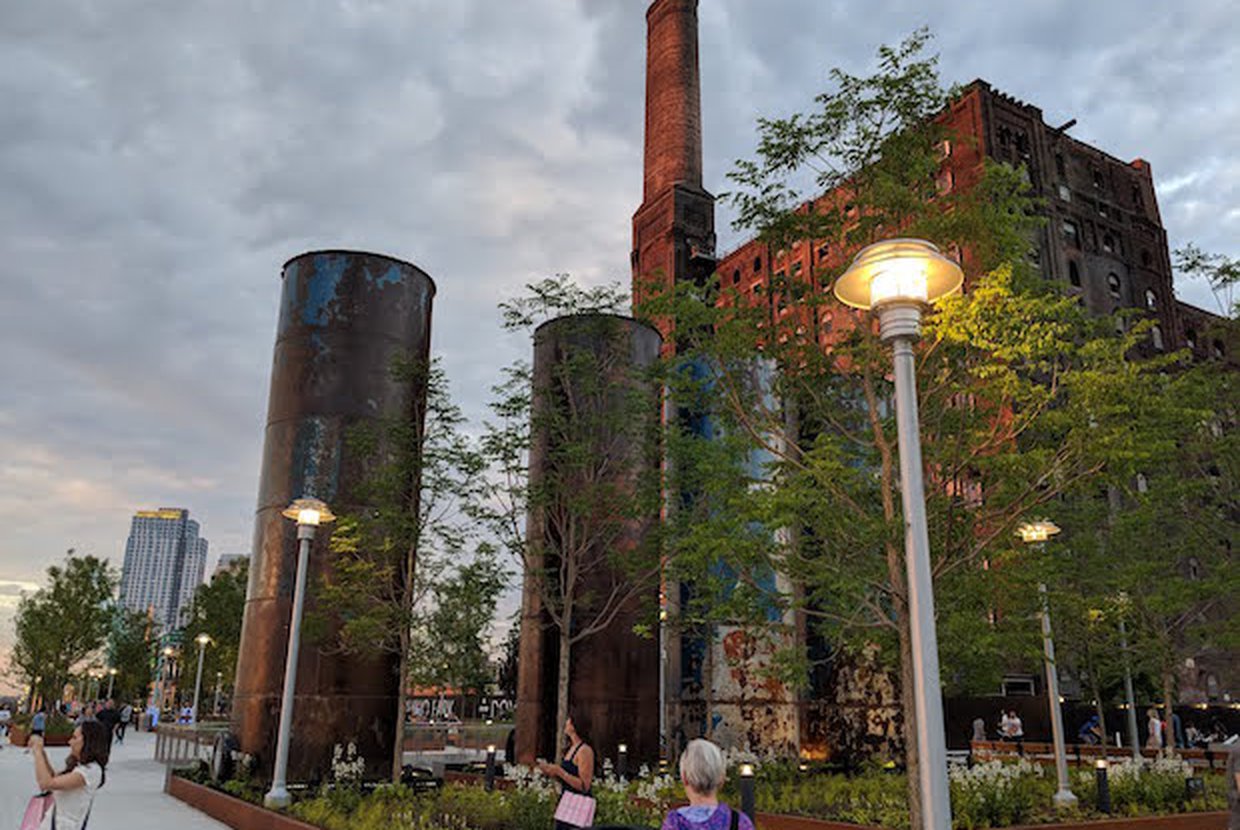 This month saw the opening of Domino Park in Williamsburg, one of a new type of park that has been springing up across NYC neighborhoods. This six-acre outdoor recreational park is built on the site of the former Domino sugar refinery on the Williamsburg waterfront. It features a raised walkway which runs for five blocks and has been baptized Artifact Walk. From here, visitors can appreciate remnants of the site's past including cranes-painted in the signature turquoise color, tanks, impressive screws now mounted as sculptures, and other artifacts from the sugar plant, which at one time was the largest in the world. The park also includes a fantastic kids' playground, a dog run, a volleyball court, picnic areas, a Danny Meyer taco stand, and much more. It forms part of a total development which covers 10-acres and is due to be finished in a few years.
Designed by James Corner Field Operations, Domino Park is just one of a wealth of new parks that are appearing around New York. Most form part of new NYC rental apartment and condo complexes, but unlike the usual residents-only limitations placed on most of this type of private park, these are open to everyone. Many developers are using landscape design firms to create exceptional spaces to attract buyers for their properties. Who wouldn't want to live somewhere with swamp oaks, exotic grasses, fountains and waterfall features, paths lined with boulders and secluded benches, right outside your front door? Domino Park developers are hoping that this new urban oasis will attract people to the modern office spaces currently under construction in the area.
Although many of these newer parks are quite small, the artistry and design make each one unique, and often they include works of art by local artists. Larger parks offer open grassy spaces, playgrounds, baseball pitches, and space for the local community to enjoy.
Exclusive designs from a variety of sources mean that each one of these parks has a unique aspect. The inclusion of exotic and distinctive elements gives each park an individual flavor which stands them apart from most city-run parks. Private park supporters claim that they can be installed far quicker and at less of a cost than a public one. The financing of the construction and maintenance are covered by the developer, and in some of these new parks small commercial enterprises are permitted, to help offset the running costs. The city's Department of Parks and Recreation still has control over some details, especially if public workers, paid with private funds, are to be used in the maintenance of the park. They also insist that the park must be finished before residents move into the development.
As the importance of natural spaces to the health of a neighborhood and its residents begins to be better researched and understood, it is likely that this green trend is going to keep spreading and we are all going to able to enjoy more beautiful parks in NYC.