550 Madison Avenue Officially Given Landmark Status
Julia Troy | August 02, 2018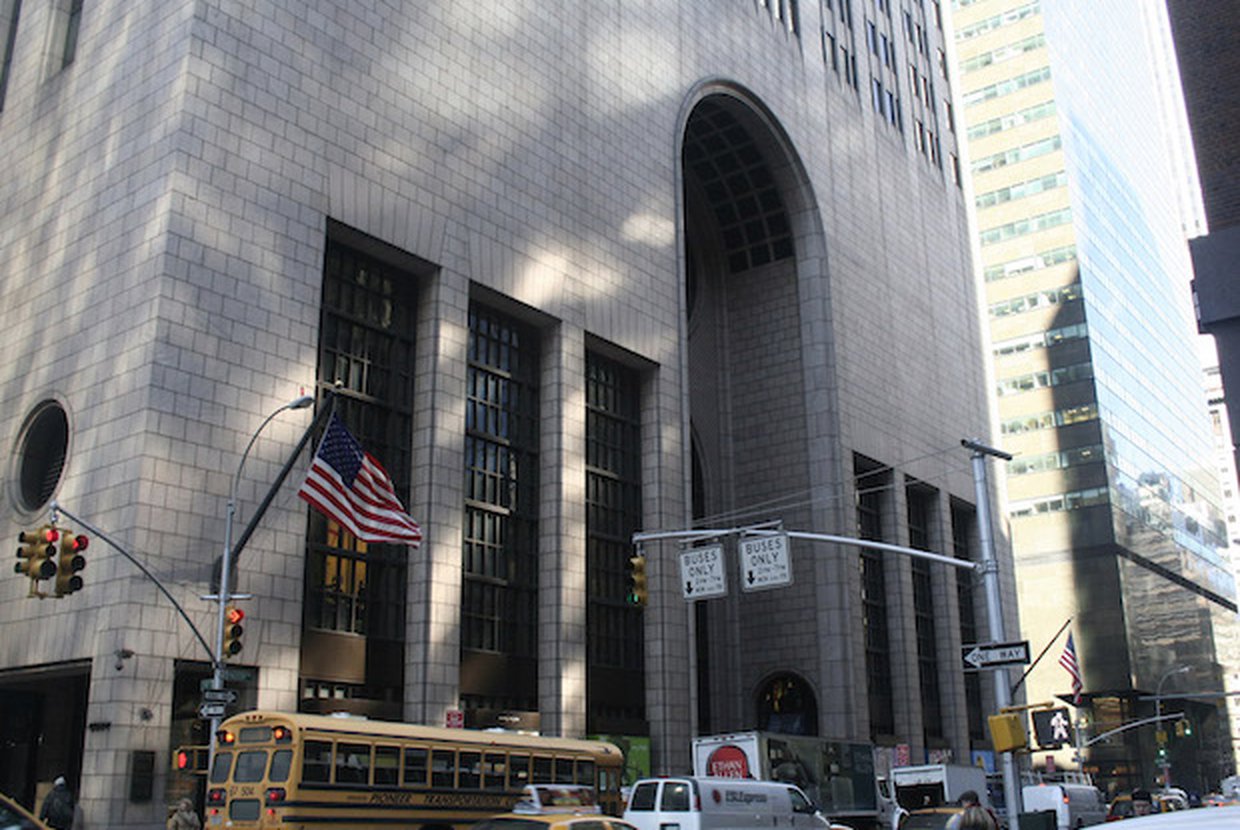 After months of speculation, a decision has finally been made to grant landmark status to 550 Madison Avenue. The Landmark Preservation Commission (LPC) recently announced that the exterior of this iconic Midtown East building is now a designated landmark, meaning that any alteration, reconstruction, demolition, or new construction that could impact the building's exterior will now need to be approved by the LPC before moving forward.
550 Madison Avenue was designed by Philip Johnson and John Burgee, who were commissioned by AT&T. Once it was completed in 1984 it became clear that it was too large for AT&T would not be able to fully occupy the tower, and it was instead leased to Sony, which purchased the building in 1990. 550 Madison Avenue is often considered to be the first "postmodern" skyscraper, which stands out among its glassy neighbors due to its granite exterior and pinkish-gray color. In the early 90s, Sony hired Gwathmey Siegel Kaufman Architects to make changes to the base of the building, but many of its original unique features remain intact.
"This is the building that established postmodernism as a legitimate architectural movement," said LPC vice chair Frederick Bland, in a statement quoted by Curbed. "It deserves to be preserved for future generations."
Since 2016, the building has been owned by Saudi Arabia's Olayan Group, who purchased it for $1.4 billion. Initially, the group planned to add a new glass facade to the floor of the tower, a proposal which upset preservationists and spurred the move to have the exterior designated a landmark to protect its unique design.
This past April, RXR Realty purchased a stake in the project, and they and other building stakeholders recently released a statement expressing their commitment to preserving the character of this classic structure.
"Since acquiring the building, we have taken our role as stewards of this important building very seriously," a statement issued by the owners read, quoted by Curbed. "We look forward to an ongoing dialogue with the LPC and other stakeholders to preserve 550 Madison's legacy as a commercial Class A destination in East Midtown, with smart and sensitive modifications to serve modern tenants."
For now, the future of the 37-story Manhattan tower remains unclear, but this new designation ensures that its unique concrete facade will remain intact for years to come.