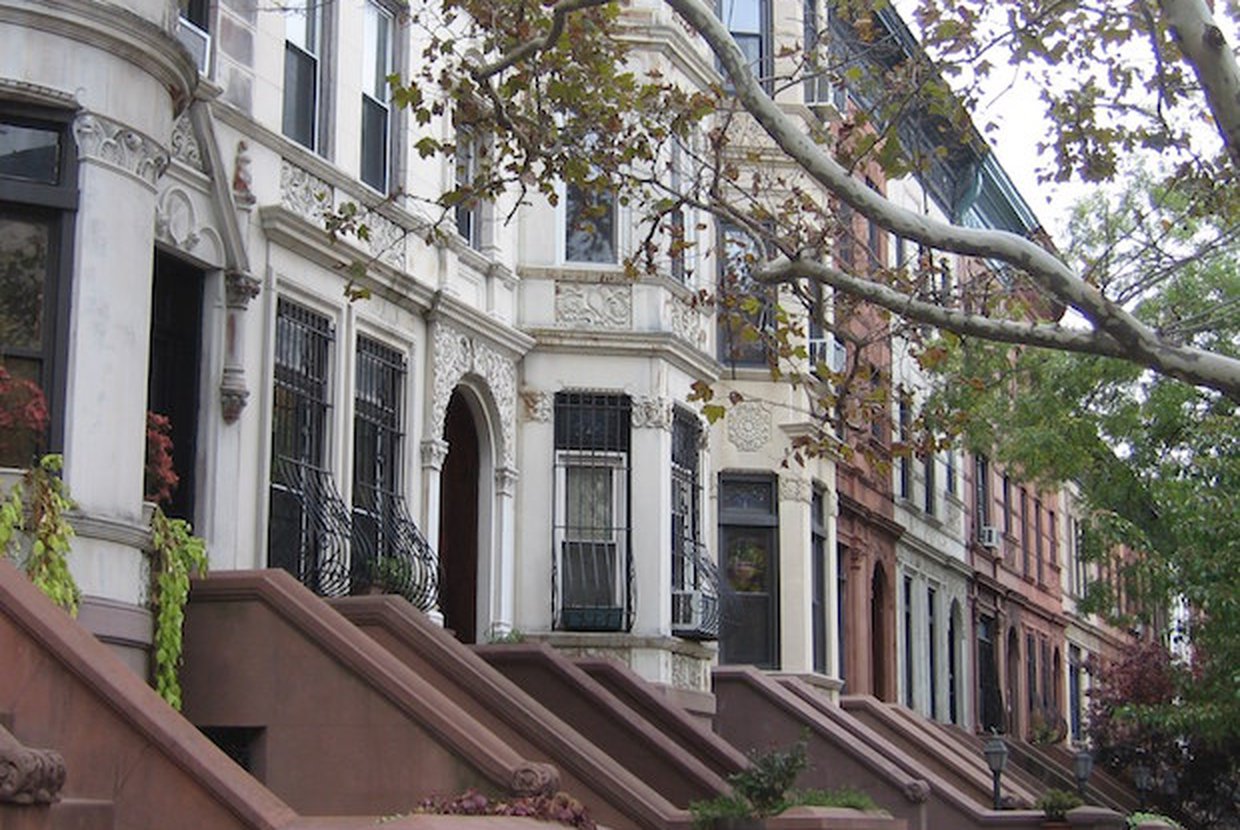 A townhouse in Prospect-Lefferts Gardens has just broken the record for the most expensive townhouse sale in the history of the neighborhood. Closing for $2.95 million, 97 Rutland Road has surpassed the previous highest-selling townhouse in the neighborhood, 63 Maple Street, a townhouse which sold for $2.86 million in May earlier this year.
The townhouse is adjacent to Prospect Park on the east, and is situated between Flatbush and Bedford Avenues. Curbed speculates that the pricey sale of the townhouse was the result of a home flip, as the home was originally sold for only $1.73 million in October of last year. The previous owners kept much of the limestone townhouse's original details when they renovated it, and the home still has the same woodwork, stained glass, and mantles designed by architect Robert Dixon. The four-floor townhouse is an example of high Romanesque Revival style, and boasts contemporary amenities along with the beautifully preserved original architecture. The paneling and carved arches are particularly prominent in the entrance area and parlor, which let in lots of light with exposure from the north and south. The kitchen features upscale appliances such as a Carrera marble island, Bosch dishwasher, Wolf range, Liebherr refrigerator, and custom cabinetry.
The townhouse has a total of five bedrooms and three full bathrooms. The garden level consists of a secondary living room, and a guest bedroom. The garden level also has a full bathroom, powder room, and mudroom leading out to the home's private backyard. Above the parlor floor is the master bedroom suite, which takes up the entire floor. On this floor residents can enjoy a walk-in closet and what the listing calls a "one-of-a-kind" master bathroom, featuring 200 square feet of floor-to-ceiling marble. The top floor of 97 Rutland Road has a skylight which lets in illuminating light. This floor has 3 bedrooms and a kid's bathroom, along with a laundry room featuring a whirlpool washer and dryer.
At $738 per square foot, the 4,000 square feet townhouse sold for well above the average price per square foot in Prospect-Lefferts, which is $700. The townhouse is a beautiful and rare property, as its historic architecture was beautifully preserved, and collaborates with the home's modern amenities and features. And not only is it close to Prospect Park, gourmet markets, and various dining options; it is also less than 5 minutes away from the Q, B, 2, and 5 subways, allowing for a quick commute to Lower Manhattan.