The History of NYC's Smallest Real Estate Plot
Laura Schier
| October 11, 2018 | Published in
NYC Lifestyle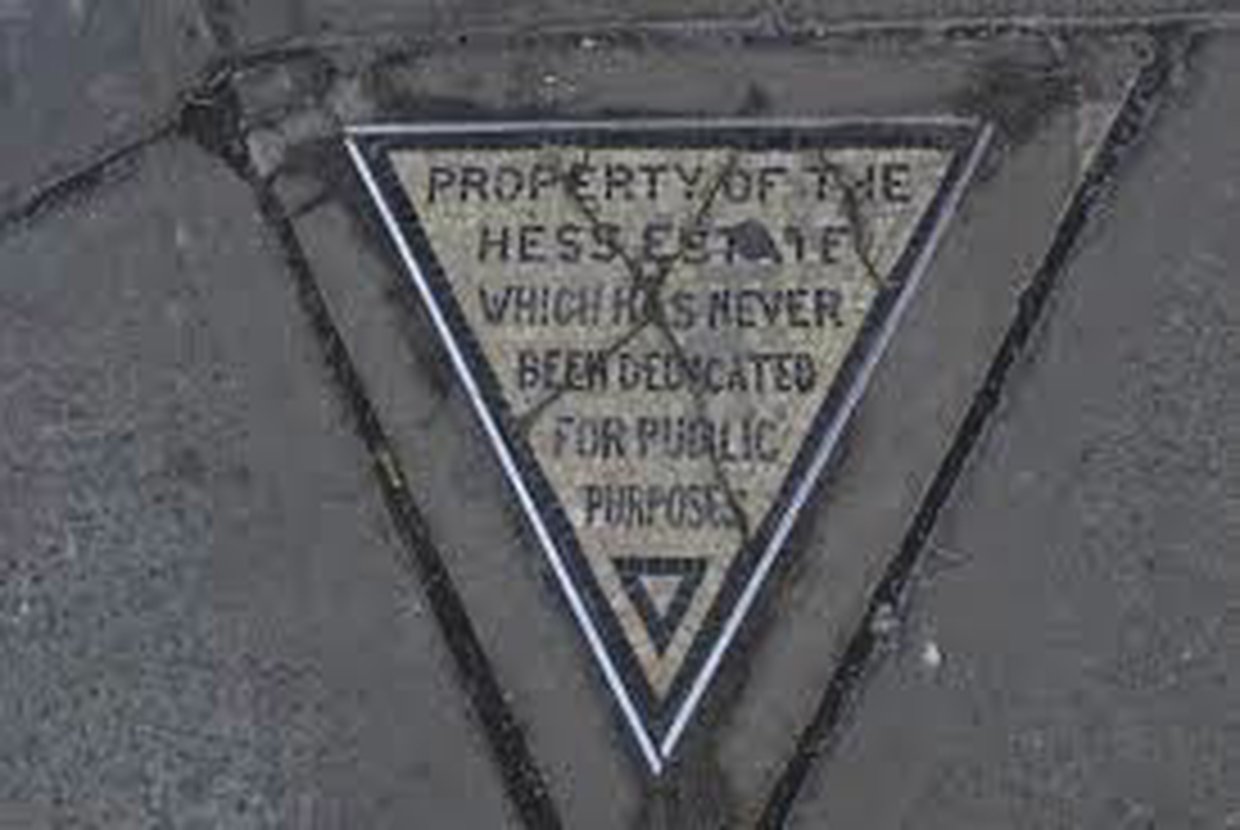 For just over 95 years, NYC's smallest plot of real estate has sat on the corner of Christopher Street and Seventh Avenue South. The Hess Triangle, measuring only 27½" x 27½" x 25½", is a concrete slab of "spite real estate" that claims a small piece of the Greenwich Village sidewalk, with yellow and black tiles making a mosaic that proudly reads "Property of the Hess Estate Which Has Never Been Dedicated For Public Purposes." Some might ask: what is this tiny piece of land, and how did that spiteful-sounding triangle come to exist?
The Hess Triangle, along with the 5-story Voorhis apartment building behind it, originally belonged to Philadelphia Landlord David Hess and his family. In 1910, all the residences and businesses along Seventh Avenue were ordered to be torn down under Eminent Domain to make the street wide enough for the city to construct the Seventh Avenue subway line. Since the street, stretching 11 blocks, was home to nearly 300 shops and apartments, the demolition order negatively impacted many New Yorkers. David Hess was one of those affected, and although he put up a fight to save the Voorhis, his building was torn down in 1914.
But when city surveyors claimed the land, they missed a tiny piece on the sidewalk corner which was still technically Hess property. The city asked the Hess family to donate the small 2-square-foot triangle of land once it realized the mistake, but their request was denied. The Hess family heirs, angry over the loss of the Voorhis building, decided to fight for the small plot of land that still belonged to them. After going to court to fight for their property rights per the Greenwich Village Society of Historic Preservation, they won the case, and on July 26, 1922 David Hess installed the now-famous message into the concrete triangle using mosaic tiles. The triangle's unusual story and the long-fought battle became so well-known that it earned its own spot on the real estate page in the The New York Times.
The Hess Family owned the triangle for 15 more years until 1938 when they sold it for $1000 to Village Cigars, a small shop on the corner which still stands today. Eventually, the piece of land was lumped into the entire property at 110 Seventh Avenue South, and is, therefore, unfortunately, not the city's smallest plot of real estate anymore. But the triangle mosaic was preserved by the land's owners, and today its story of resiliency and historical significance remains.
Today, real estate in Greenwich Village is more coveted than ever. The median sales price for homes in Greenwich Village is $1.6 million and prices have been steadily on the rise since 2012. If you're interested in purchasing your own piece of Greenwich Village real estate that you can keep for decades to come (or use to place your own Hess Triangle) contact an Elegran agent today.