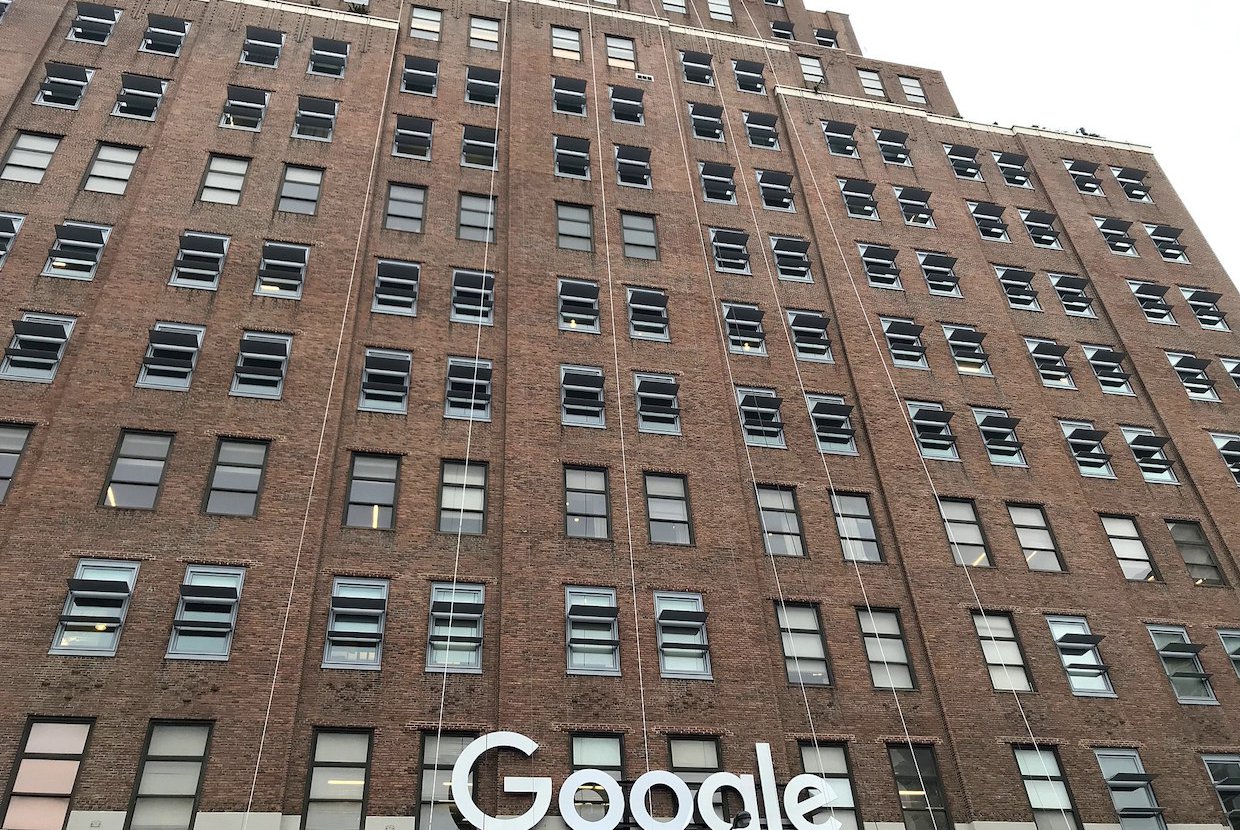 Google plans to expand upon its office space in New York City, and is looking to close a deal at St. John's Terminal in the West Village. The massive search engine company is aiming to either buy or lease the 1.3 million square feet of space that could allow the company to grow their NYC employee base to 20,000 (including Google employees already working in the city), rivaling the 25,000 employees fellow tech giant Amazon plans to bring to Long Island City.
St. John's Terminal, which is currently being redeveloped into a massive office complex by Oxford Properties Group, is expected to be completed by 2022. The complex, designed by COOKFOX Architects, will rise to over 12 stories tall and would have room for over 8,500 new Google employees, if the company gives employees the minimum industry standard of 150 square foot per person. And this is not the only site t Google has looked at to expand upon its New York presence; in March, Google purchased the Chelsea Market building for $2.4 billion and is enlarging the space it already has at Pier 57. According to the company, it will use the new space at Pier 57 to build a water taxi landing, a community space, and a winter garden, all of which will be open for public use.
Google has been gradually expanding its offices in New York over the past 2 decades. In 2000, the company opened its first office at 111 Eighth Avenue and purchased the entire building for $1.9 billion in 2010. Although this is Google's primary office in the city, it has expanded its locations more recently to include buildings on 10th Avenue, at Chelsea Market, and at Pier 57. The 7,000 employees currently working in the city represent 8 percent of the global company's total staff.
Right before Amazon announced that they would be moving to NYC, Google announced that it plans to double its employee count in the Big Apple over the next decade. As these two massive companies continue to fight for NYC talents and bring new skilled workers to the city, real estate prices in the areas surrounding their offices are sure to be impacted. In Seattle, where Amazon's headquarters are currently located, the company has been credited with being a contributor to the city's skyrocketing home prices over the past decade. Similarly, home prices within a commuting range of Google's California offices have also jumped in recent years, with San Francisco median home prices rising by 76 percent in the past 5 years.