Hudson Yards Unveils Skytop, New York City's Highest Outdoor Residential Space
Sean Keeley
| November 27, 2018 | Published in
Urban Design
,
Neighborhood News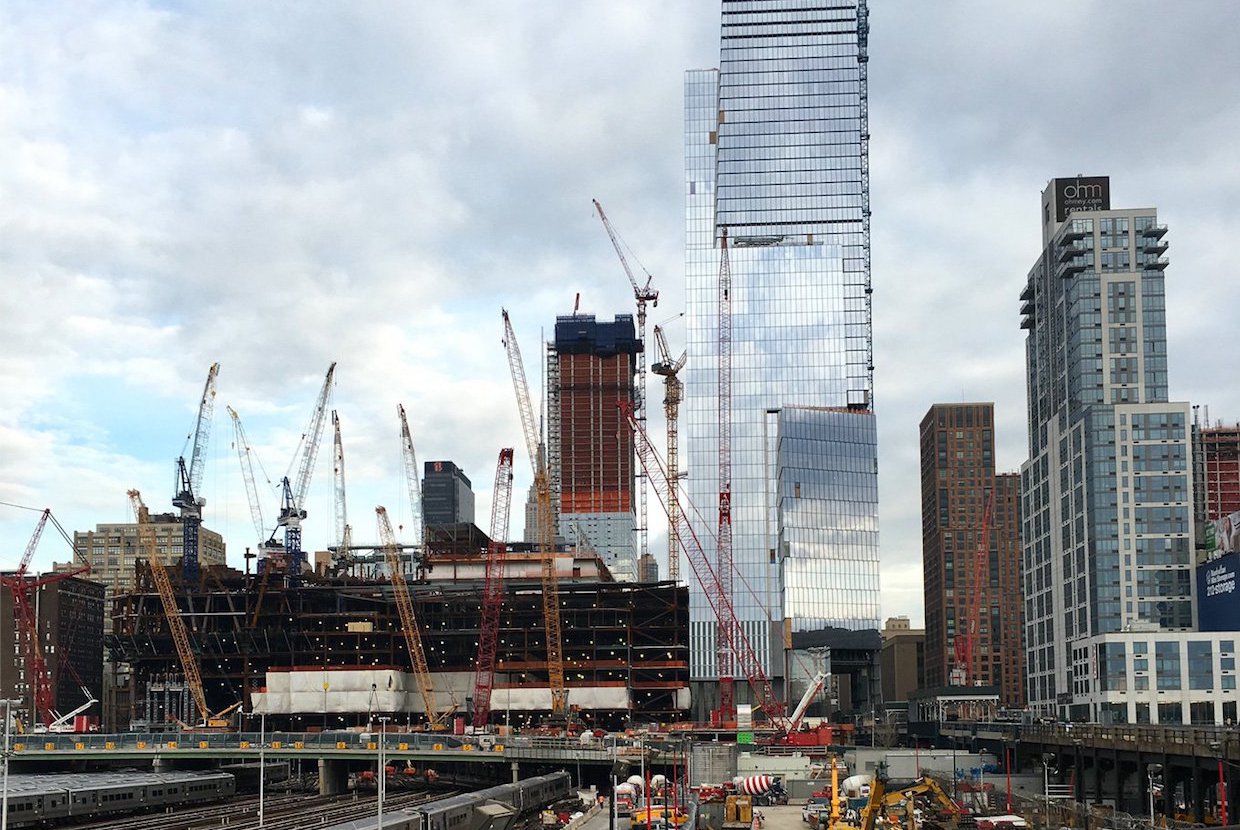 New Yorkers have been keeping a close eye on the skyline-changing Hudson Yards project ever since the groundbreaking in 2014. It would be hard to miss considering it's the largest private real estate development in U.S. history and the biggest New York City has seen since Rockefeller Center was completed in 1939. With over 18 million square feet of residential and commercial space, roughly 4,000 residences, over 100 retail shops and restaurants, a public school, a hotel with over 200 rooms, and office towers, Hudson Yards will be impressive from many different angles and heights by the time it's fully complete around 2024.
In the meantime, one of those impressive feats has been unveiled. 15 Hudson Yards, the first residential building to open as part of Hudson Yards, has revealed a suite of stunning amenities 900 feet in the air, making it the highest outdoor residential space in New York City. Called Skytop, the terrace space is surrounded by 60-foot glass screen walls through which residents and guests can look out on the Hudson River. They'll also be looking out past 14-foot-white oak trees, which will be included in carved wooden planters that also provide additional seating. The outdoor space is sandwiched between two event spaces on each side. On one side is a lounge that will provide intimate indoor seating while the other side features a dining room that includes a catering kitchen, bar, and table for up to 18 guests.
As impressive as Skytop sounds, it's still only one aspect of 15 Hudson Yards' expansive amenities package, which measures 40,000 square feet total. Most of the other amenities in this 88-story building will be found on the 50th and 51st floor. They include an aquatics center with a swimming pool and whirlpool as well as a private spa, fitness center, beauty bar, wine storage, and a tasting room. There will also be a children's imagination center for the young ones, a screening room for films, a golf club lounge, and a business center with two conference rooms and co-working space.
Those looking for luxury NYC condos for sale will probably want to keep an eye on what's available here. Sales have been underway at 15 Hudson Yards since 2016 and residences start at just under $2 million. The currently available homes start with a two-bedroom residence asking $3.9 million and rise all the way up to a duplex penthouse asking $32 million. The building includes 285 for-sale residences in total and the initial residents will start moving in by the end of the year.
15 Hudson Yards is also being integrated with The Shed, a cultural center located at the base of the tower. The Shed will commission or produce various types of artistic activities in performing arts, visual arts, pop culture, and more. The space will include a retractable shed feature, a 500-person theater, and exhibition spaces.
Along with the Public Square and Garden as well as the Shops and Restaurants at Hudson Yards, developers Related Companies and Oxford Properties Group are expected to officially unveil 15 Hudson Yards and The Shed in spring 2019.
Those interested in finding some of the hottest luxury condos in New York City should consider whether or not 15 Hudson Yards is in their future. If so, contact an Elegran agent today and they'll be able to help you get started. Hurry though, according to Chelsea Now, over half of the condos were already sold back in March.