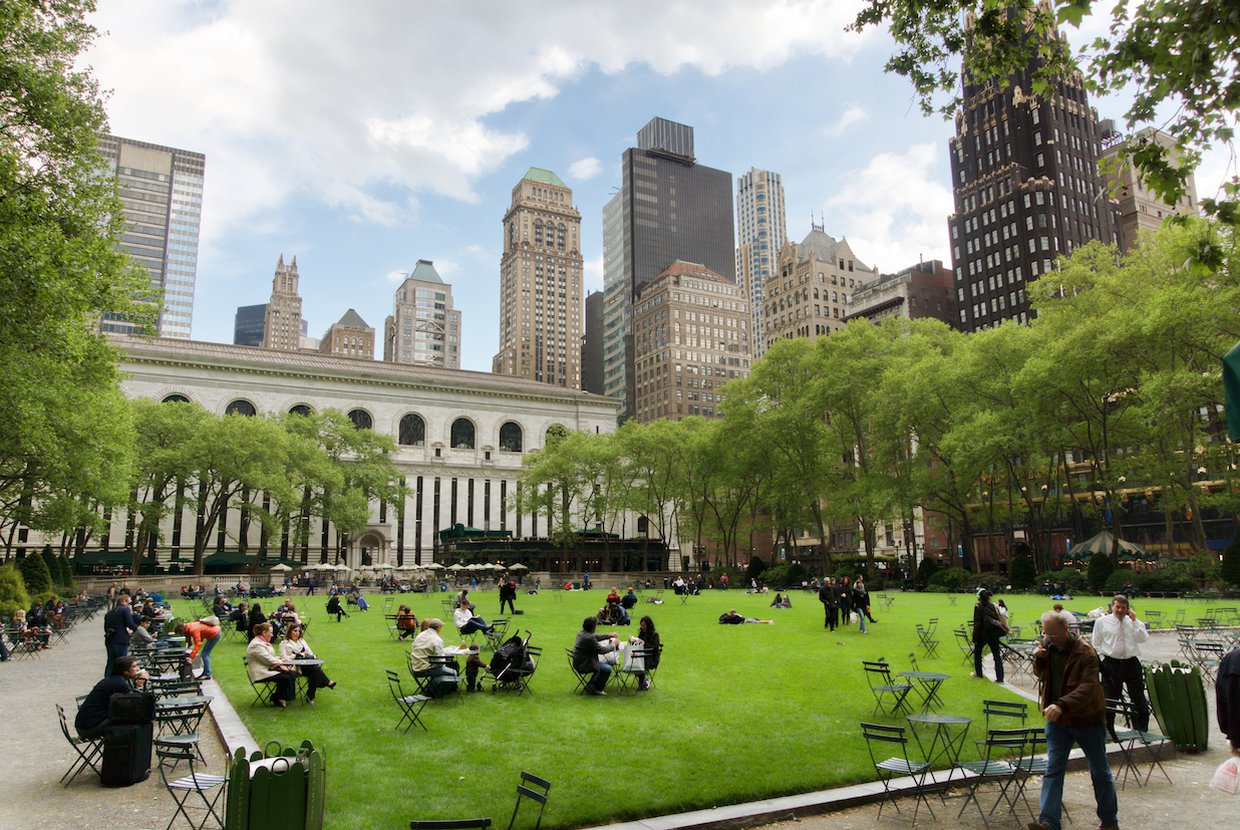 A little over two years ago, an empty lot in-between two buildings on Avenue of the Americas between 39th and 40th streets started its journey to become the rarest of things - rental apartments just one block from Bryant Park. In the immediate area, the only other rental building you'd find is The Bryant, but availability is extremely slim there. No wonder the NY Post said it one of the 10 most-hyped new NYC buildings of the year.
Now, after topping out a little over a year ago at 1050 Avenue of the Americas, ML House (named so because ML is the Roman numeral for 1050) has officially opened its leasing office, per Curbed NY. The 62-unit luxury apartment building stands 25 stories tall and was designed by Gene Kaufman Architects, who made the most of the slender space afforded to them. It was developed by Skyline Developers, who also developed Post Towers and 37 Wall Street in the Financial District.
Per a statement, Orin Wilf, the president of Skyline Developers, said he hopes ML House will advance the "transformation of Bryant Park into a residential neighborhood. With all of the new restaurants and retail moving in, we are excited to not only witness the evolution but to be a part of it."
ML House offers a wide range of living opportunities, including studios, one-bedrooms, two-bedrooms, and a penthouse. Each residence includes high-end standard features such as white oak flooring, Bosch appliance packages, custom closets, open layouts, and floor-to-ceiling windows. Two-bedroom residences also include washers and dryers while select residences come with their own private outdoor space. From the 12th floor and up, there will be no more than two residences each. And while many of the residences have views of Manhattan's skyline, the $14,500/month penthouse offers completely unblocked views of Bryant Park as well as a private rooftop to enjoy 360-degree views.
Studios at ML House start at $3,225/month while a one-bedroom will go for at least $4,610/month. The prices on two-bedroom units have yet to be released.
The impressive slate of building amenities includes a fitness studio filled with strength training and conditioning equipment, including Woodway treadmills. The second-floor terrace gives residents an outdoor respite from the city below while the lounge, which is connected directly to the outdoor terrace, offers a place to unwind indoors. The building also offers concierge service for residents.
One of the big sells for living here is the close proximity to Bryant Park. Living in ML House puts residences at the doorstep of this 10-acre green space where they'll be able to easily enjoy outdoor movies, summer concerts, book readings, ice skating, and more. And of course, you're also right around the block from The New York Public Library, Bryant Park Grill, and just about any subway line you might need.
ML House is just the latest part of the ongoing efforts by many to turn Bryant Park into a true residential neighborhood. Those efforts are largely succeeding thanks to the evolution of the park itself as a community space and the arrival of new construction. The easy subway access and close proximity to business districts mean it's a commuter's dream, especially if they work nearby.
If you're considering renting an apartment near Bryant Park contact an Elegran agent today and they'll be able to help you get started.