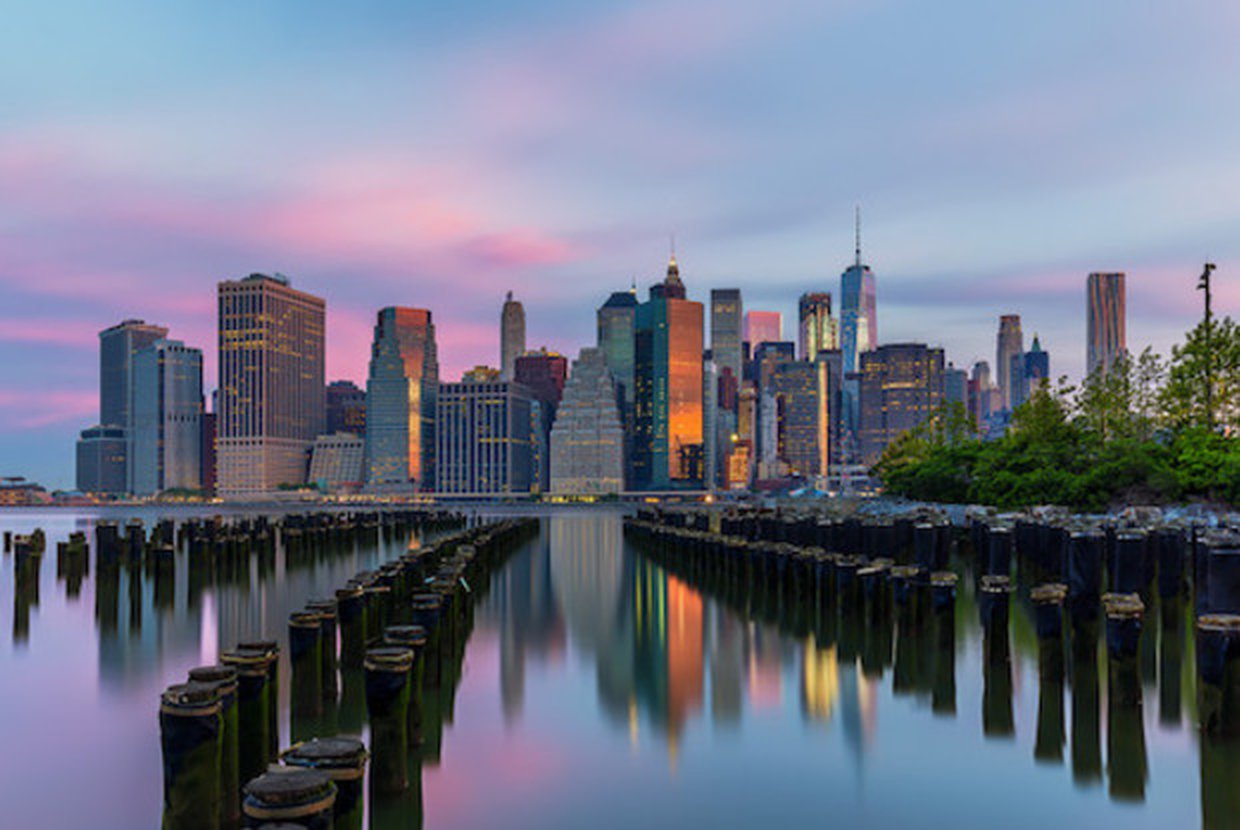 Up until recently, the most expensive condo purchase in Brooklyn belonged to art dealer Lio Malca, who bought the $15 million Clock Tower penthouse triplex for a staggering $15 million in 2017. The most expensive residential purchase overall was a tie at $15.5 million, between photographer Jay Maisel's Cobble Hill townhouse and Jennifer Connelly and Paul Bettany's Brooklyn Heights townhouse.
They can all take a backseat now as Matt Damon is the new owner of a luxury Brooklyn penthouse as well as the title of the most expensive residential sale in the borough. Per the New York Post, Damon recently paid $16.7 million for the six-bedroom penthouse atop The Standish, formerly known as the Standish Arms Hotel, in Brooklyn Heights. The 12-story Beaux Arts building was converted into condos by development and design firm DDG and Westbrook Partners, who restored the brick and limestone facade out front and renovated all interiors.
The penthouse unit is actually a rehabbed combination of three smaller units, which was done in 2016. The original asking price was $16.445 million. A big part of the appeal is the building's exclusivity as it's one of only 33 units in the enclave. Residents here have access to all kinds of upscale amenities, including various marina-themed services, such as a boat valet, boating lessons, and private boat experiences. Some of the other building amenities include a doorman, concierge services, fitness studio, and children's playroom.
No wonder Damon isn't the first big celebrity to call The Standish home. Mary Louise Parker, Paul Giamatti, and Lena Dunham all also own residences here.
As for the home itself, it features Austrian white oak flooring, Italian Carrara marble slab countertops, and mosaic-tiled master bathrooms. The overall design is described as "Shaker-style aesthetic" which features classic, neutral tones.
Damon and wife Lucianna Barroso are obviously keeping up to tabs on where the hottest places to live in NYC are located. This past October, we included Brooklyn Heights on our list of NYC's 15 most desirable neighborhoods to call home, citing its incredible views of Manhattan as well as the ample transportation options to get you there. While the real estate is booming in Brooklyn Heights, it still offers plenty of beautiful architecture and quiet streets to give you a respite from Manhattan while also attracting modern buyers and those looking for a luxury lifestyle. Yes, there are plenty of tourists passing through, but there's a lot for locals to appreciate, especially once the sun goes down. And of course, it offers ideal subway access to get anywhere else in the city you want to be.
Damon and his family probably shouldn't get too comfortable with their new title of the owners of Brooklyn's most expensive sale, however. The penthouse at the 30-story Quay Tower is expected to close for around $20 million, according to the Post. That residence is actually a combination of two penthouses to create a 7,433-square-foot interior space with a 1,179-square-foot terrace.