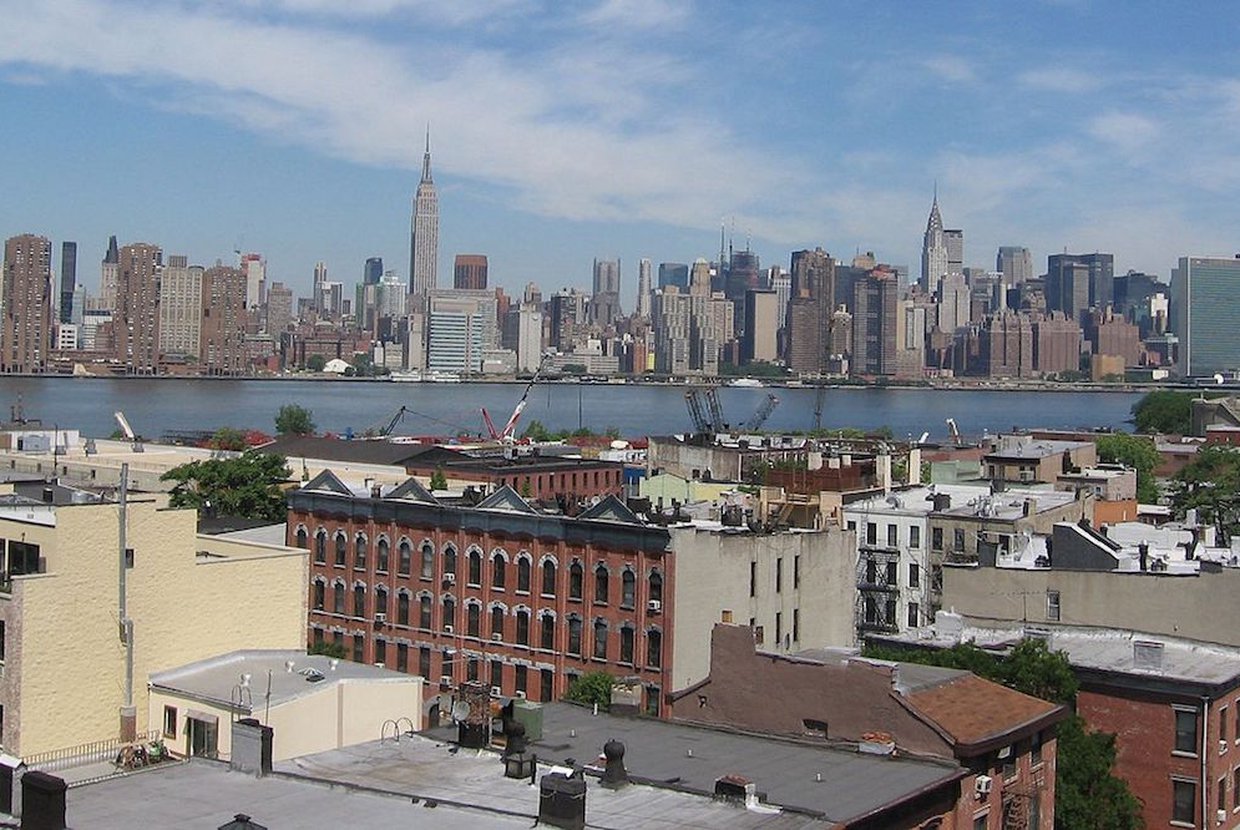 The Brooklyn waterfront could be getting another impressive residential building. A 173 unit development has been proposed in Greenpoint will cover 178,000 square feet on a corner lot at 53 Huron Street in this rapidly changing Brooklyn neighborhood. This address is also referred to as 161/164/165/167 West Street and has a total of 356,067 square feet of buildable area with 279,110- square feet of air rights.
The freehold of the property was purchased by the UK-based real estate investment and private equity firm, Quadrum Global, in July 2014. They paid a purchase price of $45.5 million from a group of Brooklyn-based investors had purchased it for $13-million in 2004. In 2016 a Queens-based company, Bridgewater Capital Partners, sued Quadrum Global for supposedly cutting them out of a joint venture in the project. The case, however, did not progress and was dismissed the next year.
The project is being designed by Morris Adjmi Architects who boast that the buildings they design are "shaped by the city but infused with a deep appreciation for the arts." They claim that the company has built up a reputation for being a "leader in the revitalization of post-industrial neighborhoods and historic districts with commercial, residential, and cultural projects that are imbued with a distinct sense of place and purpose."
The original plans were drawn up in 2017 and it is not certain if these are the same ones that are being currently proposed. According to New York Yimby, if no changes have been made to the original plans, the building will have fourteen floors and will stand 150-feet high. It will contain principally condos with an average size of 1,028 square feet and will have 86 off-street parking spots. So far, no prices have been revealed and no completion date for the project has been announced.
The site has 100 feet of water frontage and offers unobstructed views of the Manhattan skyline. It is currently zoned with 175,000-square feet "as-of-right", with a potential to "upzone" a further 330,000-square feet. To do this 25-30 percent of the proposed development would have to be offered as affordable units. Currently, a two-story industrial warehouse building constructed in 1972 stands on the site.
The project benefits from a superb location being conveniently very close to the NYC ferry Greenpoint landing and just six blocks to the west of the subway station at Greenpoint Avenue that is serviced by the G train. Additionally, four blocks to the north, residents will be able to enjoy the 6.61-acre public WNYC Transmitter Park.
Greenpoint is currently undergoing a massive construction boom and plans for many more residential and office buildings are expected to be announced in the coming months. The neighborhood is considered one of the "neighborhoods to watch in NYC" with 1,754 units and 42 buildings currently under construction.
"The opening of developments like the Gibraltar, the Greenpoint and Greenpoint Landing's One Blue Slip is the start of a major transformation of Greenpoint's waterfront to an upscale residential district," Localize.city urban planner Beth Kancilia saidm quoted by Patch. "While projects had been slow to start following a 2005 rezoning, today, no fewer than five major developments are underway."