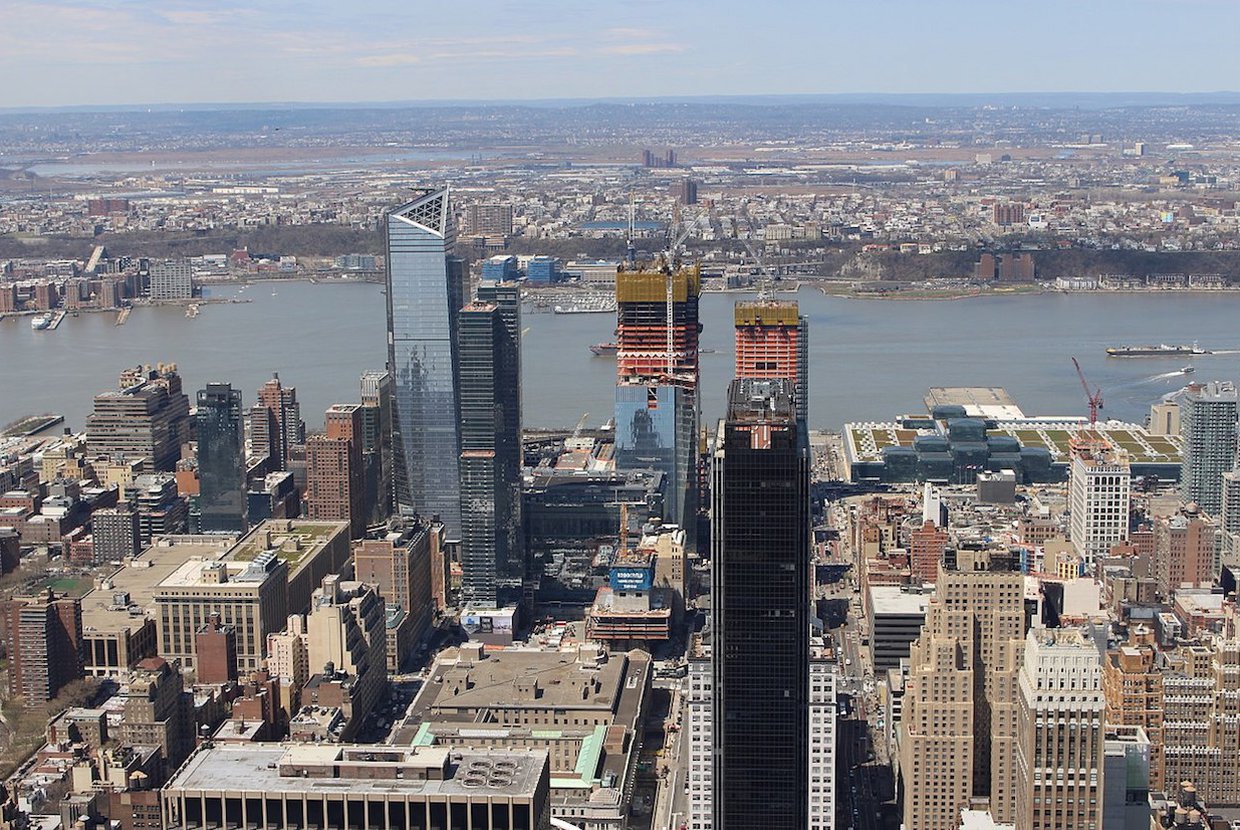 The largest private real estate development in the history of the United States is about to open in New York City and it could bring with it a new epicenter of fine dining.
Shops & Restaurants of Hudson Yards, the first phase of the massive Hudson Yards development, is set to open in March. When it does, it will bring with it a seven-story mall with 100 shops and 20 different restaurants. While a lot of attention has been paid to the retail offerings to be found here, it's the restaurants involved that could end up setting the stage for a giant shift in the way New Yorkers dine out.
Renowned Chef Thomas Keller, best known for The French Laundry in Napa Valley and Per Se in Manhattan, both of which have received three Michelin stars, has curated the restaurant collection at Hudson Yards. The restaurant line-up he's helped put together is a who's who of the high-end dining world the likes of which has never been seen before in one place at one time. "It's pretty unprecedented, the volume they're opening," Julia Heyer, a New York-based restaurant consultant, told The Real Deal.
Here are some examples of what this new dining haven will have to offer:
- Keller himself is opening TAK Room, a 200-seat restaurant that will evoke "a time when the fanciest food in America was called continental cuisine."
- Award-winning chef José Andrés is partnering with the Adrià brothers to bring a 35,000-square-foot indoor/outdoor food hall that's been described as the Spanish version of Eataly.
- Momofuku owner and celebrity chef David Chang is introducing Kāwi, which will start with a Korean fare base but veer away from traditional offerings.
- Anya Fernald, co-founder and CEO of Belcampo and one of the Food Network's Iron Chefs will be bringing Belcampo Meat Co. to Hudson Yards. It's the first location of the popular meat-happy restaurant outside of California.
- Chef Costas Spiliadis is bringing one of his famous Milos locations, known for being among the finest Mediterranean seafood restaurants in the world, to the development.
- Rhubarb, a world-renowned catering company known for cafes and restaurants in high-profile locations, is opening two locations in Hudson Yards. They include a 5,800-foot eatery on the fifth floor and a restaurant and catering operation on the Observation Deck at the top of the complex.
- Chef Michael Lomonaco, a mainstay of the NYC fine-dining scene thanks to restaurants such as Windows on the World, Wild Blue, and Guastavino's, is opening Hudson Yards Grill. This casual American dining spot will focus on rotisserie meats as well as fried chicken and steaks.
- D&D London, one of the biggest UK restaurant groups, is opening a brasserie on the fourth floor of the Shops. D&D's restaurants are often considered among the most beautiful restaurants in the world.
And that's just some of the new concepts coming to Hudson Yards, which also includes new spots from Juan Santa Cruz, William Greenberg Desserts, and Fuku.
Some critics have voiced concern over the location of Shops & Restaurants of Hudson Yards, which may not attract as many walk-ins as other areas of Manhattan. However, the close proximity to the High Line, Javits Center, and Penn Station are expected to offset that concern. Not to mention the fact that, by the time it's completed, Hudson Yards is expected to welcome 40,000 office workers and 4,000 new residents, many of whom will make for daily eaters at these hot spots.
Interested in making this new dining hub your home? Learn more about homes for sale in Hudson Yards here.