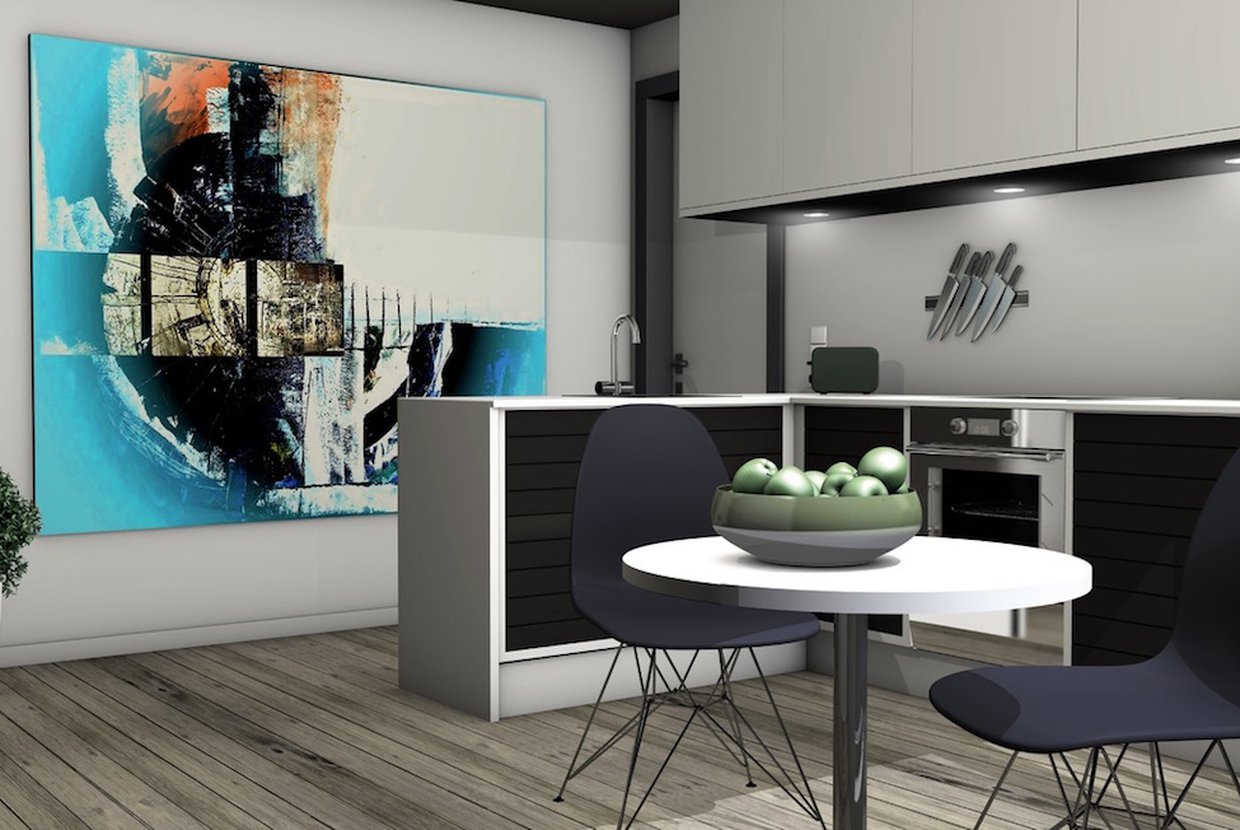 New York is a city that loves to celebrate art. From museums to public outdoor installations, there are countless ways to appreciate art across the five boroughs and New Yorkers take advantage of all of them. This is why it's no surprise that developers are now taking art into consideration when crafting luxury NYC apartments.
The New York Times recently highlighted new luxury residential buildings in Manhattan where the homes have been specifically designed to accommodate art lovers who are looking to showcase their collections. The Times spoke to Aby Rosen, a co-founder and principal of the development company RFR, who commissioned the architecture firm Foster & Partners to design some of the condos at RFR's 100 East 53rd Street in Midtown with walls that channel those of a downtown gallery. As a result, the homes feature long, uninterrupted concrete walls and ceilings feature fluted concrete panels separated by slots to allow for custom lighting that can be installed to compliment artwork. One model unit in the building has even been staged to look more like an art gallery than a home, featuring several pieces from Rosen's personal collection.
"I would love to be recognized as a developer who creates spaces that are really geared for an art collector," said Aby Rosen, quoted by the Times. "I'm a big advocate. Art does something to you. It connects you with history. It connects you with the desire for culture."
This strategy could definitely work to attract art-friendly buyers, according to Ingrid Cincala Gilbert, principal of the art consulting firm Cincala Art, who recently purchased one of the homes at 100 East 53rd Street.
"More and more these days my clients are interested in living with their art, as opposed to having to store it," Gilbert told The Times. "The trouble is sometimes this can be at odds with contemporary architecture, with the emphasis on transparency and expansive areas of exterior glass, and also open floor plans. Sometimes, this can really restrict or remove altogether opportunities for art."
Additionally, the Times pointed out that developers for some buildings like 160 Leroy in the West Village have even begun labeling which rooms and walls in the apartments would be the best places for displaying art.
"We thought it would just be an interesting thing, as an assist, to let prospective buyers know where would be great places to hang art," 160 Leroy developer Ian Schrager told The Times. "We thought that collecting art would be something that a lot of our buyers would be focused on."
Another new building that was crafted with art aficionados in mind is the CetraRuddy-designed Oskar in Hell's Kitchen. According to Nancy Ruddy, Oskar was specifically designed to have the sensibility of an art gallery more than a residential building. This concept is clear in both the interiors and exterior of this new rental complex. For example, the outside features a sculpture garden with an onyx reflecting pool and a sculpture by world renowned artist, Arik Levy, while the lobby boasts an impressive collection of work by artist Phillip Michaels.
It's a great time to be an art-lover searching for a luxury home in NYC. To learn more about any of the buildings mentioned in this article, particularly Oskar for which Elegran is the exclusive leasing and marketing agent, contact an Elegran agent today or reach out to oskar@elegran.com.