Phase One of Hudson Yards Opens to the Public
Laura Schier
| March 18, 2019 | Published in
Neighborhood News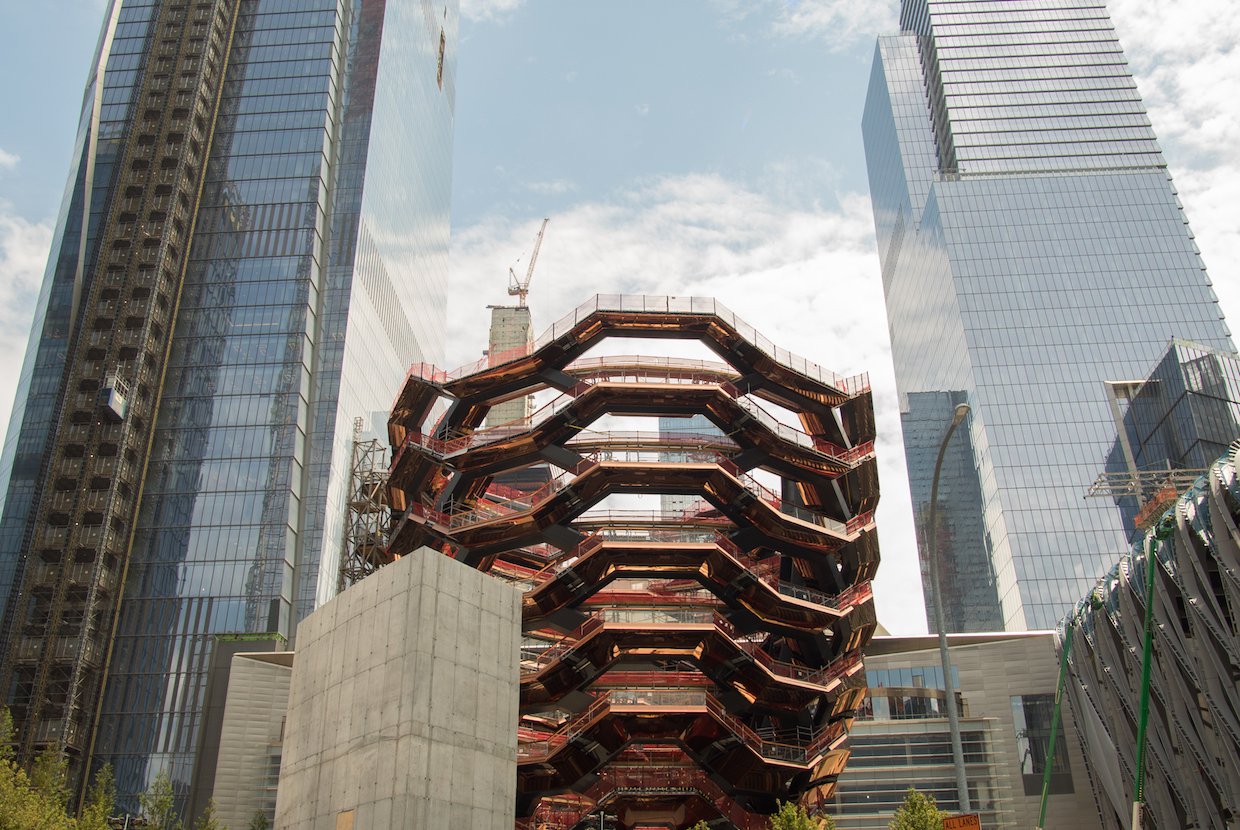 The first phase of Hudson Yards, the priciest private real estate project in the U.S., finally opened to the public on Friday, March 15. The sustainable neighborhood, consisting of 18 million square feet of residential and commercial space and 14 acres of green space, is impressively built entirely on top of the Long Island Rail Road's rail yard. Hudson Yards is estimated to cost $25 billion and is the largest project that NYC has seen since the construction of Rockefeller Center.
Phase One of Hudson Yards, unveiled on Friday, involves four towers and a sculpture called the "Vessel," situated between 30th and 34th Streets on the West Side. The Vessel, rising 150 feet high, is a public structure specifically designed for city-goers to climb. The structure is located inside the neighborhood's performing arts center known as The Shed, which consists of a public square, gardens, and a retractable roof feature.
"This is going to be to New York City what the Eiffel Tower is to Paris," Jeff Blau, CEO of Related Companies, said of the Vessel to CBS New York.
The four towers are two residential buildings rising 910 and 1000 feet high, an Equinox Hotel property, and an Elkus Manfredi Architects-designed shopping and dining center that spans 720,000 square feet.
Once the entire Hudson Yards project is complete, it will consist of 28 acres of space and 100 retail stores, including Neiman Marcus, Coach, and L'Oreal. Apple has already claimed 55,000 square feet of space in the area and is planning to set up shop at 55 Hudson Yards. The area will also feature public plazas, numerous restaurants, and, eventually, a skyscraper expected to rise higher than the Empire State Building.
"It is a one-stop destination - remember, you have 40,000 employees here a day," Esty Ottensoser, the retail director for Hudson Yards, told NBC New York.
The residential buildings will mostly consist of luxury apartments, but NBC New York reports that 10 percent of Hudson Yards' 4000 apartments will be designated as affordable. Condo prices are expected to range from around $3 million to $32 million. Additionally, the 7 train extends to into this neighborhood, offering residents a fast commute into the heart of Manhattan.
"It's for all New Yorkers but all New Yorkers includes the wealthy - so it has to have a little bit of everything," Jay Cross, the president of the Hudson Yards project, told NBC New York, adding that the project "becomes a major anchor in a much broader neighborhood - a neighborhood that is actually growing all around us today."
Mayor Michael Bloomberg began planning the Hudson Yards project around six years ago. Over 20,000 workers have helped to construct the Hudson Yards thus far, and it is nowhere near complete. Phase Two of Hudson Yards, which involves constructing more buildings and a school, is expected to cost $9 billion and will take several years to complete. Once construction finally comes to fruition, it will not only bring more homes, retail, and recreational space to the city, but create more jobs and opportunities as well.