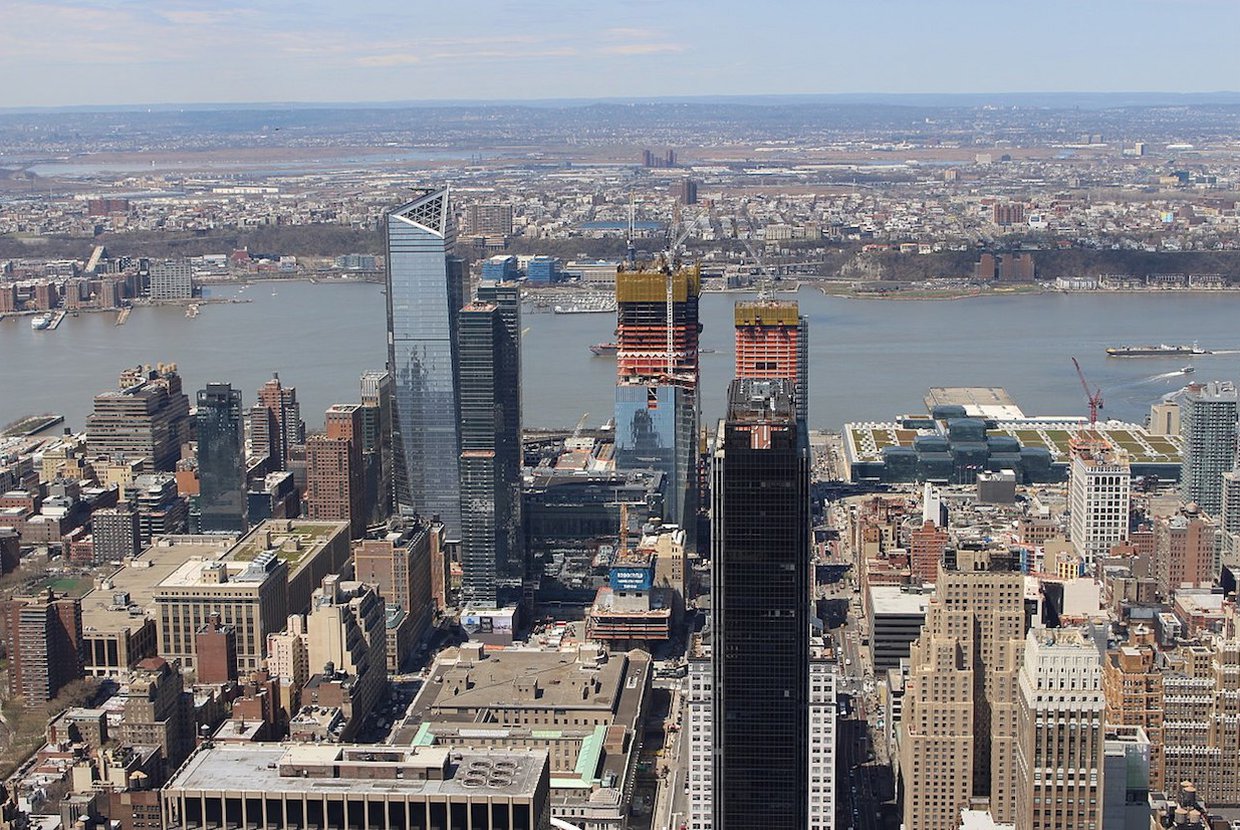 Edge, the highest observation deck in both New York and the Western Hemisphere, is opening soon in Hudson Yards. Visitors will be able to walk 65 feet out from 30 Hudson Yards, the building that the deck will be located on, and take in sweeping, panoramic views of the city skyline, according to its website. The observation deck, which is scheduled to open in early 2020, will also be the highest public balcony in NYC as it is situated 1,100 feet above the ground.
Spanning 7,500 square feet, Edge finished construction in May of 2018 and was developed by Related Companies and Oxford Properties Group. Construction on 30 Hudson Yards was completed soon after, in July of 2018. Standing at 1,296 feet tall, the Kohn Pedersen Fox-designed building is both the highest in Hudson Yards and the second highest in the city, according to 6sqft. And not only will Edge be the highest observation deck in the Western Hemisphere once it opens; it will also be the fifth highest in the world.
The observation deck will consist of a glass floor through which visitors will be able to see the neighborhood more than 1,000 feet below them. Edge will also feature glass walls rising nine feet high and angling out from the deck which people will be allowed to lean against as well, if they are brave enough. The Real Deal compared Edge with The Ledge, glass floor balconies at the Willis Tower in Chicago, and the Grand Canyon Skywalk.
Edge is not the only public space located at 30 Hudson Yards. The building will also feature an event space and restaurant that will span 10,000 square feet on the 101st floor. Rhubarb will be in charge of the space, a London-based restaurant and catering company which also owns a restaurant called Wild Ink located at 20 Hudson Yards. In addition to the restaurant and event area, 30 Hudson Yards will also boast an indoor-outdoor bar leading out to the observation deck.
Edge's website made its debut right before the official opening of Hudson Yards, a megaproject located over the rail yards on 10th and 11th avenues and 30th and 34th streets. The neighborhood was unveiled on March 15, with an endless variety of public spaces, including the Thomas Heatherwick-designed Vessel and the Public Square and Gardens, along with many new restaurants and shops. And although the neighborhood still has a long way to go before its official completion, construction on much of the area has already come to fruition, and the future looks bright for Hudson Yards.