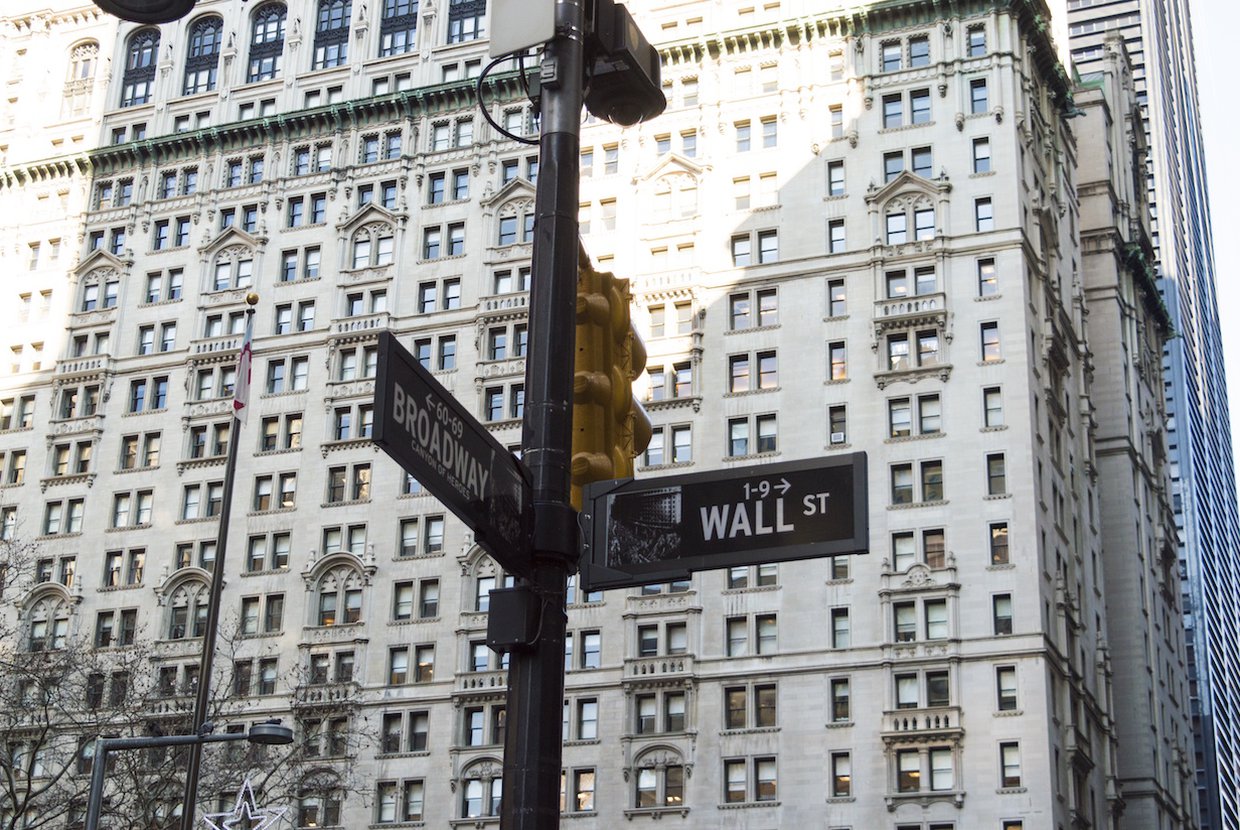 In 1907, an 18-story office tower known as the "Chimney Building" rose at One Wall Street in the Financial District. In 1929, the building was purchased for $1.05 million and demolished to make way for American Exchange Irving Trust's plans to create a massive frontage along Broadway that ran down an entire block of Wall Street.
The new One Wall Street building was completed in 1931 and designed by Ralph Walker, who is considered to be one of the best American architects of the 20th century. The Art Deco architecture was as iconic then as it remains today, with a steel skeleton covered in limestone that rises above Lower Manhattan to be a central figure in the skyline. A 36-floor addition was completed in 1965 to add more office space to the south part of the tower.
In 2014, the building was acquired by Harry Macklowe and Macklowe Properties with plans to remake the office tower into a residential and retail complex. In 2018, Deutsche Bank came through with $750 million in order to start the conversion process. Now, that process is ready to get underway.
Curbed recently took a tour of the building as it prepared for the next phase of construction and got a first-hand look at the potential interior. They also spoke with Macklowe reps about how important the project is, not just to them but to New York City. The firm's director of architecture and design Lilla Smith stated that "we are the stewards of this building, and it's our responsibility to take care of it."
New apartments and amenities aren't the only changes happening at One Wall Street. The exterior and structure of the building are also getting upgrades that still retain much of its original charm and iconography. A new Broadway entrance will include an undulating canopy that plays on the building's limestone facade and is actually based on a design from Walker that never came to exist. They also saved items from a bank previously located in the building, such as vault doors, that have been repurposed throughout the interior.
Inside, the retrofitting and renovations have meant making plenty of changes as well. One of the biggest updates is taking many of the older elements from the original building and combining them with the newer tower portion. Since the tower is a landmark, most of the larger changes are taking place on the annex side, including the addition of a glass-laden entrance for the retailers below. Whole Foods and Life Time Fitness are two anchor tenants who have already signed on for the building's grand opening in 2020.
Inside, the building will eventually house 560 luxury condos, ranging from studios to four-bedrooms. The biggest apartment will be a 12,965 square-foot, top-floor triplex penthouse that consists of living space, four bedrooms, four baths, a library, dining room, chef's kitchen, and full-floor living area. A 381-square-foot terrace will protrude from the top level.
While specific prices haven't been announced, Macklowe has been quoted as saying lower-level condos will be asking $2,000 to $2,500 per square foot while apartments higher up will look for between $2,800 and $3,000 per square foot.
Of course, life in One Wall Street will also come with plenty of amenities. Residents will have access to a 75-foot pool, golf simulator, children's playroom, dog spa, private dining rooms, and indoor and outdoor lounges across multiple floors.
The initial residents are expected to move into their apartments in late 2020, a date that is quickly approaching. If you're already itching to find out more about the possibility of calling One Wall Street home, contact an Elegran agent today.