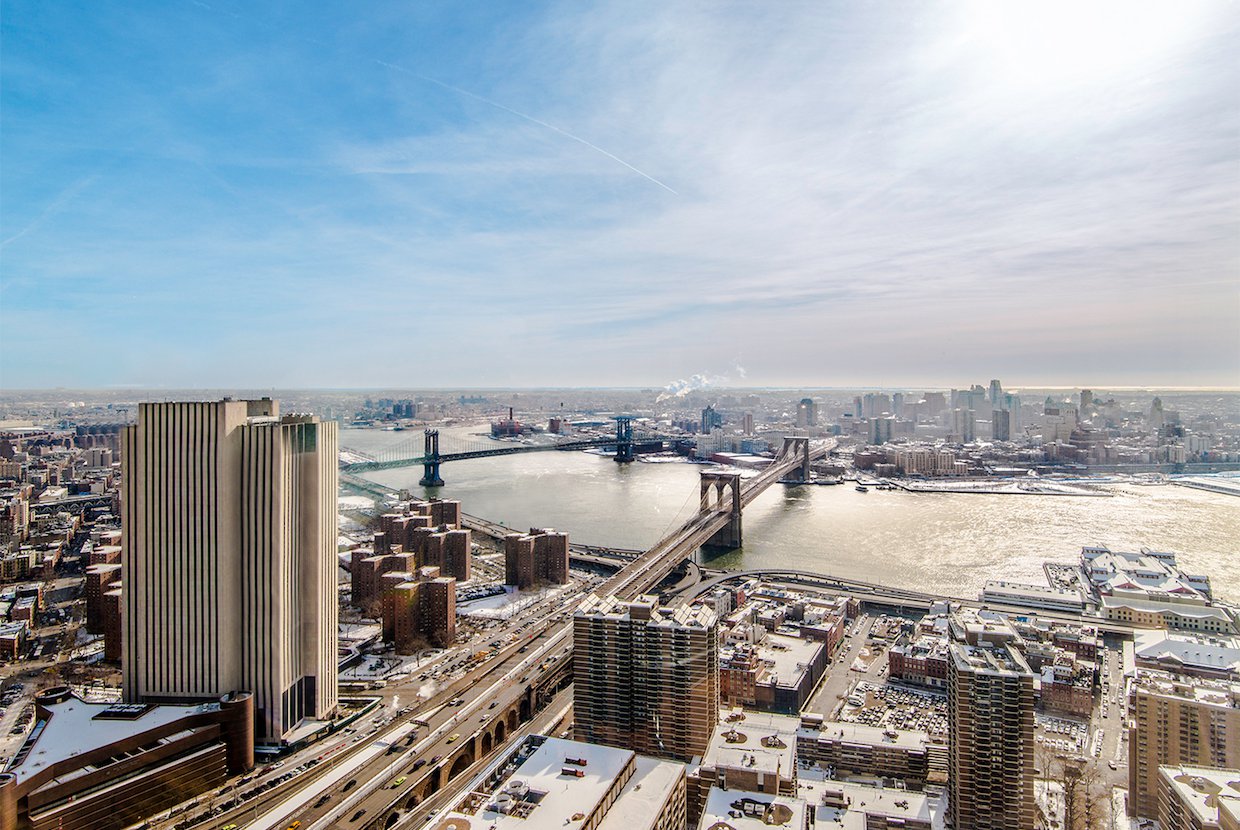 The plan to redesign the Domino Sugar Refinery located on the waterfront in Williamsburg is finally coming to fruition. The protected development has been reimagined as a modern neighborhood complete with residential towers, office space, and ground-level public amenities.
In June of 2018, Domino Park was unveiled, bringing with it a raised walkway, sculptures, artifacts from the sugar plant, a children's playground, a dog run, a volleyball court, and picnic areas. Around the same time, construction wrapped at 325 Kent, the first residential building completed in the development.
Curbed has also reported that the second residential tower included in the megaproject has topped out construction as well. One South First, a 42-story building designed by COOKFOX Architects and developed by Two Trees Management, will include 330 residences, 150,000 square feet of office space, and 15,000 square feet of retail. Two restaurants have already locked down space on the ground level, Roberta's and Other Half Brewing.
Out of all the residences, 66 have been designated as affordable units. These homes join the 522 apartments inside 325 Kent, 104 of which are deemed affordable.
One South First includes two towers that interlock as they rise. The exterior design is a white precast concrete facade that is meant to replicate sugar crystals in a clear homage to the Domino Sugar Refinery that once existed in the same spot.
This is not the only part of the development that takes a cue from the property's past. Domino Park, which is located directly behind the building, includes over 30 pieces of salvaged factory machinery, 21 columns from the warehouse, 585 feet of crane tracks, and four 36-foot-tall tanks that were once used to collect syrup. Other features in the park include a Japanese pine garden, play space "inspired by the sugar refining process," a sloping lawn, and an urban beach.
One South First and 325 Kent are two of the four major residential projects planned on the property. The project, which is expected to take 10 years to complete, will eventually include 2,800 apartments (700 of which will be affordable), 500,000 square feet of commercial space, and a new school.
The location just north of the Williamsburg Bridge offers clear views of the East River and Manhattan skyline, which means these properties are going to be some of the most sought-after in Brooklyn.
If you're interested in seeing what 325 Kent has to offer or want to get a jump on One South First before pre-sales begin, contact an Elegran agent today to learn more.