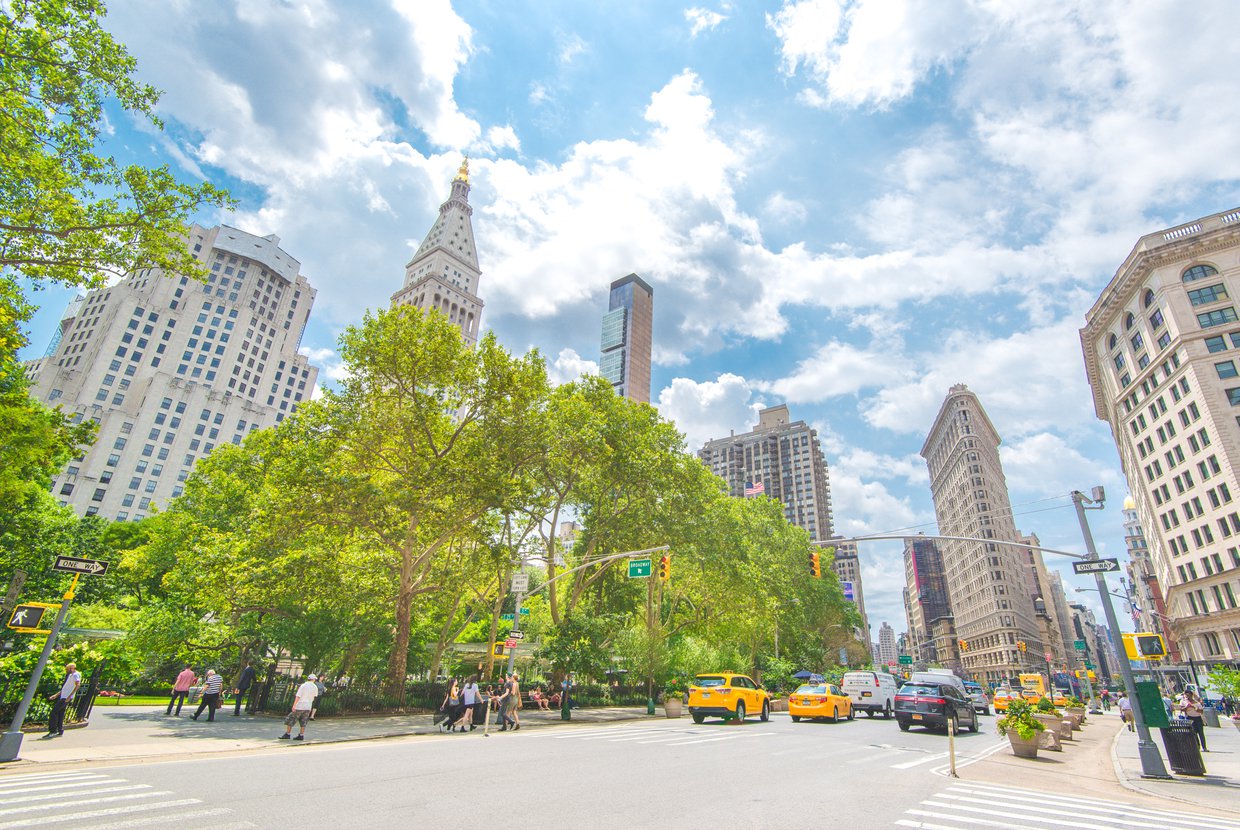 The history of the Rockefeller Group is intrinsically linked with New York City real estate in the 20th century, and now they are making their mark in the 21st century as well.
The company's NYC real estate legacy began with Rockefeller Center. After that initial Art Deco complex was completed in the 1940s, the group designed quite a few towers in the city throughout the 50s and 60s. In the early 70s, they added four International Style towers to Rockefeller Center on the west side of Avenue of the Americas, which more than doubled its size. Today, they either own or maintain management over 7,700,000 square feet of office space in the city.
Now, Rockefeller Group can also add some new residential space to their portfolio as well. Sales are officially underway at Rose Hill, the developer's first-ever condo building in Manhattan. Located on East 29th Street, the 600-foot tower will eventually include 123 apartments that range between studios and four-bedroom units. There will also be penthouse units, but the specifications on these have not been made public. Prices begin at $1,195,000 and are likely to rise well above that for larger units.
New York City-based CetraRuddy Architecture designed the building. They are best-known for their work on One Madison, the adaptive reuse into residences of the Walker Tower, new Lincoln Square Synagogue building, and residential tower ARO. They designed Rose Hill's exterior with an Art Deco style featuring a bronze-colored facade, geometric accents, and an illuminated crown at the top. Private terraces will jut out from some of the larger residences, all of which will be detailed to evoke the kind of architecture reminiscent of Rockefeller Group's early work. The building's name also recalls the former name of the neighborhood, named for the 130-acre Rose Hill Farm estate that was once located here long before it became known as Nomad.
Residences at Rose Hill offer panoramic views of the city and many of the luxuries buyers have come to expect from homes at this price point. Kitchens come complete with Miele appliances and high-end finishes. Bathrooms include custom vanities, large powder rooms, brass fixtures, and heated floors. Some apartments offer "flex rooms" that can act as a library, office, guest room, nursery, or wine cellar.
Rose Hill's amenities are on the higher end as well. The double-height lobby includes a marble fireplace, jewel-box bar, second hearth, and direct access to a landscaped courtyard with outdoor seating. The health and wellness club is where residents will find a fully equipped gym, professional-grade squash court, 50-foot pool, sauna, and changing rooms. Up near the top of the building, residents will be able to unwind and relax in a space that includes a billiards table, library, fireplace, private dining room, bar, and outdoor lounges with 360-degree views. Building amenities also include a guest suite, bike storage, bike repair workshop, and pet salon with grooming station.
Construction is ongoing at Rose Hill and closings are estimated to happen by fall 2020. In the meantime, if you are interested in taking a look at residences in the area, contact an Elegran agent or visit the Elegran sales page.