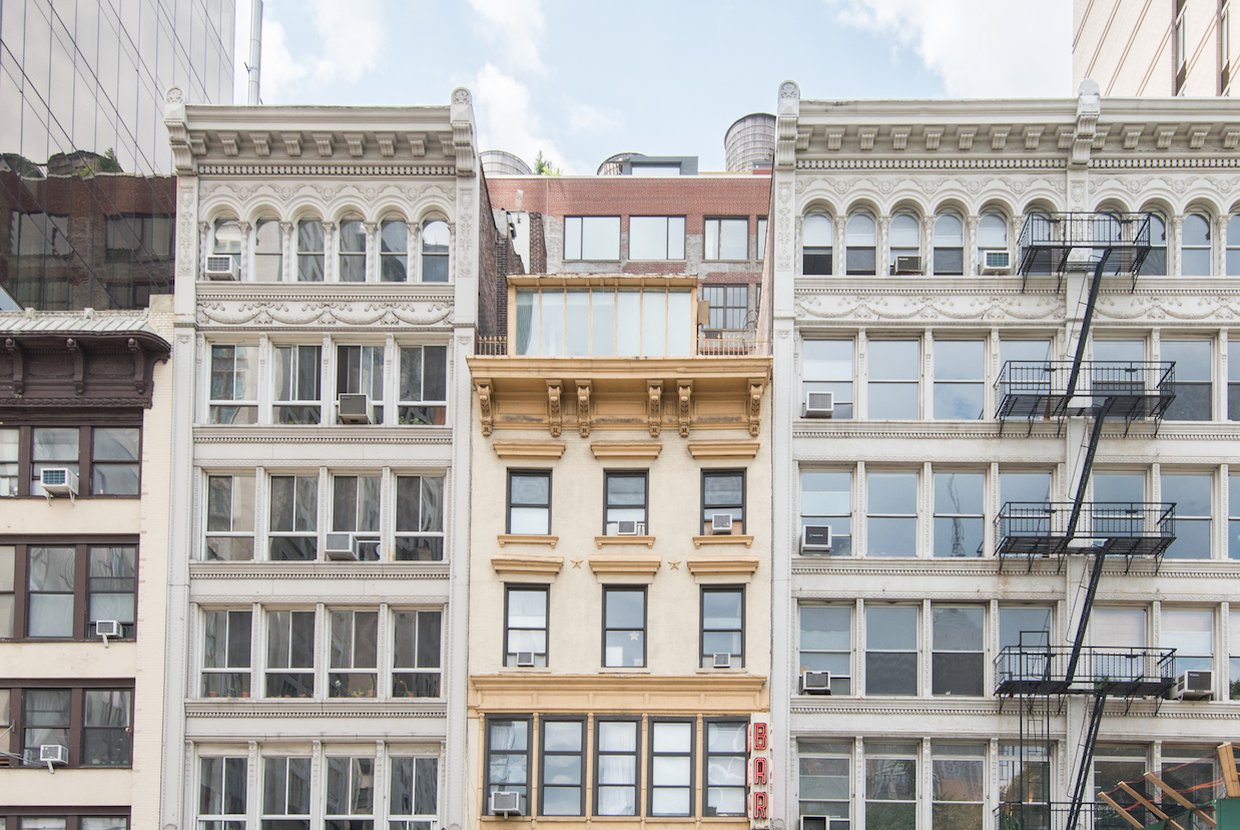 Tribeca is now ranked first on the newest list of the 50 priciest neighborhoods in NYC, according to a recent report on residential transactions in Q2 of 2019. The median sales price in this highly sought-after neighborhood currently stands at $4.34 million, an impressive 14 percent increase from last year's Q2 figure. And Hudson Yards is currently the second priciest neighborhood in the city, following closely behind Tribeca with a median sales price of $3.86 million. With the only sales coming from its first completed residential building, this is likely just the beginning for the new neighborhood.
Little Italy made third on the list, with median sales prices jumping 153 percent to $2.66 million. This was largely due to the recently redeveloped Puck Building, where two units were sold for $18 million each. Soho made fourth place after dropping from its second-place ranking due to a 10 percent year-over-year decline.
The Garment District came in 5th place with a median sales price of $2.6 million, and Hudson Square ranked sixth at nearly $2.5 million. With median home prices soaring 171 percent year-over-year, Cobble Hill, Brooklyn is now the 7th priciest neighborhood, and is the only area outside of Manhattan to rank in the top ten. Out of the 29 total transactions in this neighborhood, 17 were generated in The Cobble Hill House, which has a median sales price of over $2.3 million.
Although the Flatiron District saw a 32 percent increase, it fell two positions to 8th place, despite the $80 million purchase of two units and a penthouse at 212 Fifth Avenue. Greenwich Village came in 9th place with a $1.7 million median sales price, or a 37 percent increase from the second quarter of last year. And median prices in Gramercy Park spiked 87 percent to almost $1.7 million, largely due to the transactions in just two residential developments, 121 East 22nd Street and 200 East 21st Street. Those buildings had median prices of $2 million and $2.5 million, respectively, which brought the neighborhood to 10th place.
Out of the top 50 most expensive neighborhoods, Manhattan had 24 neighborhoods on the list, Brooklyn 21, and Queens seven.
Other neighborhoods that experienced significant price changes over the past year included The Lower East Side, which moved up 12 positions to take the 16th spot. This 45 percent year-over-year increase was largely due to the sales at One Manhattan Square. Meanwhile, in Dumbo, median house prices dropped 40 percent from last year's figures to $1.5 million. In Queens' Ditmars-Steinway prices are now up 79 percent, although the median home sales price here has yet to reach the $1 million mark.
The volume of sales in this second quarter may have been partly influenced by the city's mansion tax that went into effect on July 1st, as many buyers likely rushed to buy homes to avoid the tax deadline. As industry experts have predicted that inventory will increase and demand will slow after the tax commenced, there are more apartments to choose from and better opportunities to negotiate great deals all over the city. But as prices may continue to rise, now seems like a good time to make a move on the market. Visit the Elegran sales page or contact an agent today to find out more.