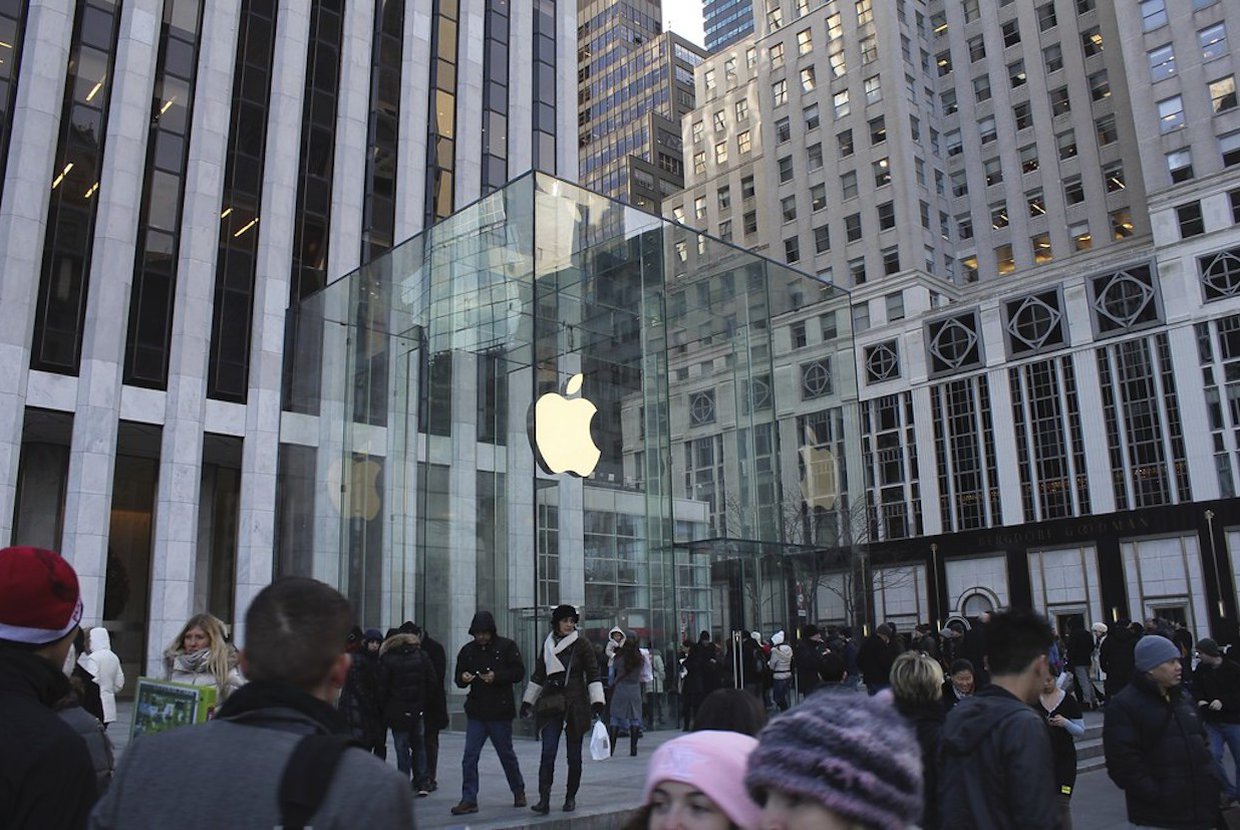 New York City is already well on its way to overtaking Silicon Valley as the top global tech hub in the coming years. If the demand for office space from the world's top tech companies is any indication, many are aware of the impending shift as well.
Amazon may have backed out of their HQ2 plans in Long Island City, but the tech giant is currently looking for office and warehouse space in the city. Google announced a $1 billion expansion in Manhattan's West Village neighborhood to go with its takeover of Chelsea Market and elsewhere. And Apple, long-rumored to be looking for more office space in Manhattan, is said to have their sights set on a way more room than expected.
According to The Real Deal, the Cupertino-based tech company is looking for at least 200,000 to 500,000 square feet and could end up grabbing as much as 750,000 square feet in the city. They have been rumored to have checked out plenty of the expected sites for that kind of space, including Hudson Yards, the Farley Post Office redevelopment, and One Madison Avenue, per sources. This latest look-around for new office space is said to be related to a new round of hires that the company will be making soon.
Apple is considered the last of the FAANG tech companies (Facebook, Amazon, Apple, Netflix, and Google) to consider significantly scaling up in NYC. It makes sense that these tech giants are moving more of their business to the Big Apple. NYC is experiencing massive tech growth, thanks in large part to venture capital availability, the deep talent pool of tech workers, and the opportunities available for incoming tech talent.
Apple's impending office space takeover is the latest development in the competition between tech giants to grab the space they need as they all expand their footprints in NYC. That battle for space means that they compete for the most coveted spots around the city.
Facebook is allegedly in talks to lease upwards of 1.5 million square feet at 50 Hudson Yards, joining their many other locations around the city, including 770 Broadway in NoHo and 335 Madison Avenue in Midtown. Amazon is said to be planning on renting over 400,000 square feet of space in Hudson Yards as well, specifically in SL Green's 460 West 34th Street.
Last month, Google finalized a deal to lease 1.8 million square feet of space in Oxford Properties' redevelopment of the St. John's Terminal in Hudson Square. That joins the list of their many locations around the city that always seems to be growing. Netflix recently leased 100,000 square feet of Flatiron District office space at 888 Broadway as well as 161,000 square feet at 333 Johnson Avenue in Bushwick for their TV and film productions. And Apple currently has around 45,000 square feet of offices in the Flatiron District's' 100-104 Fifth Avenue, where it's been since 2011.
These are good signs that tech workers in New York City should settle in for the long haul because plenty of jobs and companies are coming to town in the very near future. If you are looking to put down roots in NYC as well, contact an Elegran agent today.