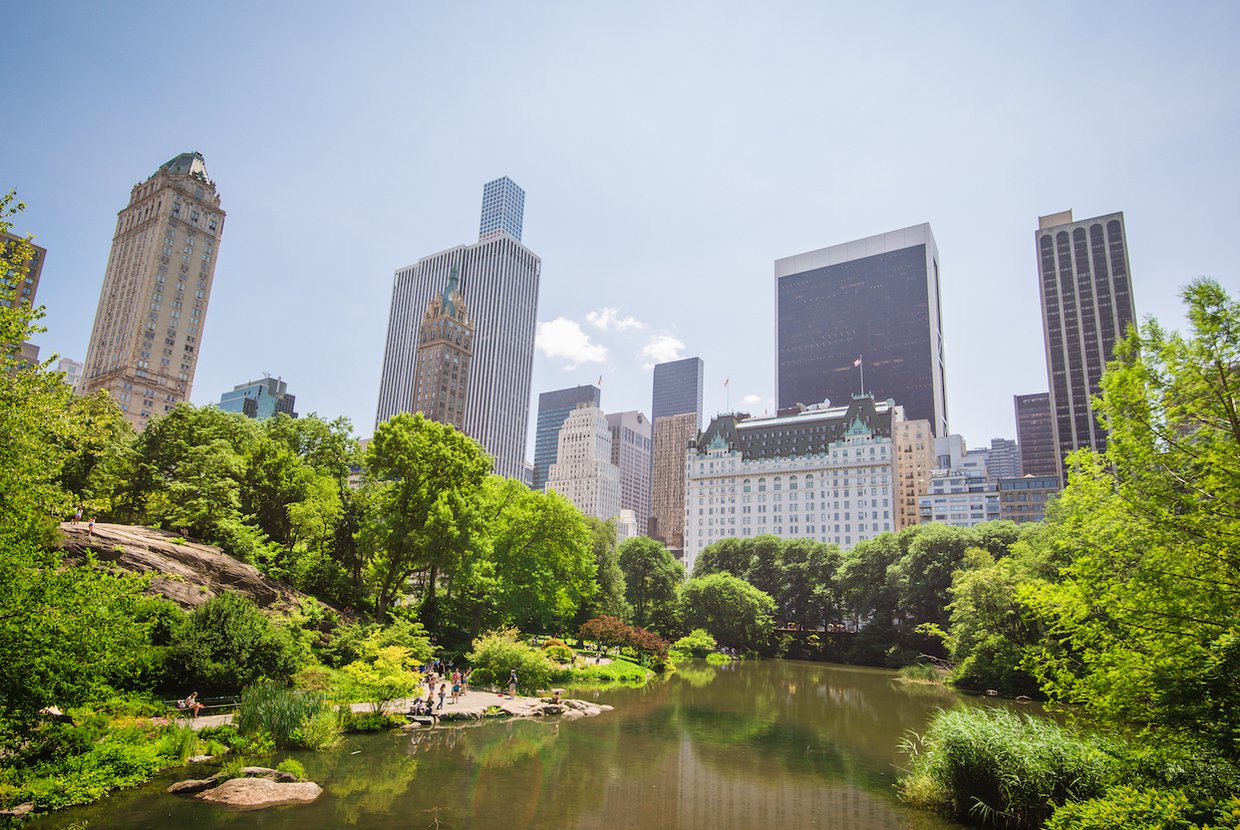 The north end of Central Park is one of the most scenic and breathtaking areas in NYC, featuring the Harlem Meer, the Loch, and the endless winding pathways throughout. This area has long been disconnected from the North Woods and the rest of the park due to the outdated Lasker Rink and Pool, which blocks off pedestrian paths and a watercourse. But finally, after many years of this obstruction, the Central Park Conservancy and the City of New York have created a $150 million plan to completely revamp the area and reconnect it to the park, allowing for easy access to this beautiful area.
Designed by Central Park's chief landscape architect Christopher J. Nolan, Mitchell Giurgola, and Susan T. Rodriguez Architecture Design, the project's goal is to seamlessly merge the park's architecture with the surrounding landscape and natural layout. Susan Rodriguez said in a statement that "building upon the site's unique topography and historical underpinnings, the project will transform the site, reopening it to the rest of the park to create a new recreational experience that is integrated into the park's magnificent landscape and accessible to the public throughout the year."
The renovation project involves rebuilding the Lasker Rink and Pool, which were originally built in 1966. As the building blocks the North Woods' stream from flowing into the Harlem Meer, this revamp will integrate the rink and pool into the landscape, and allow the water to flow freely again. The new and improved outdoor pool will be surrounded by an expansive patio area and will come with amenities such as changing rooms for added convenience. There will also be walking paths leading to the pool, allowing for easier access and better connection to the surrounding area. And, similar to the original structure, the pool will become an ice skating rink in the winter.
Another part of the renovation plan involves constructing a boardwalk that runs along the edge of the Harlem Meer. During the warmer months of the year, this area will feature nature education programs including canoeing, fishing, and wildlife observation. And during the winter, the boardwalk will double as a skating ribbon along the lake.
This project is the final and largest component of a 40-year plan to renovate the north end of the park. All of the plan's renovations will be funded by the city of New York, as well as donations collected by the park. The Central Park Conservancy plans to begin this major revamp in the spring of 2021, and the entire project is expected to come to fruition in 2024. Thomas L. Kempner Jr., Central Park's Conservancy Board of Trustees Chairman, stated that "we are proud to have earned the public's confidence through our 40 years of restoring, managing, and enhancing Central Park and are excited to see how this project will transform the lives of New Yorkers."