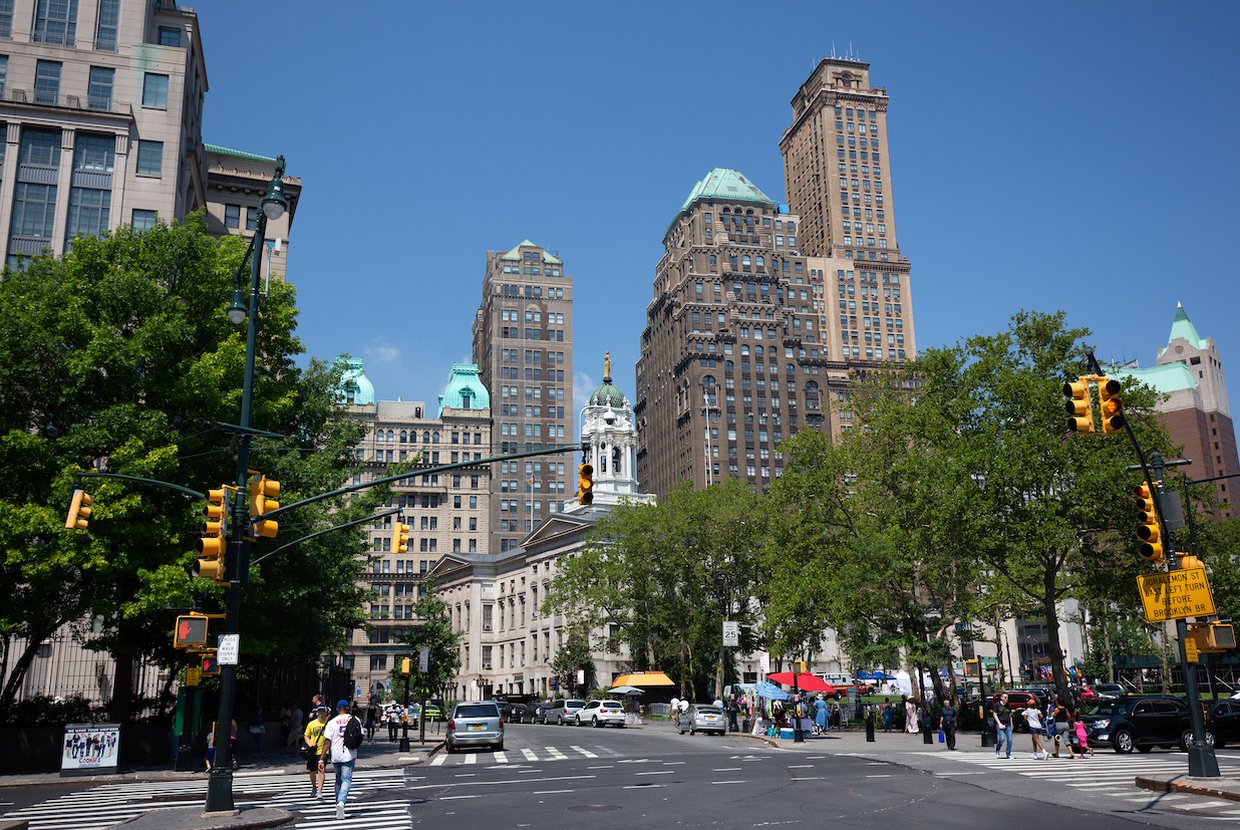 Named for three nearby landmarks (Prospect Park, Lefferts Manor, and the Brooklyn Botanic Garden), the Brooklyn neighborhood Prospect Lefferts Gardens has a new luxury apartment tower coming soon. PLG, a 26-story tower located at 123 Linden Boulevard, has recently unveiled the interiors for its 467 rental apartments in anticipation of its completion.
Developed by the Moinian Group and Bushburg Properties, PLG topped out at 229 feet in April and will offer residents views of Manhattan, Downtown Brooklyn, and the Verrazano Bridge. Leasing is expected to get underway soon on the building's residences, including studios starting at $2,300 per month, one-bedrooms starting at $2,475 per month, two-bedrooms starting at $3,600 per month, and three-bedrooms starting at $4,500 per month. Around 30 percent of the units will also be available at below-market-rate housing.
The building was designed by Hill West Architects, who are best known as the lead architects on the Plaza Hotel as well as their work on One Riverside Park, and 56 Leonard Street. Residents will arrive via a covered motor court that leads to on-site parking. As for nearby transportation, the building is situated right near four major transit lines (B, Q, 2, 5). Inside, residents are greeted by an ultra-modern lobby full of sleek metallic designs.
The building itself will contain over 50,000 square feet of amenities, including an indoor swimming pool, rooftop pool, resident lounge, indoor and outdoor fitness center, sauna, steam room, dog run, game room, co-working lounge, outdoor basketball court, and a golf simulator room. Plans also call for 39,000 square feet of commercial space on the lower levels that are likely to be filled by cafes and shops, among other retailers.
Residences have been designed by Whitehall Interiors, the interior design arm of Hill West Architects. They've been designed with a focus on letting in natural light through floor-to-ceiling windows. 85 of the units will have private balconies, all of which can be seen along the northern and southern facades in a staggered pattern. Renderings also showcase warm colors, wood-focused materials, high-end appliances, and minimalist bathrooms.
Prospect Lefferts Gardens has been considered a rapidly changing neighborhood for a little while now, and the arrival of PLG is a signal that more residents are flocking to this area. The Flatbush neighborhood is defined by Prospect Park to the west, Crown Heights to the north, and Brownsville to the east. Locals will always find something going on at Flatbush Avenue where a mixture of historic buildings and modern shops and cafes makes for a fulfilling living experience.
Local businesses like PLG Coffee House and Tavern, Peppa's Jerk Chicken, Midwood Flats, and The Food Sermon make sure you don't have to travel very far to find something good to eat or drink. There's also a strong Caribbean influence that can be felt in the neighborhood's local shops and festivals. And of course, the neighborhood has easy access to Prospect Park and everything exciting found inside it.
Interested in taking a closer look at the Prospect Lefferts Gardens neighborhood? Contact an Elegran agent to learn more about homes in this area.