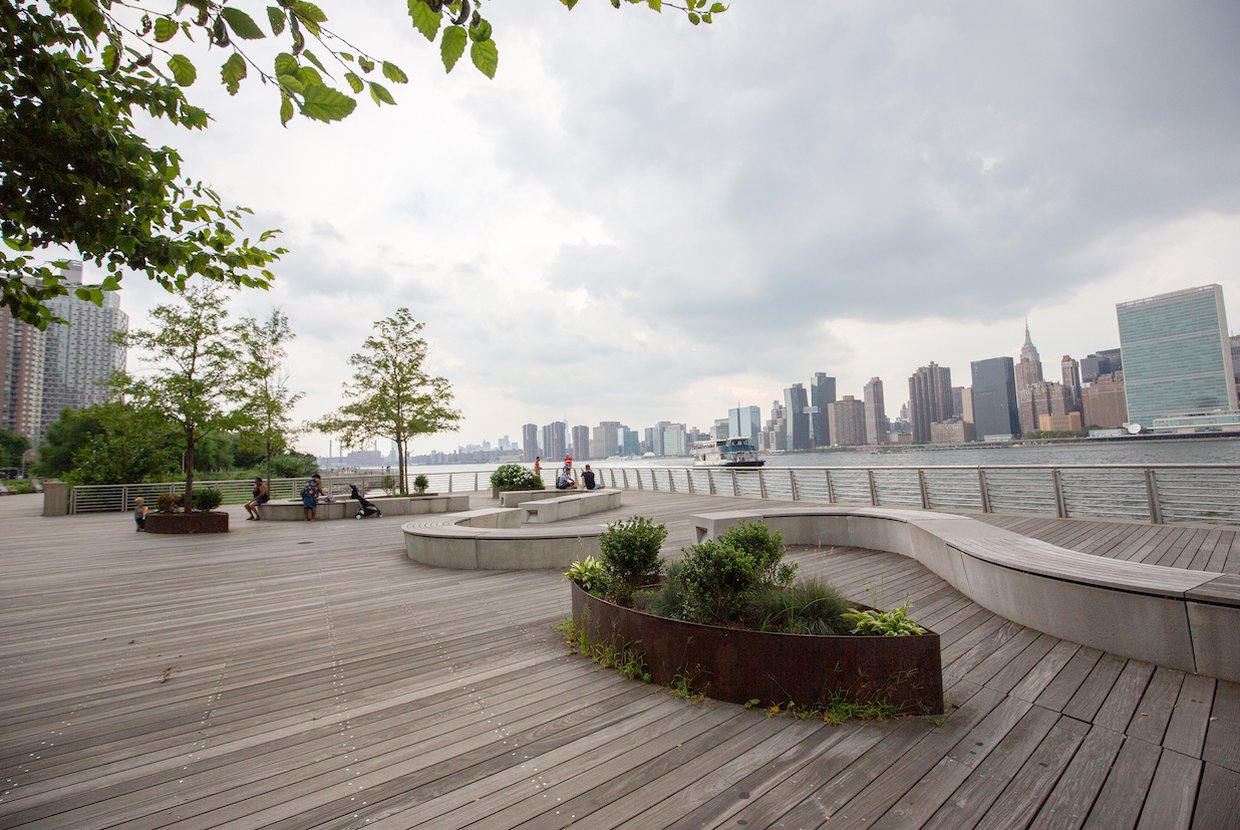 Twelfth Street between 44th Avenue and 43rd Road used to be an abandoned wasteland used by a local company for employee parking, mainly due to a large rock that obstructed easy vehicular access. But now this unique glacial formation has become the centerpiece of a new pedestrian plaza that has breathed new life into this vibrant neighborhood.
The real estate developer the VOREA Group partnered up with the city's Department of Transportation (DOT) via the Street Seats program to create the plaza, which opened September 6th with a party including free ice-cream! The VOREA group own several properties in the area and purchased the two-story warehouse at 12-01 44th Ave in April 2017 for $5.5 million. They spent a further $10.75 million restoring it, and now, 15,000 square feet of space in the building has been leased by a product-review website, Wirecutter and the remaining 5,000 square feet by the New York Times, Wirecutter's parent company.
The Street Seats program is a plan to increase public seating along roadways. Seats and planters are normally installed on wide sidewalks or along the curb line in the roadbed to provide an attractive setting for people to relax, do work, or socialize. They operate by forming a partnership with the business in front of which they are situated who take responsibility for operating and maintaining them, with logistical support from the DOT. The Street Seat scheme started in Europe to make city streets more people-friendly and to revitalize underused spaces. The program has become very popular in NYC and last year sixteen new installations were added in Manhattan and Brooklyn. This LIC plaza is the second project in Queens, and is also one of the most ambitious and spacious.
The new pedestrian-friendly plaza was designed by MAPOS Architecture and Design and the previously unloved glacial rock has now become the main feature. Bright blue paint surrounds it, accentuating its massive beauty, and lines in the same color and of varying widths run the length of the street creating a bright, modern, and appealing setting. There are numerous planters providing greenery and several outdoor seating options for people to enjoy.
Due to the large area covered by the plaza, the aim of this space is that locals will make use of it for community events as well as enjoying their lunch or just a quiet rest there. The plaza also includes space where local artists and craftspeople will be able to display their work. Adam Joly, of VOREA, states, "Our goal was to use art as a vehicle to celebrate the unique history of LIC and help breathe new life into this incredible, creative pocket of the neighborhood."