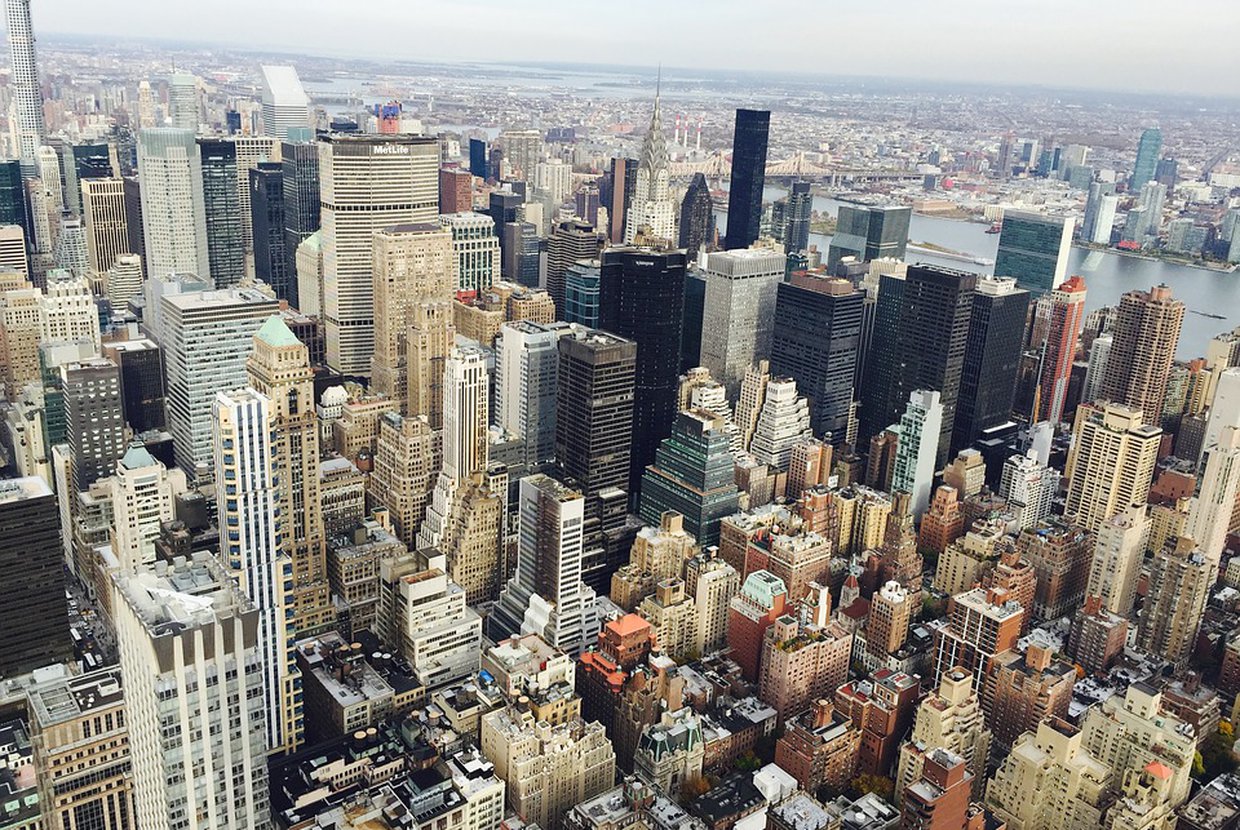 2018 was a big year for tech companies expanding upon their office space all over Manhattan, which put New York City on track to become a major national and global tech hub. And this year the city is on pace to see even more growth.
Commercial real estate services and investment firm CBRE recently reported that tech company office leasing around the borough accounted for roughly 15 percent of the 15 million square feet of office space that was leased in the first half of 2019. This number has risen ten percent from 2018's overall tech leasing numbers.
Those numbers are backed up by commercial leasing group Cushman and Wakefield, who noted that TAMI (tech, advertising, media, and information) industries leased 74.3 percent more Manhattan office space by the end of Q2 compared to the same period last year. That push is also driving new lease activity in Manhattan to 25-year highs, and is 13 percent higher than 2018's pace.
The companies driving much of this expansion are Facebook, Google, Apple, and Amazon, and these tech giants are competing with one another for the best spots. Facebook has office spaces at 770 Broadway in NoHo and 335 Madison Avenue in Midtown, and is in talks for leasing upwards of 1.5 million square feet at 50 Hudson Yards, where they'd join many of their competitors in the space. Facebook was also considering leasing space at One Madison Avenue before the Hudson Yards expansion, but it is unclear if this expansion is still a possibility. If they do make the move, it will be a big win for Hudson Yards as well as Manhattan's West Side, both of which want to be seen as tech hubs within the city.
Amazon backed out of their HQ2 plans in Long Island City, but that doesn't mean they're staying away from NYC. This tech giant has an abundance of office space across Manhattan, including at 2 Herald Square and 5 Manhattan West. They may be seeking office space in Midtown West, looking around in 1&2 Manhattan West, and looking into setting up shop in the former Lord & Taylor building on Fifth Avenue. Plus, they may be looking for one million square feet of distribution space in Brooklyn to go with their 850,000-square-foot fulfillment center in Staten Island and a 120,000-square-foot distribution center coming to Hunts Point.
The Real Deal recently reported that Apple was on the hunt for at least 200,000 to 500,000 square feet and could end up grabbing as much as 750,000 square feet across Manhattan. Their potential landing spots include Hudson Yards, the Farley Post Office redevelopment, and One Madison Avenue. All of which means Apple is looking to ramp up its hiring efforts in NYC as well.
As for Google, they recently closed on a deal to lease 1.8 million square feet of space in Oxford Properties' redevelopment of the St. John's Terminal in Hudson Square. That's the latest in a long line of Google office spaces around the city including their takeover of Chelsea Market, which has become its own tech hub within the Chelsea neighborhood. The tech company also has 300,000 square feet in 111 Eighth Avenue, which they ended up buying outright for $1.77 billion. They are also leasing 240,000 square feet of office space at Vornado's 85 10th Avenue and have big plans for the massive Google Hudson Square project.
In this exciting time for NYC's tech industry, there is no better time than the present to consider renting or buying here, whether you are working in the tech industry or simply thinking of moving to the city. Contact an Elegran agent today to find the perfect NYC home for you.