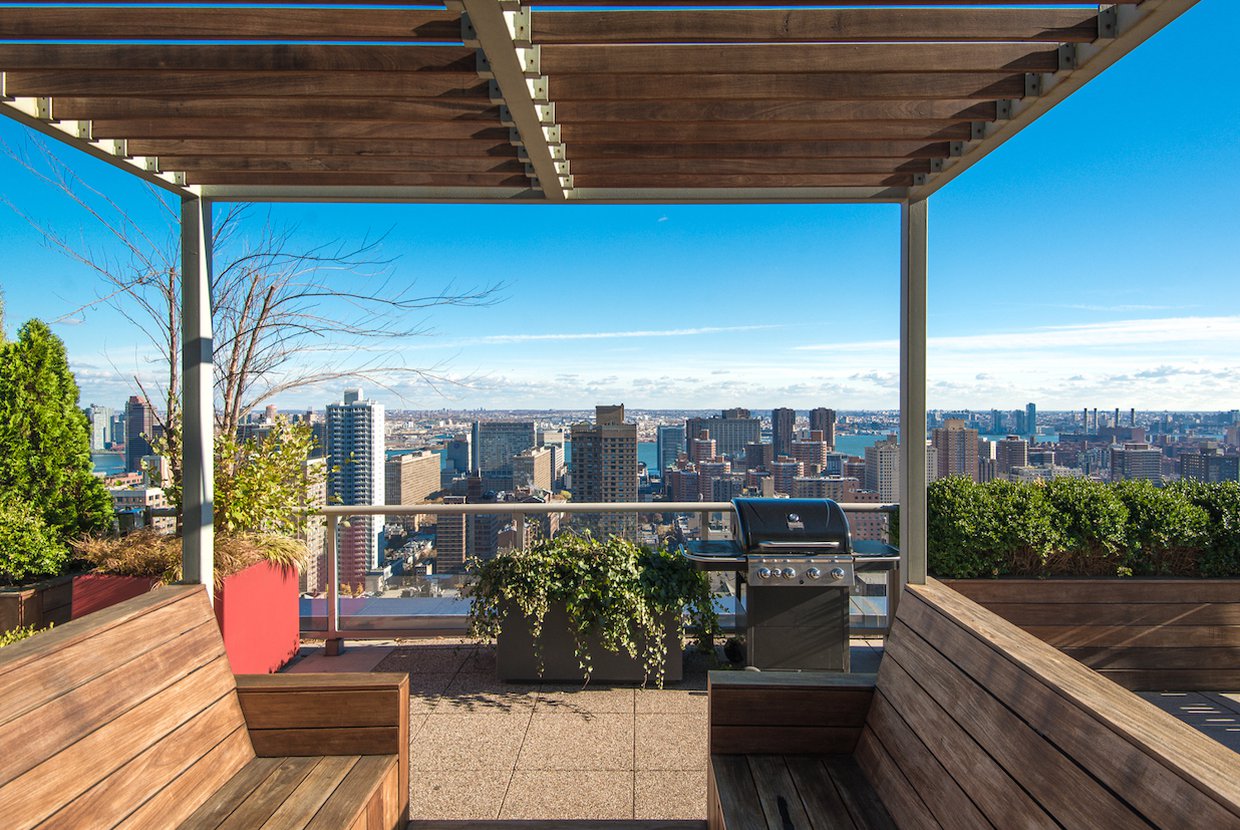 Private outdoor space is one of the most desirable and hard-to-come-by apartment amenities in NYC, whether it be a terrace, balcony, or patio. But making this space your own can prove difficult, as you might be unsure of how to maintain it, or how to add in decorations without creating too much clutter. Luckily, there are many different ways to transform your outdoor spot into an oasis and maximize the space you have. Here are some tips and easy ways to improve your outdoor space, and create a relaxing respite from the bustling city below.
1. Go Green
Even adding just a few plants will give your outdoor space vibrancy and help create a bigger connection between your indoor and outdoor areas. When figuring out what plants and flowers to go with, make your decision based on conditions such as sun exposure and how much wind your outdoor space usually gets. If you're close to the street, consider tough plants that can withstand more intense environments. And if you're short on space, consider adding some vines or greenery along the walls.
2. Decorate with Furniture
Whether you have a small balcony or expansive terrace, the decor and design you choose can make or break its atmosphere and appeal. If the weather permits it, you can add in a rug to make your space a "room." A tasteful table and chairs create a more inviting atmosphere, and an umbrella will protect your guests and furniture from the elements.
Remember to consider wind and how much rain and snow will affect the furniture or other items in your outdoor space as well. You don't want to put in items that may blow away or fall to the ground below. Consider the measurements of your outdoor space before buying furniture that may not fit.
3. Keep It Clean
An important step to making your outdoor space peaceful and welcoming is to keep it clean and free of clutter. That can be easier said than done, especially if you have a street-facing balcony or terrace that may accumulate more dirt and dust. Clean the space as regularly as you would in your indoor spaces. If birds contribute to the mess, hang some netting around the balcony, add an owl or scarecrow figure, or use a non-toxic bird repellant to ward them off.
4. Add Lighting
Lights can be essential to make your outdoor space inviting in the evening. You might not be able to have candles or fires in your outdoor space, but you don't need to. Solar string lights cast a beautiful glow and don't rely on tangles of wires to happen. Instead of making a fire, recreate the feeling with a bundle of decorative wood covered in string lights. And of course, you can decorate the space with lanterns, tea lights, and any other unique light sources that don't break the rules or cause fire concerns.