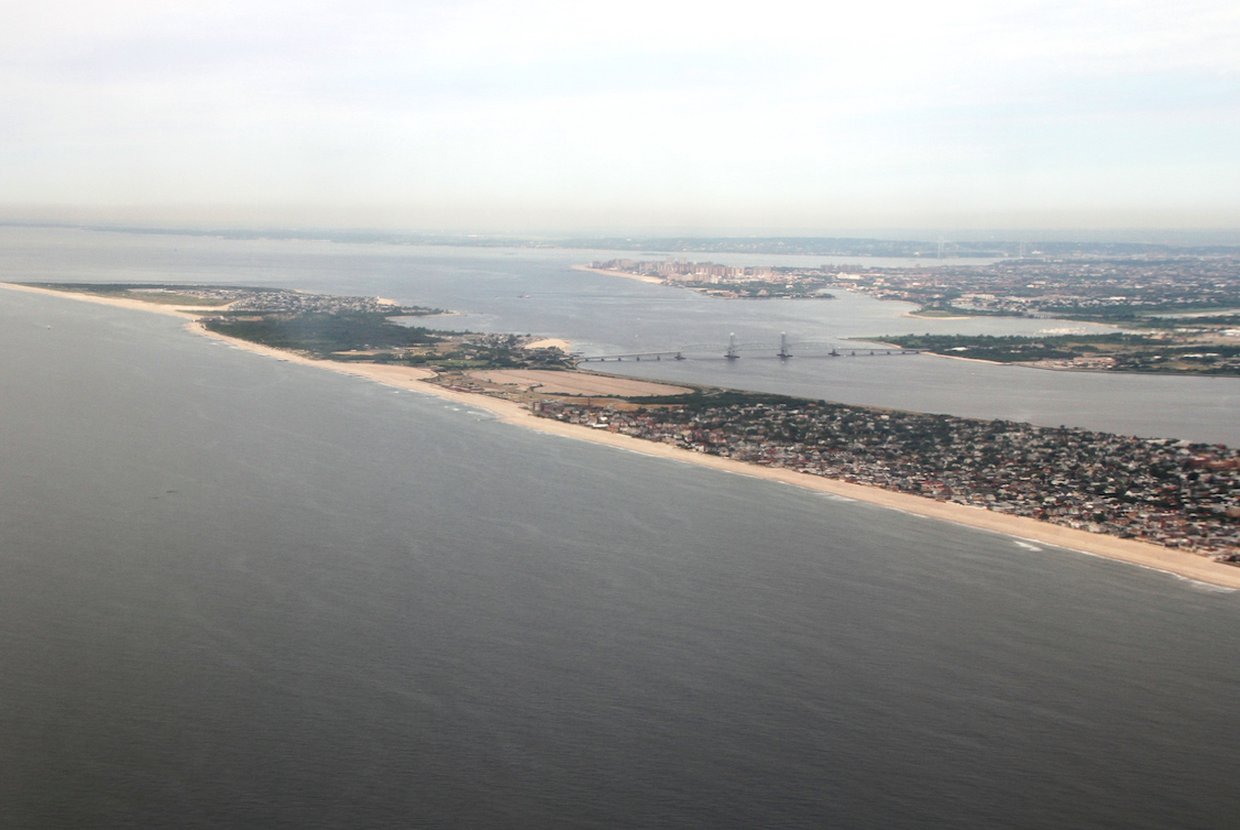 At the end of the A train line, you'll find Far Rockaway. This diverse Queens neighborhood on the eastern tip of the Rockaway Peninsula is anchored by three retail corridors (Central Avenue, Mott Avenue, and Beach 20th Street) and a historic feel. However, there has been lots of disinvestment from the neighborhood in recent years that has led to retail vacancies and a lack of housing options.
But this is about to change, as Downtown Far Rockaway is getting a $139 million makeover from New York City that will improve streets and infrastructure, invariably leading to a renewal in development interest.
According to Curbed, the two-phase project kicked off in late September with a complete reimagining of the rezoned 25-block region. New pedestrian spaces, landscaped grounds, and green infrastructure will be added throughout while stormwater drainage improvements will do a lot to clear out roadways that often flood. Lorraine Grillo, the commissioner of DDC, said that the project is being fast-tracked because of the need to make these improvements quickly.
"A project of this scale would normally take seven years to complete, but we're planning to finish it in three years," Grillo said in a statement. "This very large project is going to have a transformational effect on Far Rockaway, bringing better streets and better infrastructure to a community that could really benefit from this type of investment."
The Department of Design and Construction (DDC) designed the new-look infrastructure along with an assist from W Architecture and Landscape Architecture of Brooklyn.
This is just one aspect of a much larger rezoning project that was approved in 2018 which puts a focus on remaking the business district and area around the transit station at Mott and Central Avenues. There's already a Snøhetta-designed public library with a glass facade and pyramid-like shape going up at 1637 Central Avenue. A series of below-market-rate apartments are also headed to the area and developers have already started flocking to the neighborhood to see what other opportunities exist.
It's not just about the new development. Many of the existing buildings are getting new looks as well. MDG Design + Construction landed a 99-year lease for the NYC Housing Authority's Ocean Bay apartments, which is undergoing a $560 million renovation.
Along with all of the residential and commercial development underway or planned, Far Rockaway is also spending millions on improving its infrastructure, parks, community facilities, and small business support systems. 7,000 feet of new sidewalk curbs will be installed, as well as 83,000 square feet of new concrete sidewalks. Green infrastructure such as rain gardens is expected to help with stormwater absorption and stilting the flow of runoff into wetlands. Over two miles of storm drain sewers will also be installed.
One of the most exciting features for residents is the arrival of a new pedestrian plaza that will run from Beach 21st to Beach 22nd streets, close to the Far Rockaway-Mott Avenue subway station. At 15,000 square feet, the plaza will include an event stage, seating options, trees and greenery, and a restroom.
The first phase of the project will take around 21 months to complete and includes the installation of the storm sewers, catch basins and new fire hydrants. It also includes the replacement of 11,000 feet of sanitary sewer pipes. The second phase will begin once the first one is complete and is expected to take around 13 months.
"This historic $139 million investment in Downtown Far Rockaway's infrastructure is a critical component for the future success of our community," City Council member Donovan Richards said in a statement. "[This project] will ensure a more pedestrian-friendly Far Rockaway that can better manage future storms while also beautifying the commercial corridors and the transportation hub of the peninsula."