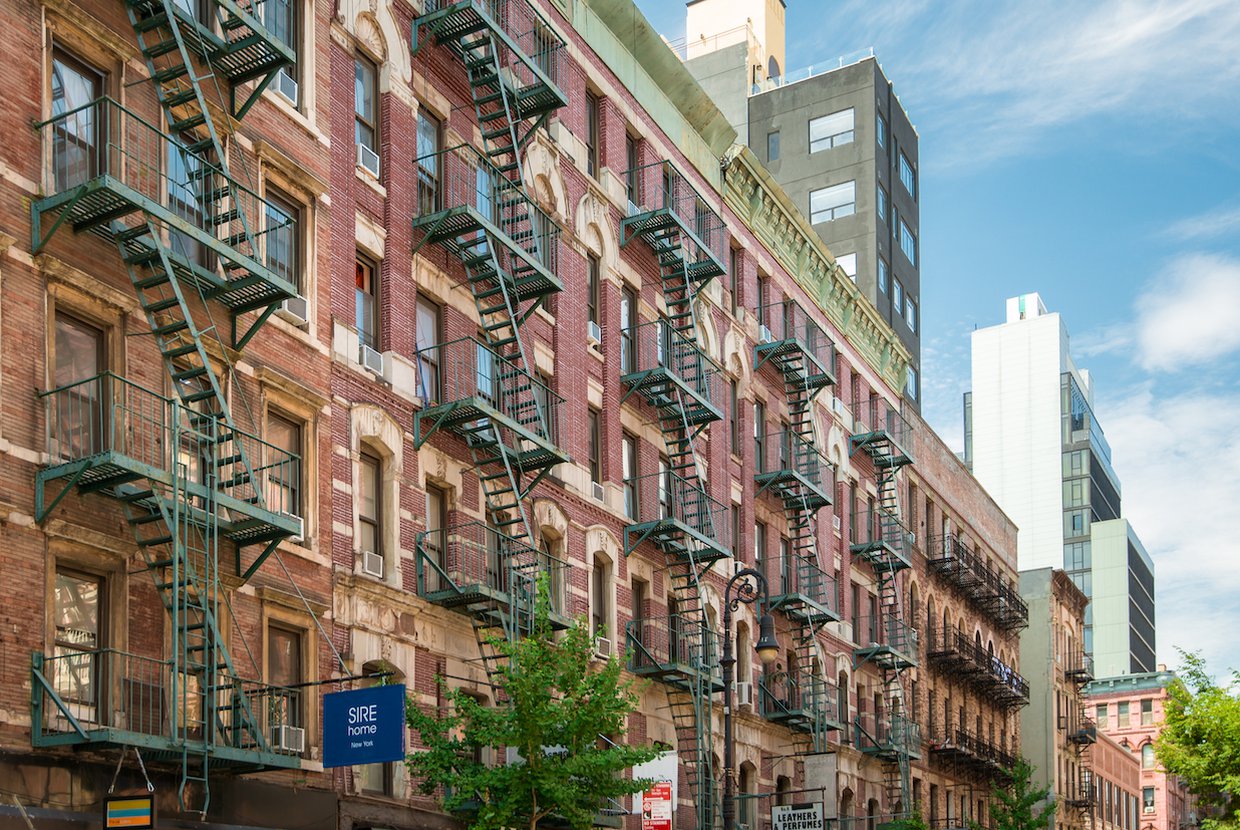 Essex Crossing's 202 Broome Street has recently topped out, making it the seventh building in the megaproject to reach this point. The six-acre, $1 billion Lower East Side project is making progress since it broke ground in 2015. Once completed in 2024, it will have a total of nine buildings creating 1.9 million square feet of space and offering almost 1,100 housing units. Currently, four buildings are already open, three are still under construction, and two further buildings are in the final acquisition stages.
202 Broome Street stands between Norfolk and Suffolk Streets and was funded by a $260 million construction loan secured back in April. Designed by CetraRuddy, the 14-story building has a broad base with a slender tower. The residential tower is due to open in 2021, and condos will be situated on floors six to fourteen. Although there are not many details about the 83 luxury condos available yet, sales are due to begin next spring and more information is expected to be released soon. According to a press release, these homes will have "thoughtful layouts, expansive views in all directions, and a generous amenity program." Building amenities will include a terrace, fitness center, lounge, laundry room, and storage.
On the ground floor, 202 Broome Street will house a section of the Market Line. This bazaar is spread across various of the megaproject's buildings and the first part of the huge space is due to open in November this year. Also opening at the same time is an indoor atrium park located above the market called the Broome Street Gardens. There will be an additional 10,000 square feet of retail space on the ground floor. Office space covering 175,000 square feet will be on floors two to five, and this section is due for completion next year. The space will be known as the Essex Crossing Office West, and will offer floor spans ranging from 35,000 to 52,000 square feet. These spaces feature floor-to-ceiling windows and beam-free ceilings of heights up to thirteen feet. Tenants will be able to enjoy perks such as outdoor terraces, showers, and employee bike rooms.
The project's development team, Delancy Street Associates, is comprised of BFC Partners, Taconic, L & M Development Partners, Prusik Group, and the Goldman Sachs Urban Investment Group. Charles Bendit, the co-CEO of Taconic, called 202 Broome Street "one of Essex Crossing's most dynamic sites," and added that it "exemplifies the campus-like feel that's taking shape at Essex Crossing–a place where workers in cutting-edge office space will have the city's largest marketplace and four subways just steps away, and residents above will enjoy top-flight amenities and incredible views of the Midtown skyline."