Pedestrian-Friendly Plan Could Reimagine Downtown Brooklyn
Sean Keeley
| January 06, 2020 | Published in
Neighborhood News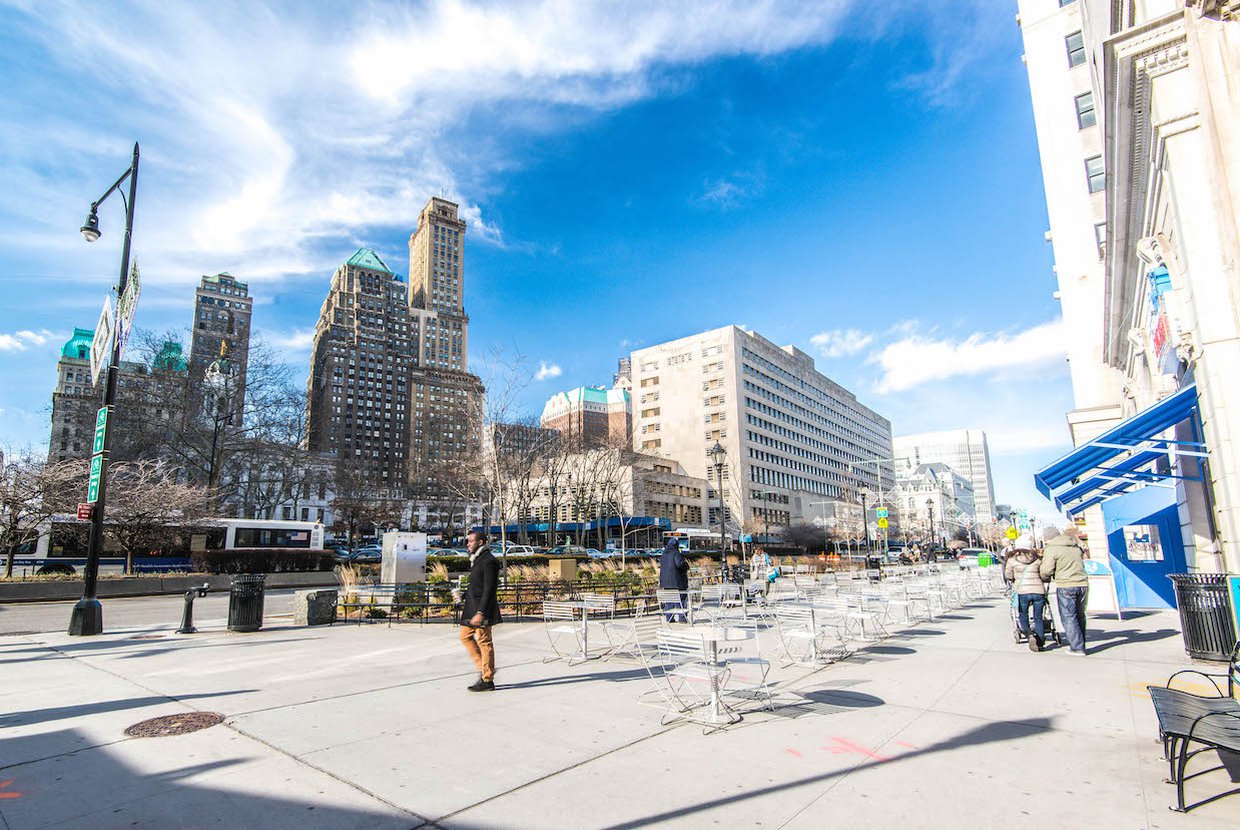 When many people think of life in Brooklyn, they think of walking tree-lined streets and pedestrian-friendly neighborhoods. That's not exactly the case for Downtown Brooklyn, which reflects much of Manhattan's busy urban lifestyle. With broad roads full of fast cars, spacious public plazas, and three street grids colliding with one other, the neighborhood is full of hustle and bustle.
Downtown Brooklyn is currently one of the fastest-growing neighborhoods in the city, seeing its population jump 31 percent from 2010 to 2016, and it's expected to double its population over the next ten years. That means developers and the city need to think about ways to make it easier to get around and improve the quality of daily life here.
According to CityLab, the Downtown Brooklyn Partnership, a consortium of three business improvement districts, has introduced a plan to do just that. At the heart of their plan is a move to cut down on car access while increasing protecting bike lanes, and adding welcoming gathering spaces that encourage people to relax and spend more time here.
"The action plan seeks to re-knit, at a pedestrian and bike scale, many of the streets that were widened or cut off," said Claire Weisz of the architecture and urban design firm WXY, which produced the plan in collaboration with the Bjarke Ingels Group (BIG).
Borrowing concepts from other recent street redesigns around NYC, the place is unique in that it's not attempting to remake a specific stretch of road but rather an entire neighborhood. It includes back alleys that double as quiet spaces, busy intersections, and new developments that include public-private spaces. The plan is still in the preliminary stage but it's a chance to remake Downtown Brooklyn as a modern, forward-looking urban area that isn't dominated by cars and traffic.
The first phase would call for linking pedestrian oases by shared streets using what's known in the Netherlands as woonerfs. These side streets would be remade from car-focused to pedestrian- and bicycle-focused, though vehicles would still be able to pass through at restricted speeds.
The second phase calls for extending these woonerfs throughout the neighborhood as well as expanding sidewalk space on Fulton Street, Livingston Street, and Boerum Place and adding better pedestrian crossings along Flatbush Avenue.
The plan also includes plenty of trees. There would be over 900 new trees added to the neighborhood as well as a 230 percent increase in permeable surfaces. Planters will be added to not only house greenery but also act as benches and vehicle barriers.
The plan is also a boon for cyclists in the region. There would be new protected bike lanes along Boerum Place, Schermerhorn Street, and Fulton Street, one of the busiest corridors in the entire city. Eastbound bus lanes would be diverted one block away in order to make room and ease congestion.
The plan's creators hope that all of these changes will also be beneficial for local businesses. "You have the opportunity to create places where people want to hang out while they shop," Weisz stated.