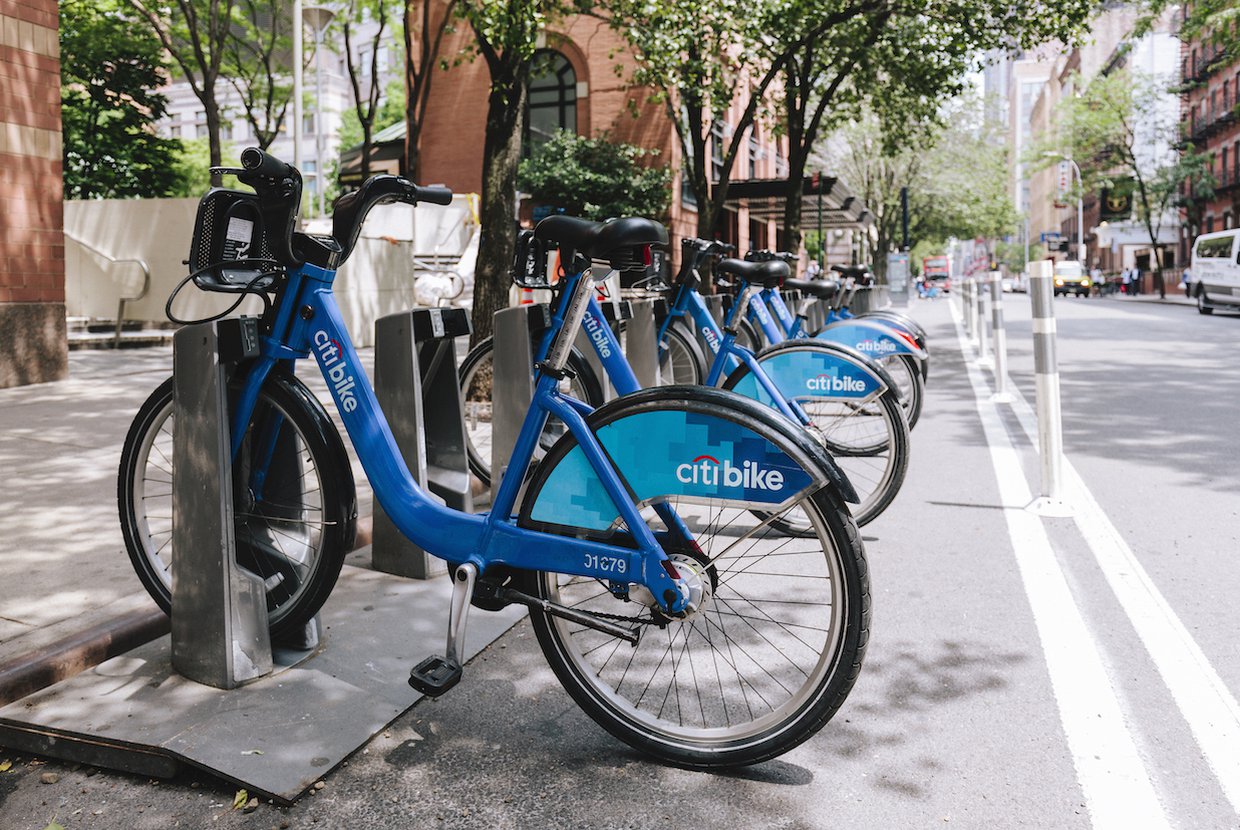 Throughout NYC, concrete barriers protecting the increasing number of bike lanes are now becoming more than a safety element but also a cultural statement. NYC's Department of Transportation (DOT) launched the Barrier Beautification Program (BBP) 12 years ago and since then it has been allowing local artists to express themselves on land under their control. Already murals and paintings have been permitted on sidewalks, streets, fences, underpasses, medians, public plazas, and other blank "canvases" within their jurisdiction, and works include abstracts, portraits, pixelated fruits, cats, and bold patterns. There are now more than 300 temporary artworks around the city, thanks to DOT Art, who partners both with professional artists and with non-profit community-based organizations, and grants are available for some projects.
Last year saw the highest level of biking fatalities in New York since the year 2000. This has motivated an increase in the construction of concrete barriers to protect cyclists in the bike lanes, and so now, there are many more surfaces to transform. The Green Wave bike safety plan wants 30 miles of new protection along bike lanes to be installed each year, and that means that many more artists are being invited to participate in the beautification project. The director of DOT Art, Emily Colasacco, stated that the program is "about enhancing quality of life and creating inviting and welcoming streets" and NYC is one of only a few cities nationwide where the DOT has a dedicated arts program. Since the project started in 2010, a total of 41 interventions have transformed almost six miles of barriers into works of art. Artists can submit their proposals to the DOT for transforming a stretch of barrier from 200 to 2000 feet long. During the review process, works are selected for their colorful, simple, bold patterns.
Janette Sadik-Khan, the DOT commissioner, explained "It's not just about art—it's about creating safe spaces for people for pennies on the dollar. This (Asphalt Art) is fast, easy, inexpensive, and transformative." It is an effective method of traffic-calming, as drivers slow down to focus better on the artwork. However, the murals not only look nice, but they also make a statement of possession and domination. As cities try to move away from their car-oriented past, these types of artworks help pedestrians and cyclists to re-establish their domain and rights on the streets.
One of the artists involved in the project, Ann Tarantino, has noticed how patterns in the landscape have the potential to indicate exclusion or inclusion. She states, "I've been looking at patterns in landscape and how it defines space, or power, or belonging—like [the patterns of] traffic cones, flags, and stop signs. Designating and carving out space for a particular type of movement validates biking as a way to get around."