Townhouses and New Construction: Time to Buy?
Written by Jules Garcia & Andrew Warren
May 11, 2020
Published in Real Estate Market Trends, Elegran Insider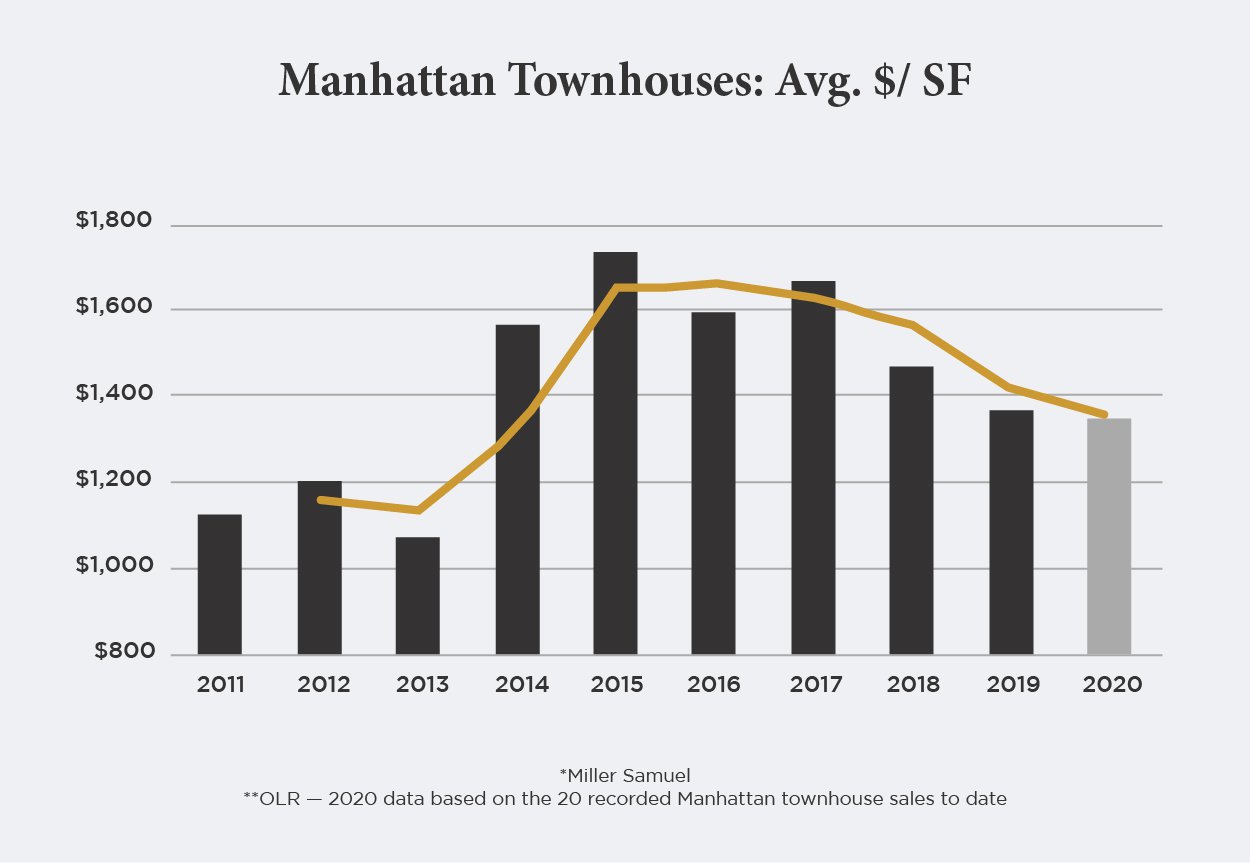 New York City's luxury real estate market has been confronted with a number of external threats and crises over the last few years that have had a negative impact on prices. External because they weren't caused by unstable real estate market fundamentals, rather were a result of policies enacted in Washington and Albany (i.e. the elimination of the SALT deduction and a higher mansion tax). Faced with the COVID-19 Pandemic; the effects of which are slowly becoming evident 6 weeks in, we are getting a clearer picture of the data around prices negotiated and contracts signed since the outbreak.
The SALT deduction, higher NYC mansion tax, and the COVID-19 pandemic create "event-driven" market disruptions, not a break at the fundamental level. While these events have all unfortunately succeeded the other, it is important to note because measurable impacts of these events are used to determine whether or not there is genuine opportunity.
You've likely heard of "buying the dips" when it comes to the stock market. The same can be said of real estate. Similar to the stock market, ideally you want to purchase an asset that may have taken a beating but still has strong fundamentals, room for growth and will ultimately deliver you a strong return on your investment.
Currently there are two segments of the market that offer the most opportunity: Townhouses and new construction.
At the time of publication, data shows that 20 townhouses have sold in Manhattan, all of which would have been negotiated prior to the pandemic. Today, the average price per square foot of a Manhattan townhouse has dropped by 23% to $1,342/SF since the peak of $1,733/SF in 2015.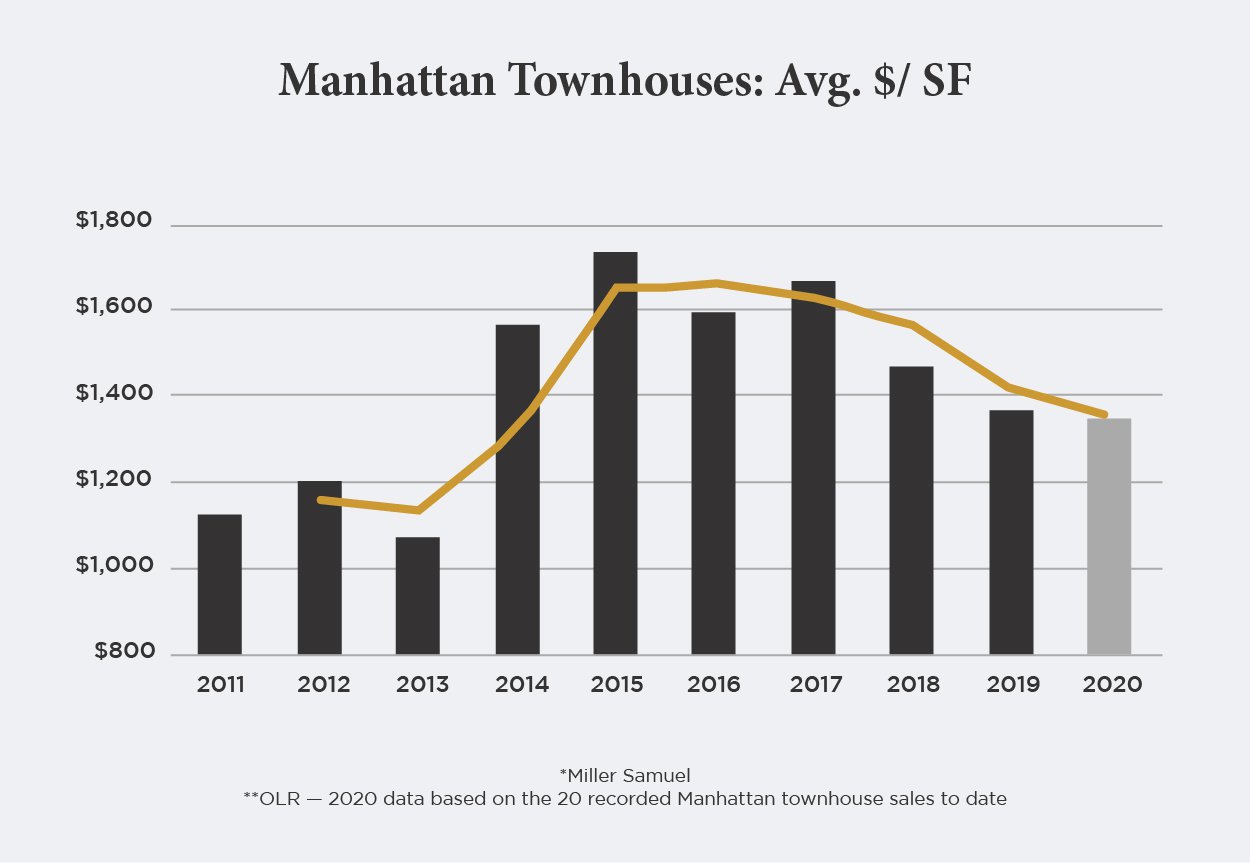 For comparison, in 2019 the average price of a 4-bedroom condo in Manhattan was $11.4 million (about $3,201/SF), whereas the average price of a townhouse was $6.5 million. As with anything in life, there are tradeoffs. A condo may have sweeping views, private terraces, and white glove amenities; while a townhouse may have a backyard, a roof deck, possibly a private garage, and no monthly common charges for building amenities.

For many of us, cooped up in our apartments over the past 6 weeks, the idea of a private backyard without having to head for the suburbs is very appealing. For our buyers not looking to spend $6.5 million, Brooklyn has been an attractive option. At the end of 2019, the average price of a Brooklyn townhouse was $2.3 million (*BHS). As an added incentive, real estate taxes in Brooklyn are significantly lower than they are in Manhattan, making a backyard in Brooklyn that much more attractive and attainable.
New construction is another segment of the market that's taken a beating recently. Not only did new construction face the same policy headwinds as the rest of the market, developers overbuilt resulting in an oversupply of new units, particularly on the luxury and ultra luxe end. What you see listed publicly for new construction is only a fraction of the "Real inventory" (AUOM, Active Units On Market + UUI, Unreleased Unit Inventory) available. Developers hold back a portion on their unsold inventory from the public, creating "shadow inventory."
Despite all those challenges, the curtains were not closed on the new construction marketplace in NYC, specifically Manhattan. It's been calculated that its high was in 2013, at 94 units sold per month, and its current pre-COVID-19 Crisis average is 89 units per month, meaning that sales had far from halted. This also reflected that the actual number of buyers was only down about 6% from the high. Pricing for new development condominiums has shifted with median prices up 4% on signed contracts at the end of Q3 2019 vs same time 2018.
2020, pre-COVID-19 Crisis had budding green shoots with a measurable uptick in buyer interest, with contracts signed in the NYC new development marketplace. Though the uptick was citywide, the neighborhoods presenting the best value were south of 14th St both East and West.
So...what does this mean for the savvy homebuyer or real estate investor? The developers?
Given the policy pressures, newer development oversupply, and Coronavirus pandemic, developers are in a tough spot. Saddled with their shadow inventory and the prospect of a prolonged recovery post-pandemic, developers are increasingly showing a willingness to negotiate.
That being said, not all discounts are created equal or as attractive as advertised. A buyer really needs to consider more than simply locating or hoping for a developer with an "everything must go!" approach. The largest discounts are naturally happening at the higher end of the market where many properties were vastly overpriced to begin with. However, for a new construction apartment in the $1 million to $3.5 million range - "affordable luxury," if you will - the discounts are more proportional.
To give you a real world example, in a recent new development negotiation, we were successful in securing a 10% discount along with a Price Protection Endorsement on a $2.3 million dollar two-bedroom with a well-known developer who historically does not discount past 7%. The property is located in a trendy downtown neighborhood on the West Side, where a new construction two-bedroom for close to $2 million is practically unheard of, making this 10% discount all the more impactful.
As an added incentive for buyers, a few national developers typically offer a Price Protection Endorsement. If you're thinking this sounds a lot like a benefit that premium or luxe credit cards would offer on a retail purchase, you'd be just about right. While more common in other parts of the country, this feature is not typically afforded to the NYC New Development market. One positive during this economically uncertain period is that even the fiscally strongest developers know the benefit of a "bird in the hand" and are willing to consider and accept the right offers with this additional term attached.
This is why it is imperative that buyers recruit a seasoned, client-centric real estate agent with extensive experience to act as their consultant through the buying process. When speaking to our clients we let them know that we'll look to evaluate whether or not the development project is financed or cash, developer's track record, buyer subscription rate on the project (important if the project has not been completed), comparable units sold in similar buildings, etc. Moreover, in these times where there is supply chain uncertainty on imported materials and finishings, we confirm for our clients that the necessary materials are already stateside, so that when non-essential construction is approved to continue, the projects our clients are considering can be completed as close to on-schedule as possible.
Many of us have heard the Gretchen Rubin quote, "The days are long but the years are short". It seems like during trying times, we tend to hear and use a lot more of these quotes, but there is truth to this. As seasoned real estate agents (one of us even having a two decade background as an investment management consultant to wealth managers) we've been through many market cycles. For the savvy homebuyer or real estate investor, townhouses and new construction will offer the greatest upside potential during the recovery. And there will be a recovery; the data supports this no matter how bleak it seems now. It helps to remind us that not only can this great city, NEW YORKKKKKK (close your eyes and picture Alicia Keys belting out that iconic note) recover, we can come back stronger.