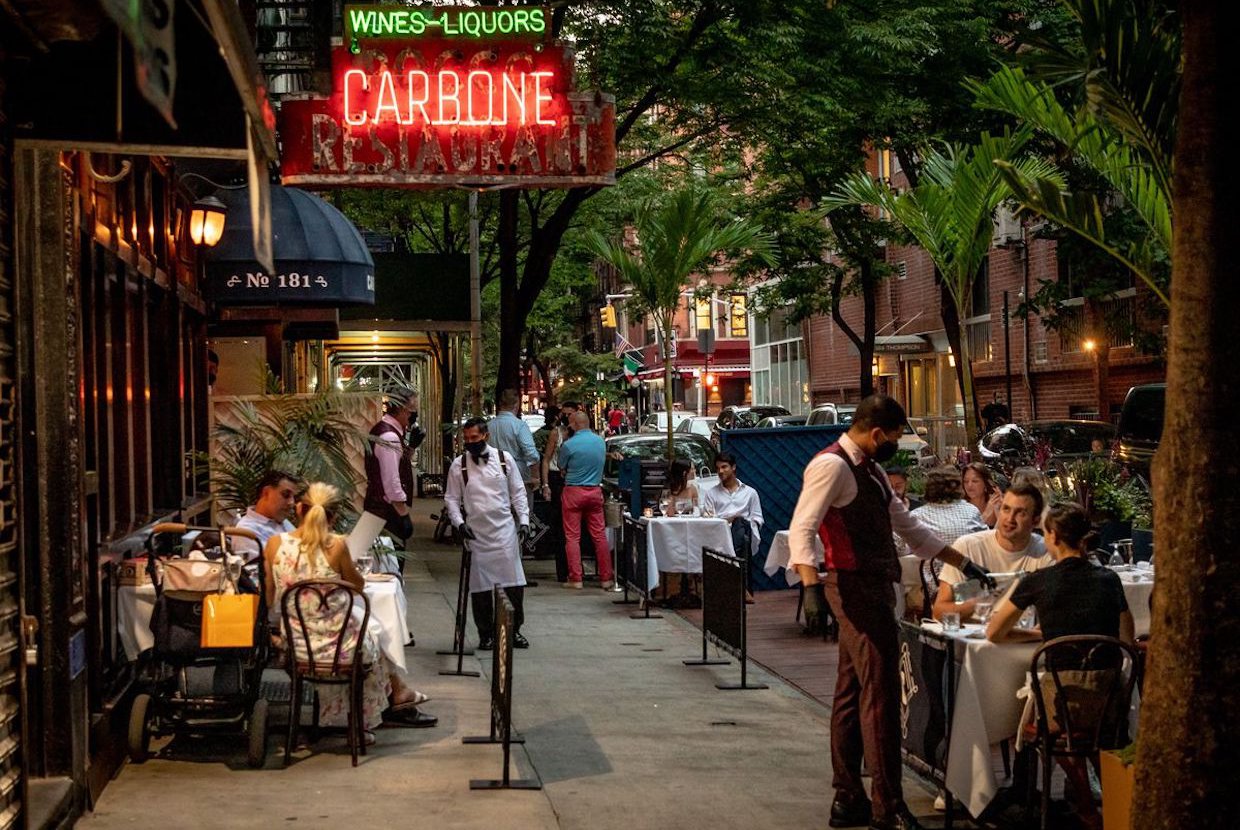 NYC bars and restaurants have had to adapt, evolve, and improvise to survive the COVID-19 crisis, and the new outdoor dining areas, known as "streateries", are showcasing the creativity, resourcefulness, and imagination of dining establishment owners.
More than 900 restaurants have received approval for their applications to establish outdoor dining areas since the initiative started on June 22. During phase two of reopening, permits have been issued to allow restaurants to make use of the sidewalk, curbside, and parking spaces in front of their premises. The use of these public spaces is currently still allowed, but news of indoor dining are on the horizon for the end of September. While the current permits are only a temporary measure, NYC Council Member, Keith Powers, has put forward a plan to make outdoor dining a permanent option for businesses during the warmer months.
To survive the current crisis many restaurants and bars have had to offer different services and adapt to rapidly changing government policies and guidelines. Many began offering online and telephone food orders and delivery service, and even restaurants that had never offered this previously had to make changes in their structure to keep themselves afloat.
Initially, defining these outside dining spaces was rather improvised, makeshift, and haphazard. Uncertain about the future of the initiative, and with no clear guidelines, many restaurants created spaces using what they had on hand. Beer kegs, folding chairs, ply-board divisions, and some potted plants marked the first outdoor dining areas. Finally, the DoT issued guidelines that allowed restaurants to create more permanent and attractive spaces. Although the construction site-chic look remains popular, many restaurants now sport cute wooden picket or trellis fences, bold colors, and lots of creative planting in different pots which has created an intimate garden/jungle feel where there was once just asphalt and parked cars. Restaurants and bars have let their creative juices flow and are creating spaces that mark their own identity and are transforming the city's streets.
And, it seems the public loves it. Many of the city's favorite restaurants are once again fully booked for weeks in advance, just as they were pre-pandemic. Admittedly the outdoor dining areas do not have the capacity of the interior restaurants, but it has thrown a survival lifeline to these businesses. Many are offering a reservation only 'al fresco' dining experience claiming that knowing in advance the number of clients allows them to better cater to the social-distancing requirements. Additionally, a reservation-only policy is allowing top-end restaurants to again offer high-quality cuts and perishable products to their clients. Some premises are placing a 90-minute table limit to maximize their business.
"Streateries" have brought a new look and a more relaxed atmosphere to NYC streets, and many people hope that it could be a measure that will remain. Perhaps on-street dining could be one of the good things to come out of the COVID-19 pandemic.`