Elegran's Weekly Manhattan Market Update - Week of Jan 11
Jared Antin
| January 11, 2021 | Published in
Real Estate Market Trends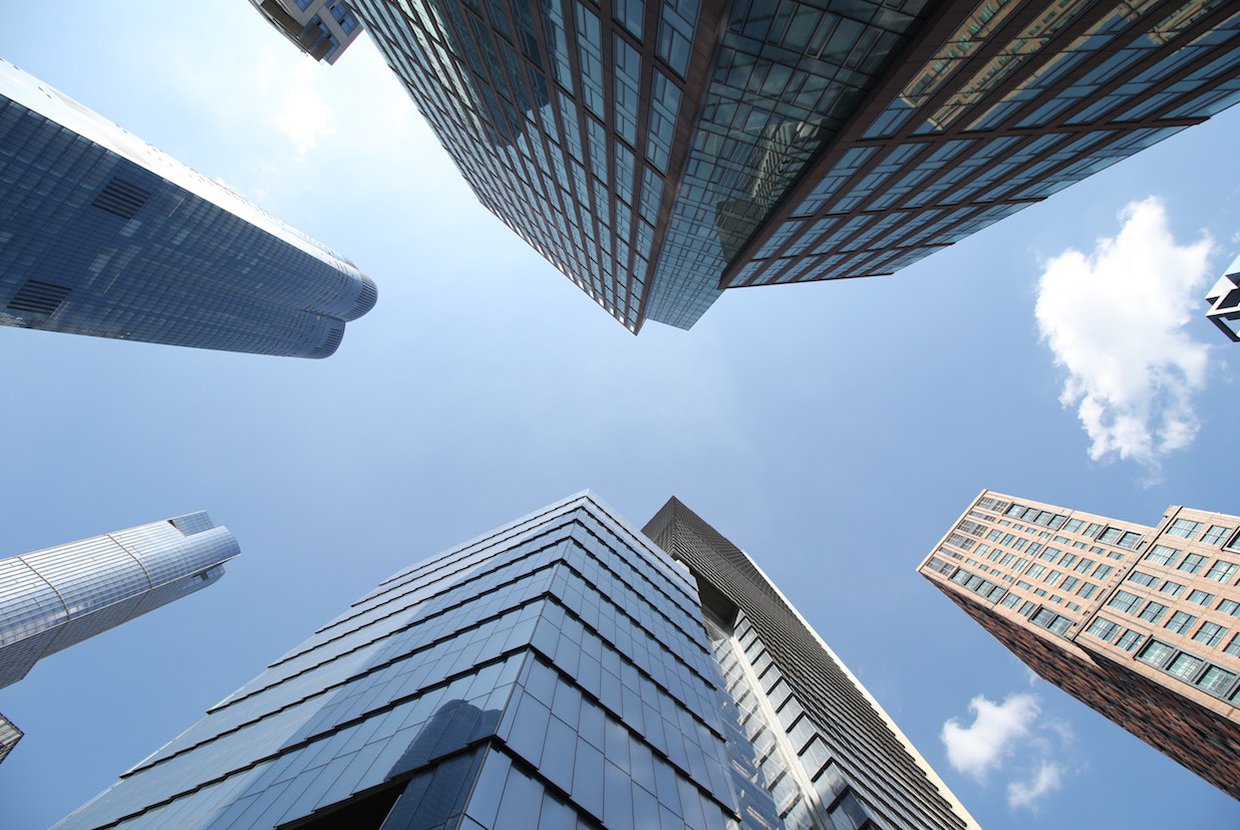 From a Manhattan Real Estate perspective, 2021 is off to a good start — Less new inventory came to market and more contracts were signed this week compared to the same week last year.
Supply continued to decline, decreasing another 2% to 7,283. As expected, there was an uptick in new listings this week as inventory begins to return in advance of spring. We saw 277 new listings came to market this week, a noticeable increase from last 6-weeks.
This week's new inventory is 30% less than the same week last year. Overall, we expect supply to bottom in the next week or two, before increasing heading into spring.
Pending Sales rose another 2% this week to 3,130 and remains about 32% higher than this same time last year.
Buyer activity was steady with 193 contracts signed this week, holding near the 200 per week level which has been sustained for the last 12-weeks. Compared to the same week last year, 42% more contracts were signed this year.
Leverage in the market has shifted away from buyers drastically over the last 3-months as supply has decreased and contract activity increased.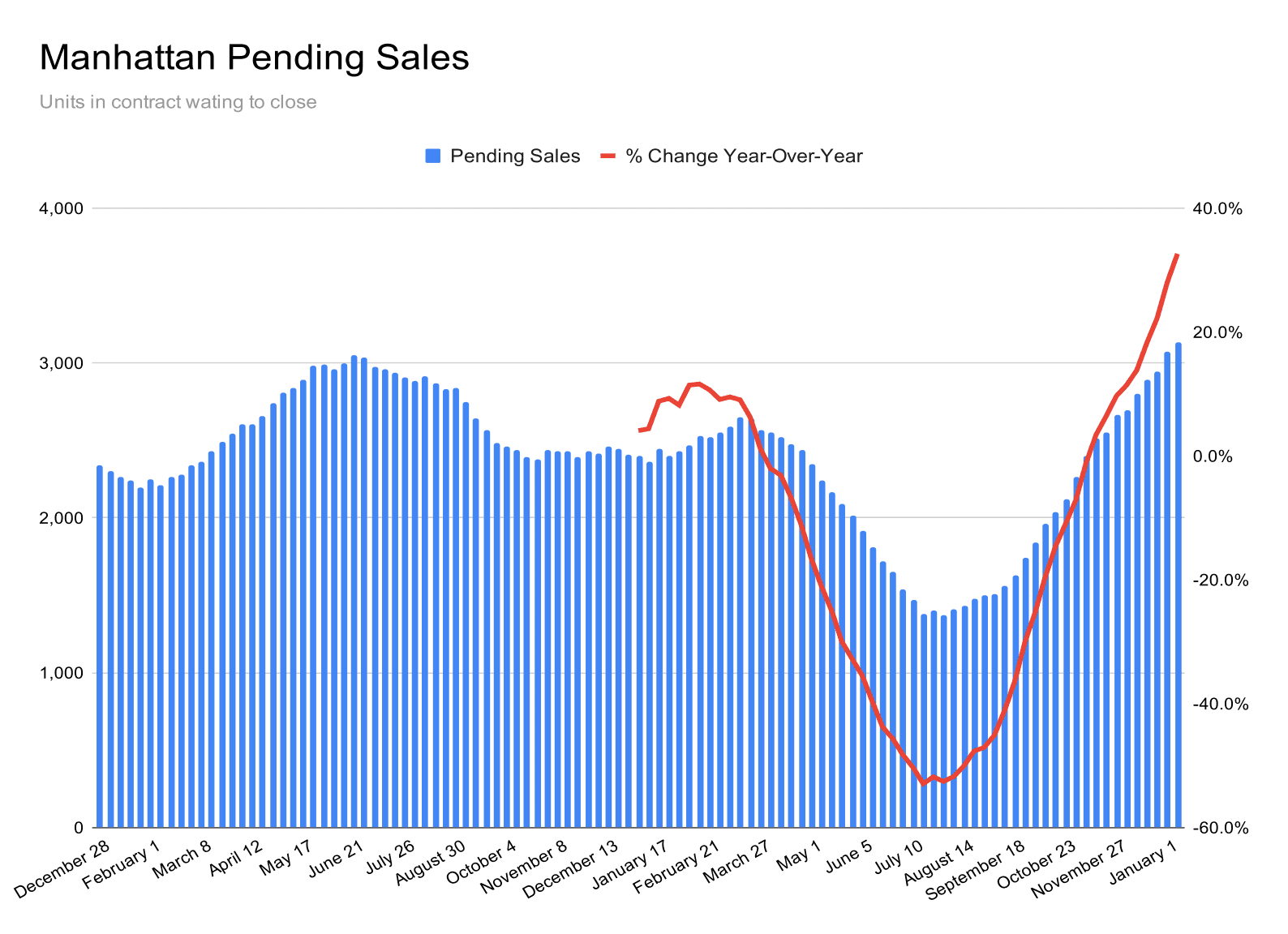 Source: Urban Digs
New Development Sales in Manhattan and Brooklyn
According to a recent MarketProof report, more new development units were sold in Brooklyn than in Manhattan in 2020 — 35% more to be exact. Overall, including the resale market, 7% fewer condos were sold in Brooklyn than Manhattan in 2020.
Brooklyn's success was driven largely by smaller buildings at more affordable price points. Such inventory, often referred to as "affordable luxury", is more popular with the local consumers who are the driving force in the market today. Much of the Manhattan new construction product of the last 3-5 years was built for the international buyer and are in the "luxury" or "super luxury" category. Brooklyn has more inventory that resonates with today's local buyer than Manhattan does.
Brooklyn neighborhoods that had strong sales velocity in 2020 include: Bed Stuy, Crown Heights, Bushwick, East Williamsburg and Greenpoint.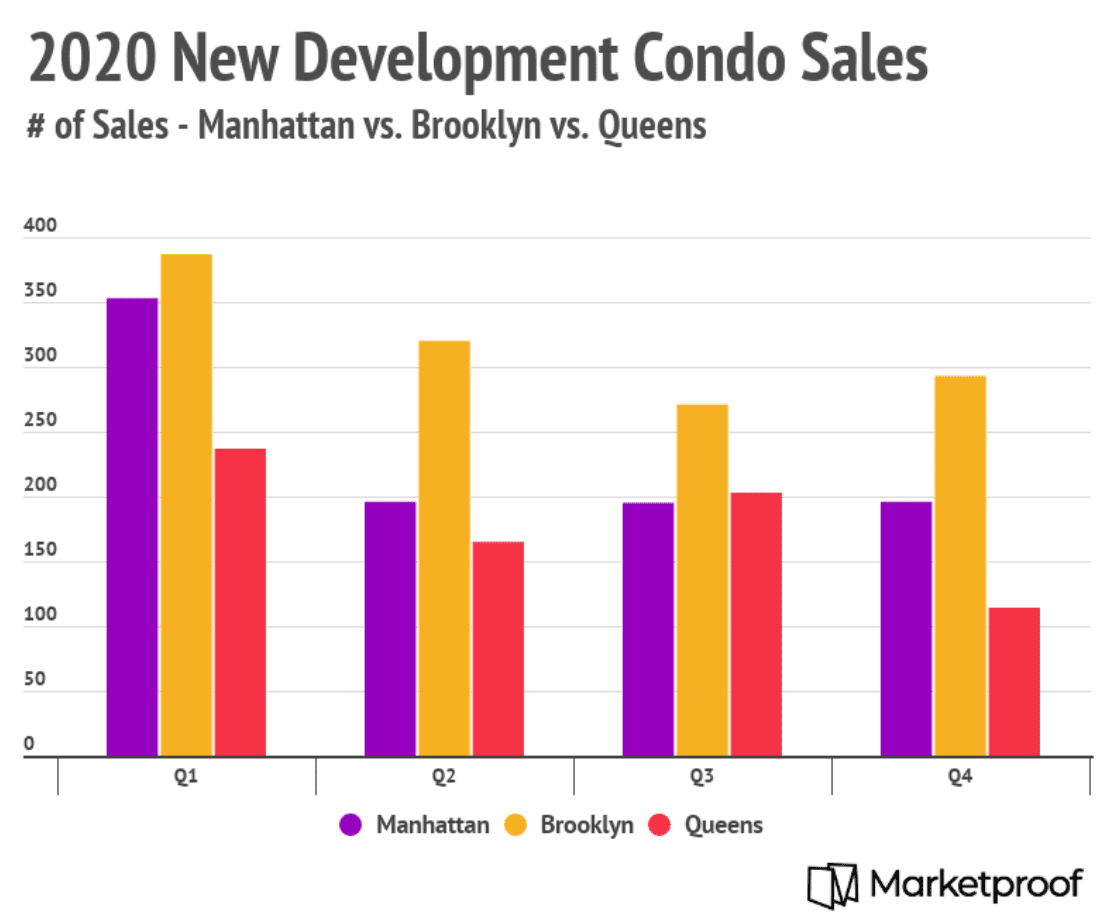 Source: Marketproof
We will continue sharing the Elegran Insights data analysis with you every week.
If you are interested in learning more about what is possible in today's market and what the data means for you, I am available for a confidential complimentary assessment and consultation.