Elegran Insights: Weekly Manhattan Market Data For The Week of 2/15/21
Jared Antin
| February 16, 2021 | Published in
Elegran Insider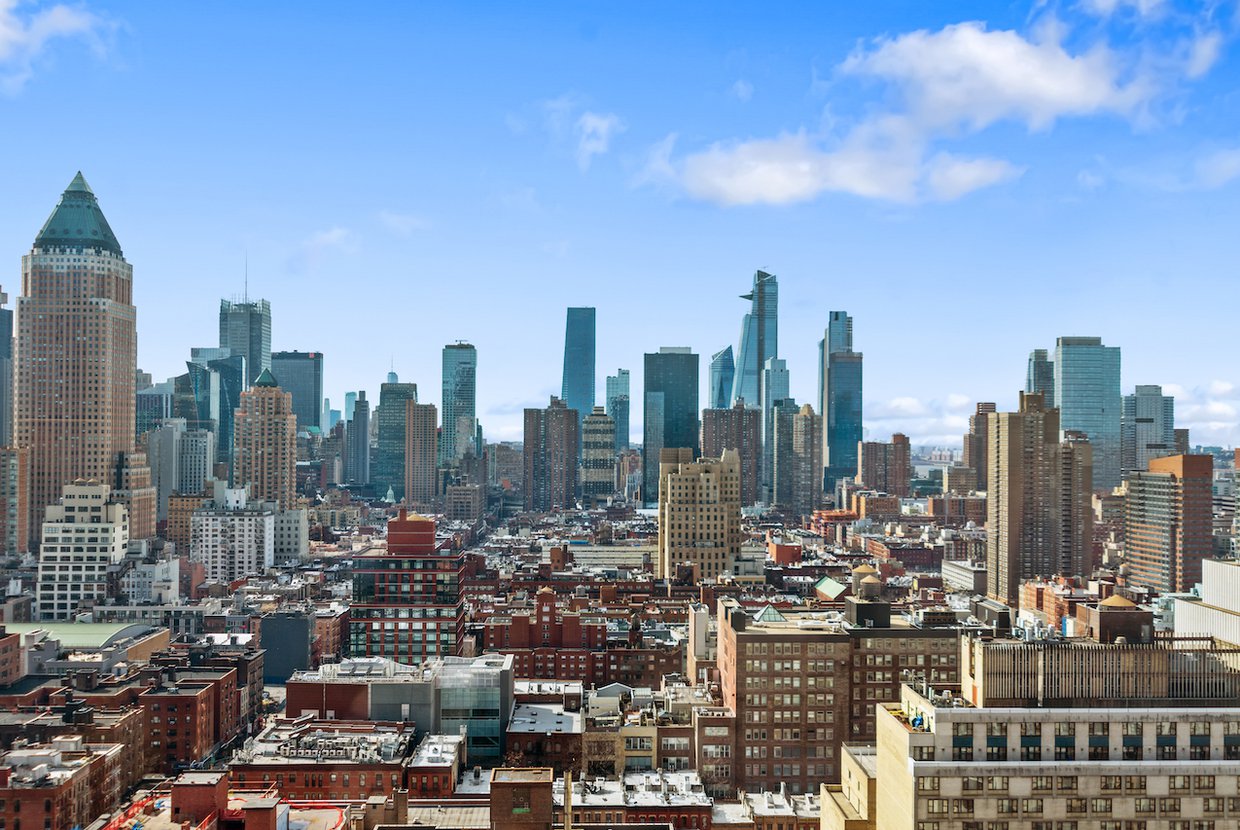 Coming off an already strong start to the year, the Manhattan market leveled up this week, notching nearly 300 new contracts signed. The Market Pulse continues to increase, as contract velocity is outpacing new supply. The Market Pulse is currently at 0.48 and well above 0.38, which was the market pulse this time last year. This week's new supply is 6% lower than the same week last year while this week's contract volume is 38% higher than last year.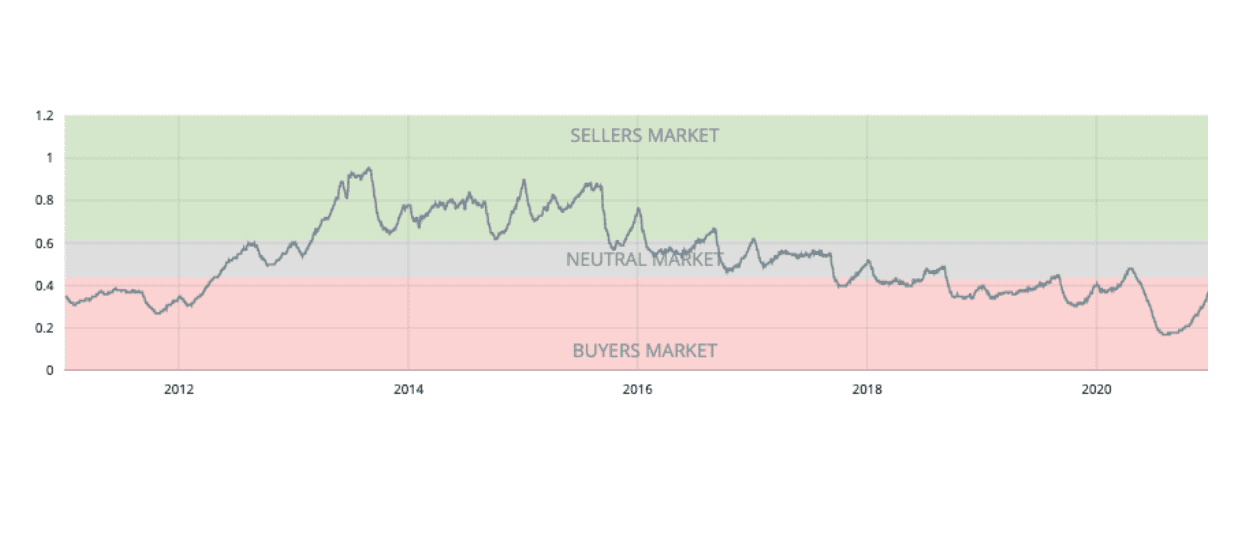 Supply was virtually unchanged this week, increasing by only 11 units (0.15%) as 321 new listings came on the market. Manhattan supply is 6% less than a year ago.
Pending Sales increased another 3% to 3,447 as buyer activity continues to accelerate. Pending sales remain 36% higher than a year ago.
Contract Signed - 297 new contracts were signed this week, an increase of 14% over last week, and setting a new high-water market. On a rolling 30-day basis, 1,111 contracts have been signed, which is consistent with peak season typically seen in April or May. The current pace of contract activity remains well above the seasonal average.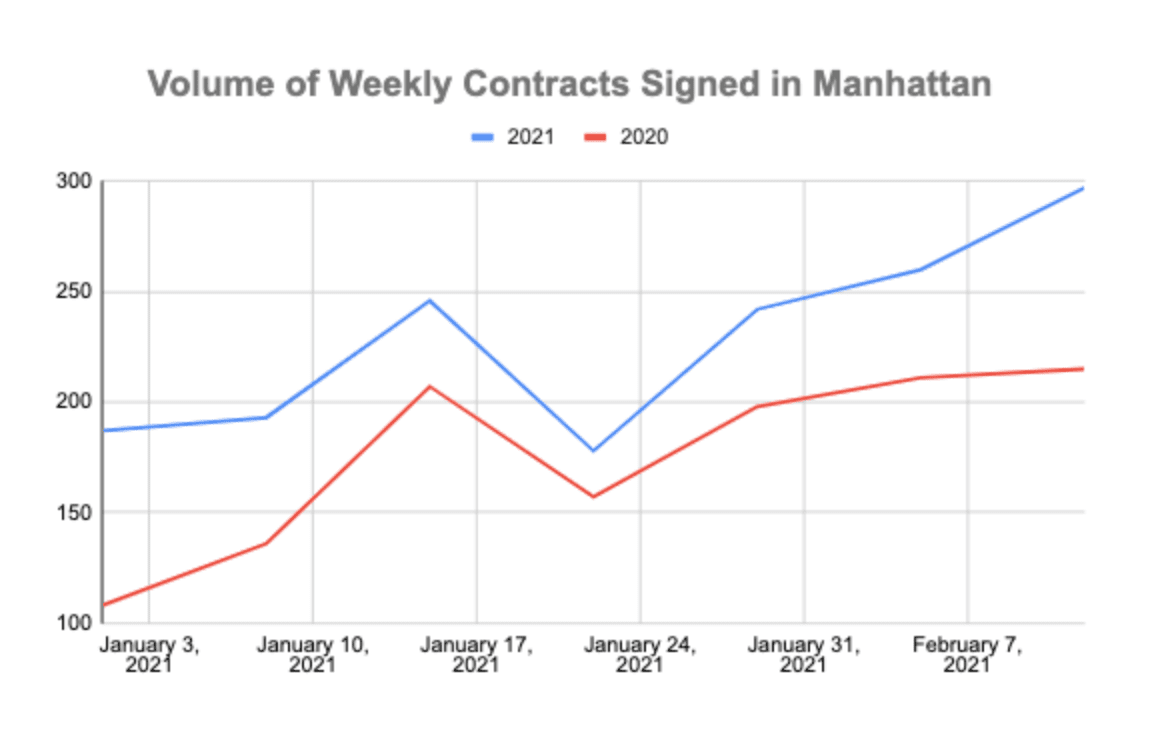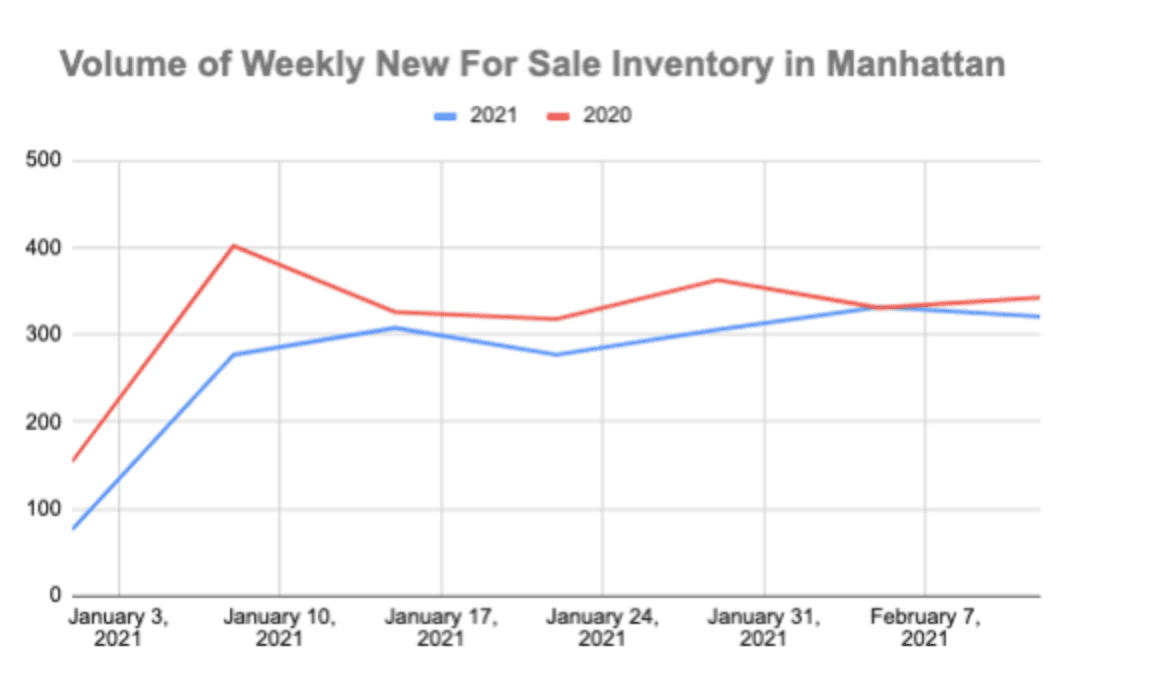 Weekly Contract Activity Analysis - As contract activity is picking up, it is important to analyze the median [last asking] price and median size [square footage] of the units contracted each week. As the contracted price is not known in real time (it only becomes known after closing), this analysis doesn't inherently capture the contracted price or listing discount, rather will highlight the median price point in which buyers are transacting. An increasing median price indicates elevated activity in the higher price points. Similarly, an increase in the median square footage indicates elevated activity in larger apartments.
Of the contracts signed this week, and based on the last asking price, the median price was $1.2M and the median size was 1,256 square feet.
Since the start of 2021, the median price has been trending upwards, indicating increasing contract activity in higher price points.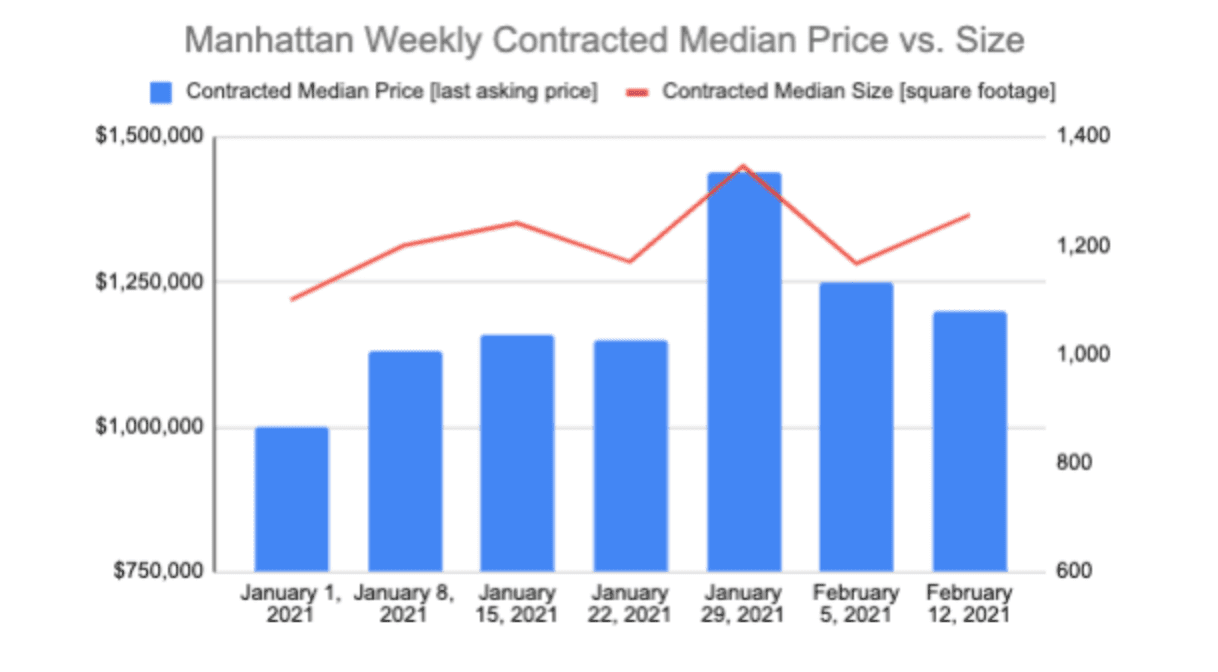 The Weekly Market Pulse rose from 0.78 last week to 0.93 this week, indicating that nearly all of the new supply this week was absorbed by buyers, hence the stabilizing level of supply. The weekly market pulse was 0.63 the same week last year, further highlighting the increased strength of today's market.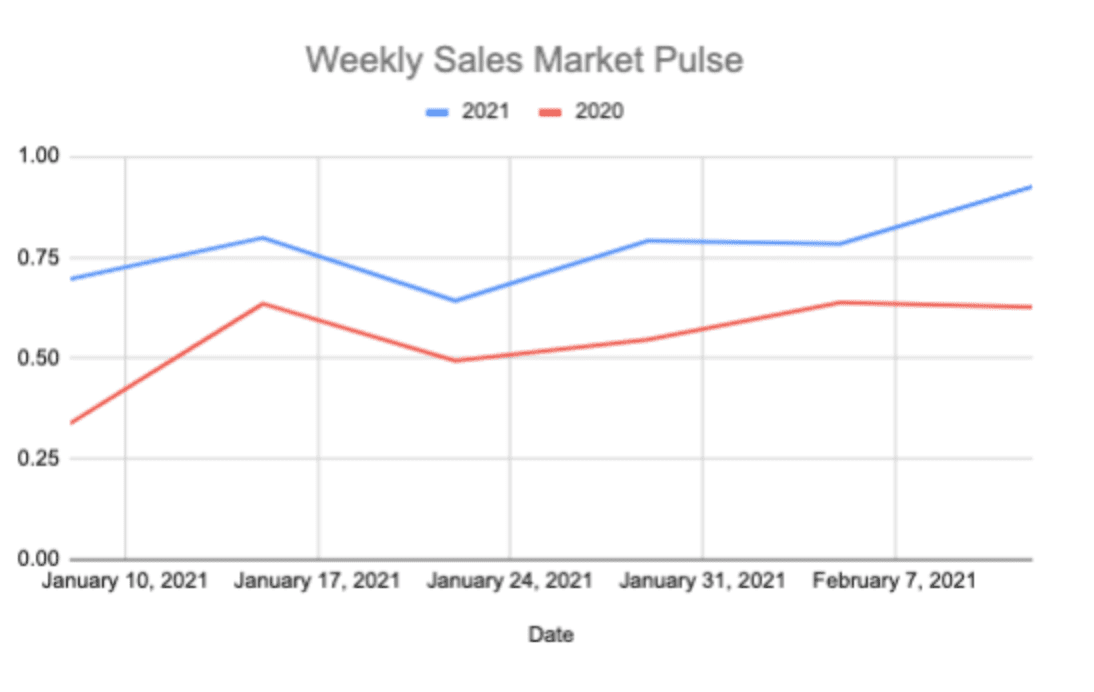 The Manhattan Rental Market also saw a small 0.15% increase in supply as 722 new listings came to market and 575 leases were signed. New supply was 23% higher this year than the same week last year while 69% more leases were signed this year. Thus far in 2021, the weekly rental market pulse continues to outpace last year.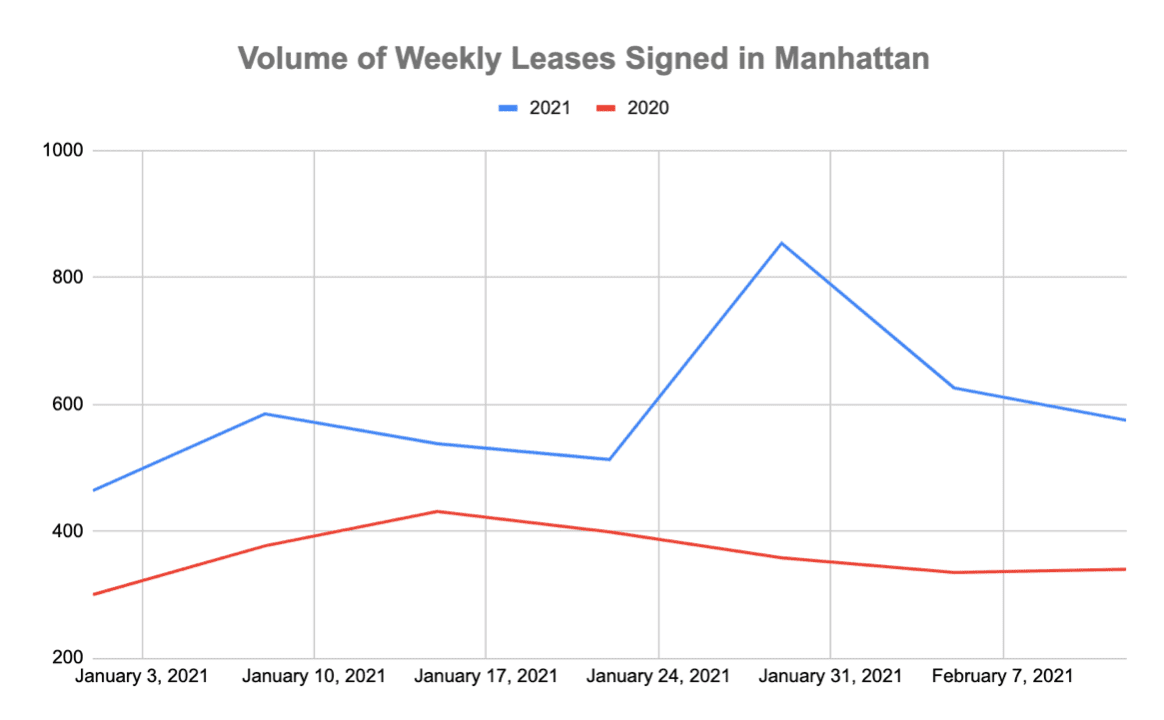 New Development Insights
As reported by Marketproof, contract activity in the new development market rebounded this week as 62 new contracts were signed, a substantial increase from the last few weeks. Manhattan accounted for 47%, Brooklyn 40% and Queens 13% of those signed contracts.
The top selling new development buildings of the week were:
130 William Street in the Financial District reported 5 new contracts signed




300 West 122nd Street in Harlem reported 5 new contracts




45 East 7th Street in the East Village reported 4 new contracts




Hero in Long Island City reported four new contracts



Please contact me if you would like to learn more about these, or other new developments.
We will continue sharing the Elegran Insights data analysis with you every week.
If you are interested in learning more about what is possible in today's market and what the data means for you, I am available for a confidential complimentary assessment and consultation.