Elegran Insights: Weekly Manhattan Market Data For The Week of 03/29/21
Jared Antin
| March 29, 2021 | Published in
How To NYC
,
Elegran Insider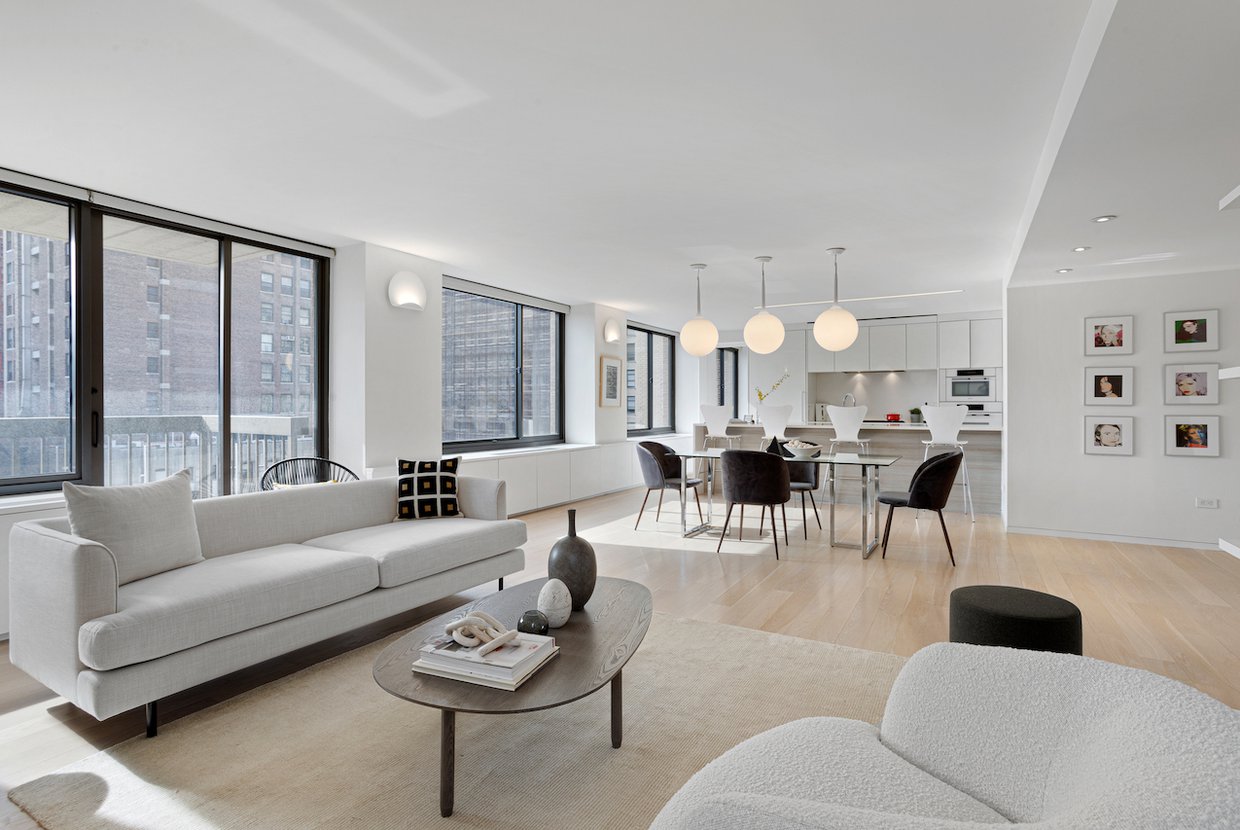 The fourth week in March saw pending sales hit the 4,000 mark, setting a new long-term record with the month on pace to set a record for contract activity. The last week of the month had more than 300 contracts signed in Manhattan, while overall supply decreased. The market pulse increased to 0.57, approaching sellers market territory.

Supply decreased by half a percent to 7,033 units this week. This week 383 new listings came on the market, 15% less than last week and 7% less than the same week in 2019. Supply has remained in the 7,000 - 7,100 range for the last four weeks.

Pending Sales increased yet again, crossing the 4K market to 4,036. Pending sales is now at a decade high and are 32% higher than at the start of the year and 12% higher than last month.
Contracts Signed - 341 contracts were signed this week, a 4% increase from last week and a 59% increase from the same week in 2019. This week's volume of contract activity is approaching a weekly record.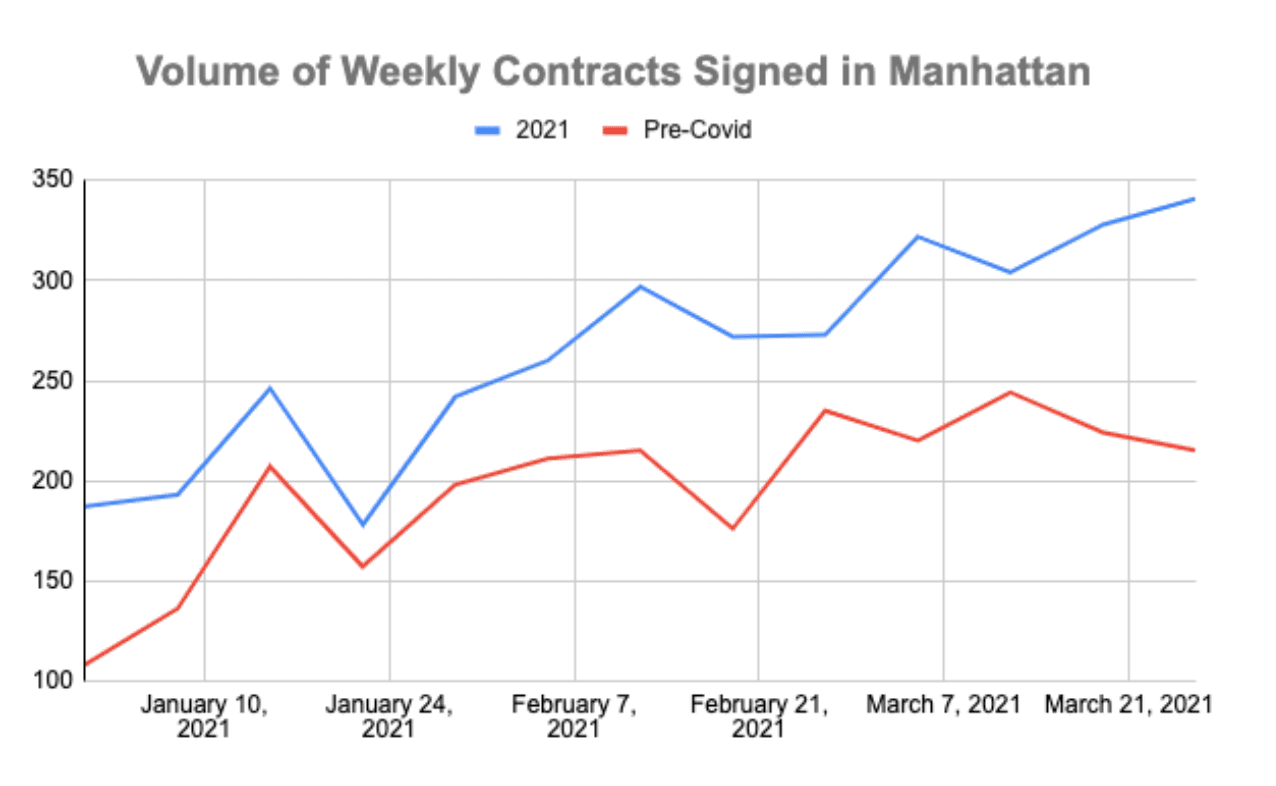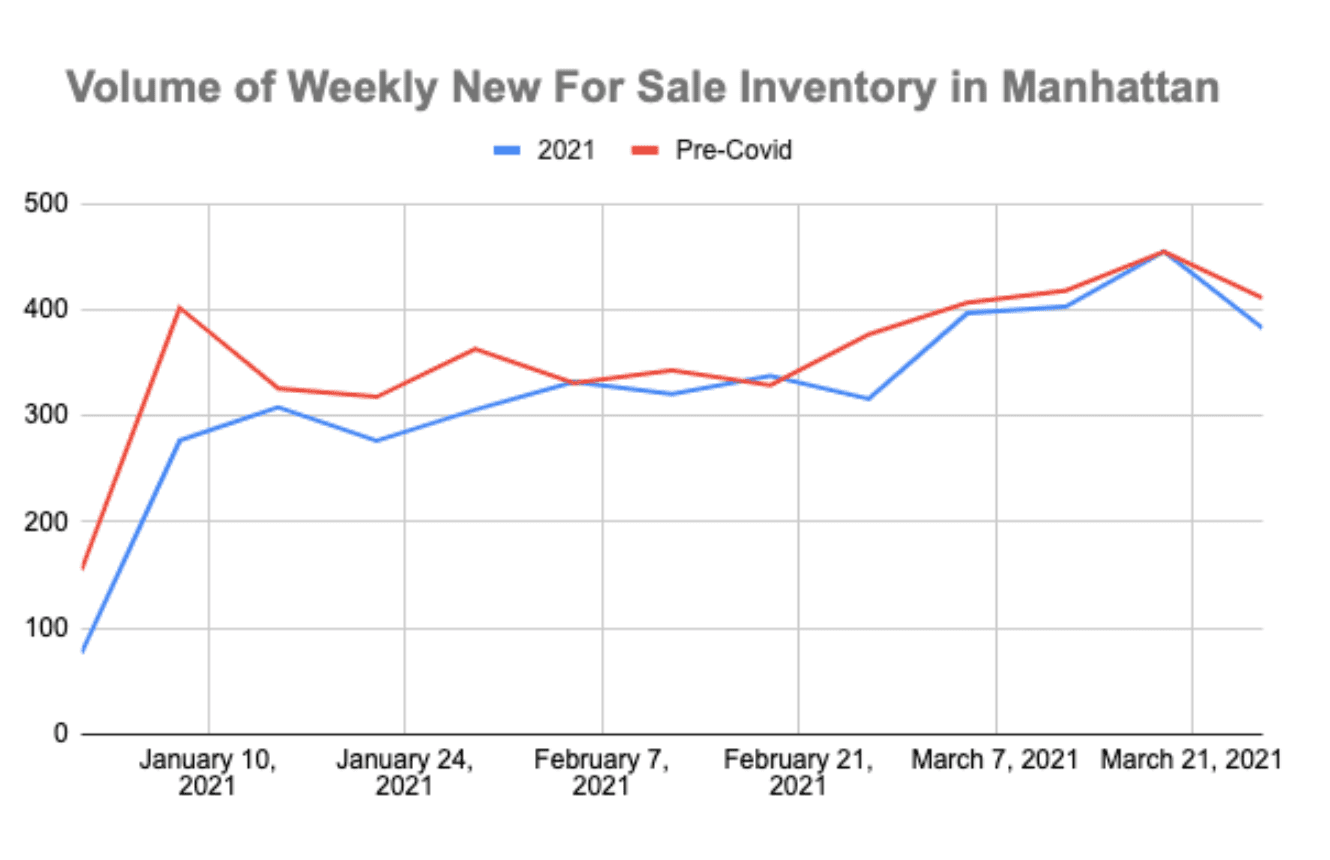 Weekly Contract Activity Analysis - Of the contracts signed this week, and based on the last asking price, the median price was $1.38M and the median size was 1,261 square feet. This week, after dropping last week, the median price and median size increased. The median size reverted to the level seen in the preceding weeks, and the median price increased to a higher level, indicating more expensive apartments entering contract this week.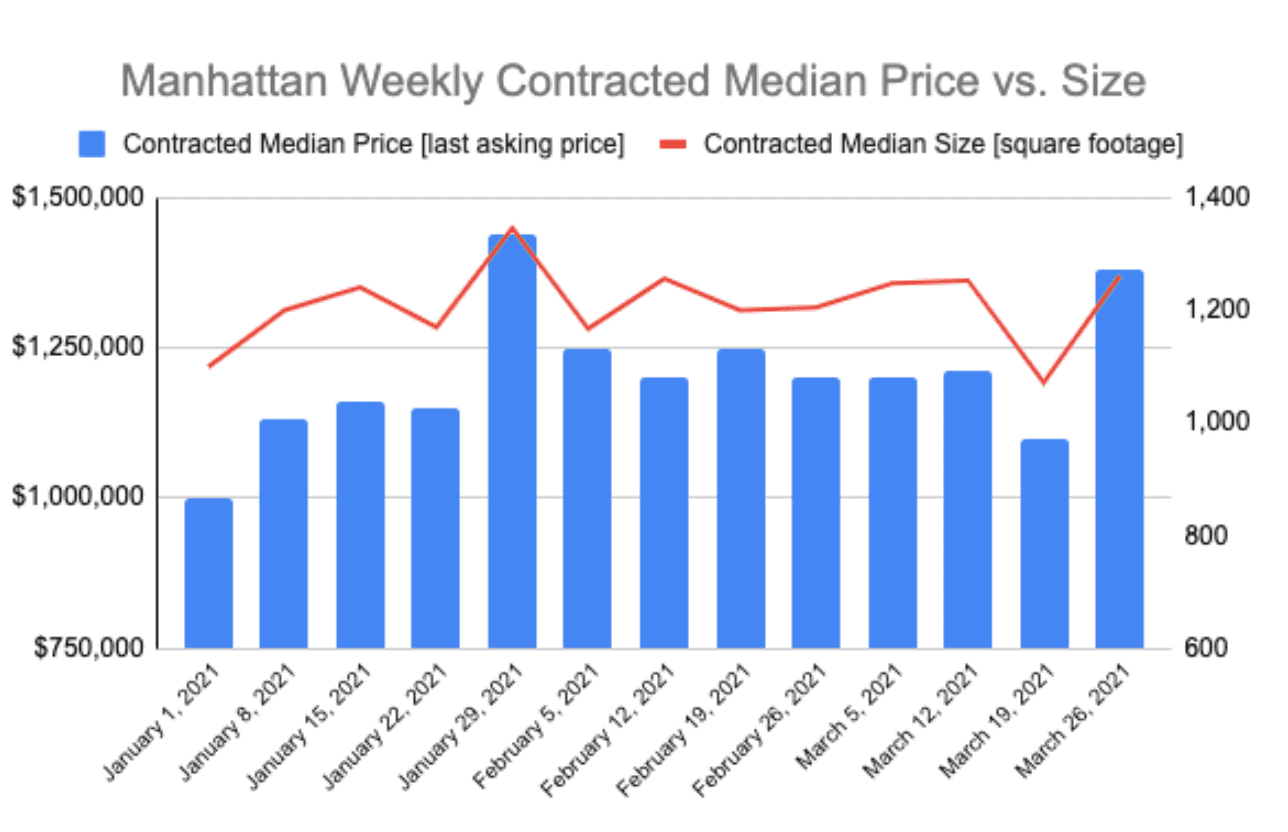 The Weekly Market Pulse, after decreasing the last few weeks, increased this week to 0.89, as strong contract activity persists.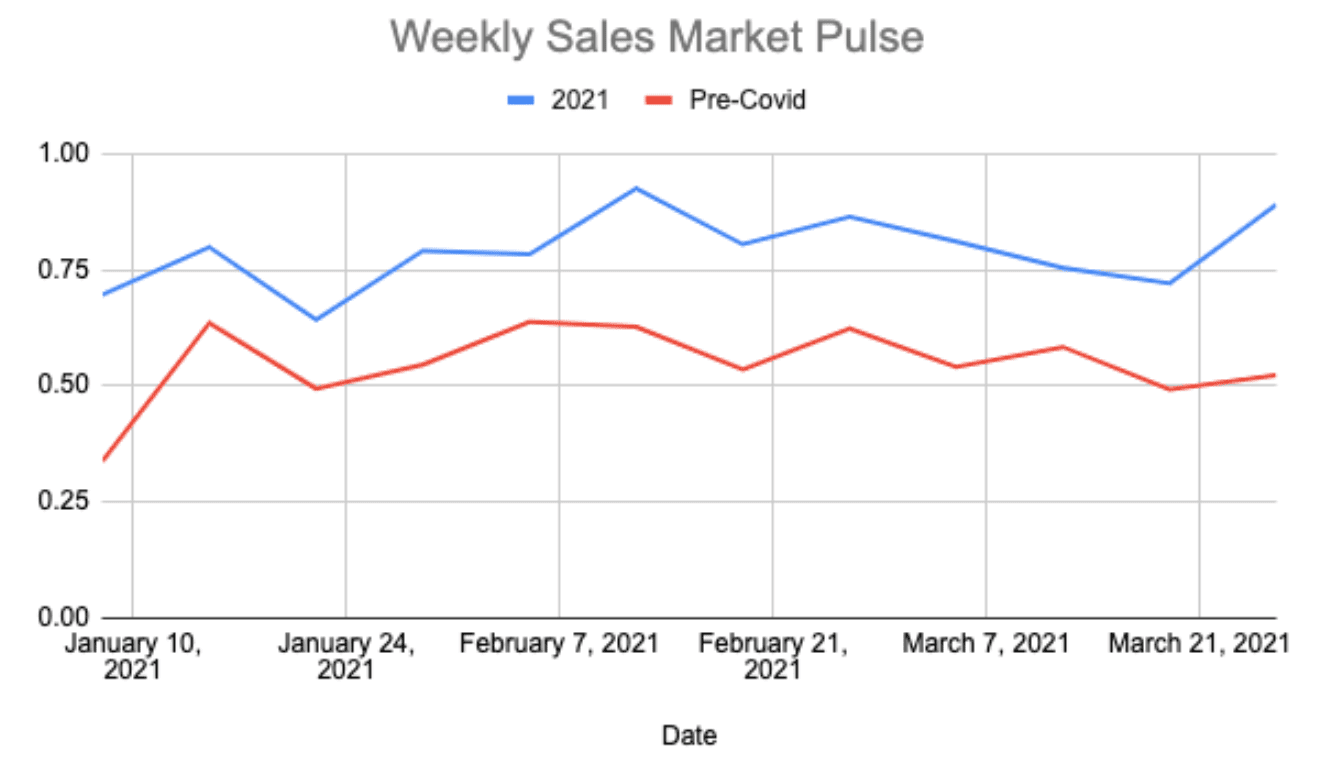 The Rental Market continues to see listed supply decrease, breaking below 9K to 8,657 units as less new inventory came to market and more leases were signed. This week, 504 units came to market, 24% less than last week and 35% less than the same week in 2019. Meanwhile, 830 new leases were signed this week, a 32% increase from last week and a 104% increase from the same week in 2019.
Some of the steepest discounts and largest concessions that landlords were offering in the winter are disappearing as the rental market rebounds. Additionally, an increasing number of landlords are less willing to offer long-term leases and reduced rents, indicating landlords expect the rental market to continue to improve over the next 6-18 months.
New Development Insights
As reported by Marketproof, 86 new development contracts were signed this week, an uptick from the prior week. Brooklyn accounted for nearly half of the contract activity in Manhattan, Brooklyn and Queens, a larger share than in past weeks. Additionally, both 1-bedroom and 4-bedroom apartments saw an increase in contract activity compared to the monthly average in February.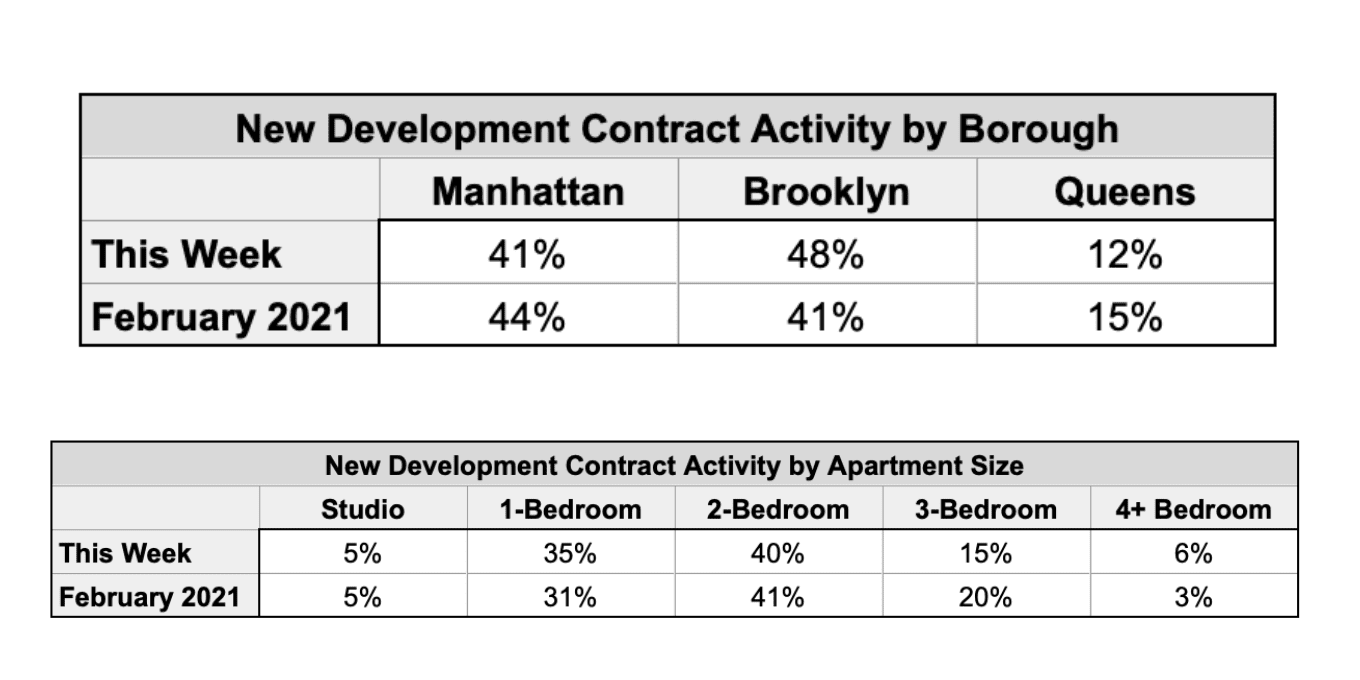 The following were the top selling new developments this week:
567 Ocean Avenue in Flatbush reported 9 new contracts signed.
The Neighborly in Long Island City reported 6 new contracts.
Vandewater in Morningside Heights reported 4 new contracts.
145 Central Park North in Harlem reported 3 new contracts.
Please contact me if you would like to learn more about these, or other new developments.
We will continue sharing the Elegran Insights data analysis with you every week.
If you are interested in learning more about what is possible in today's market and what the data means for you, I am available for a confidential complimentary assessment and consultation.