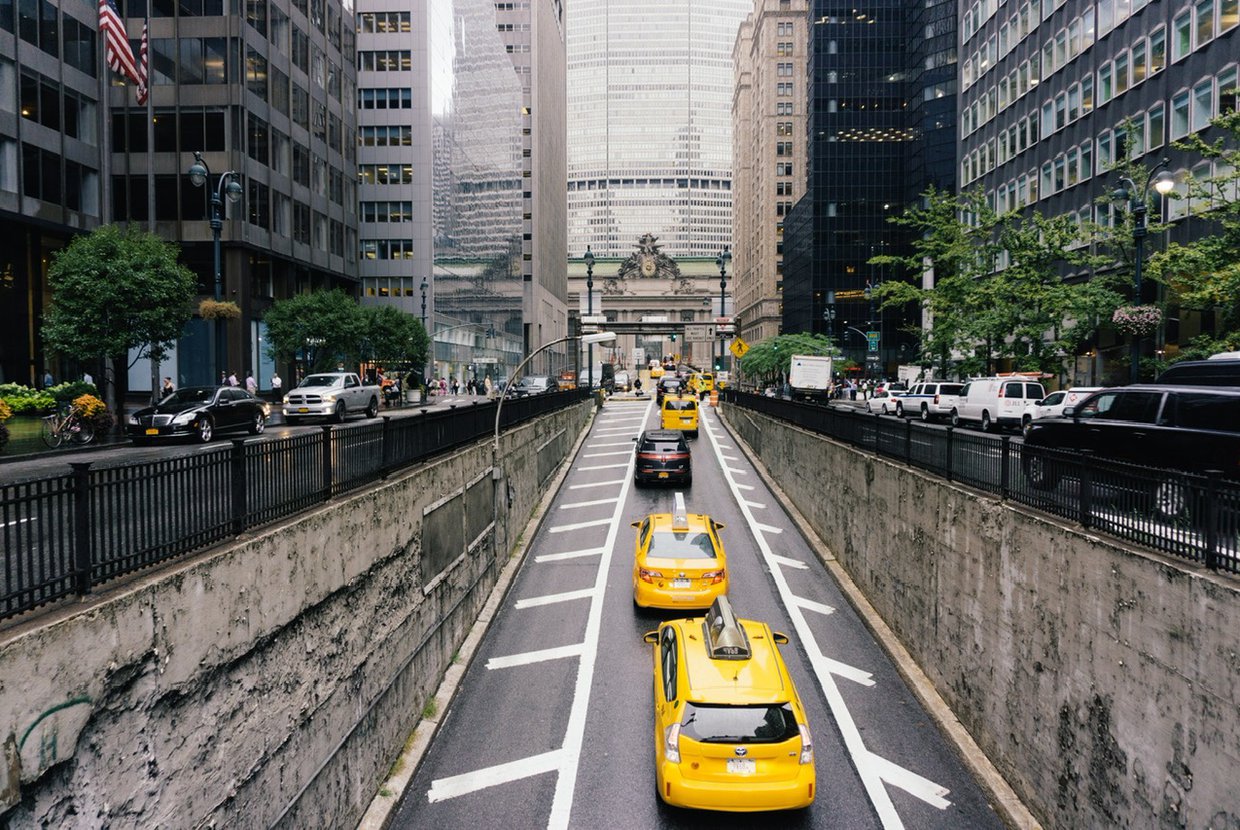 Throughout March, more than 300 contracts were signed each week. In total, 1,492 contracts were signed, setting a record for the highest monthly contract volume since March 2007. While supply continues to decline, crossing below 7K, pending sales continue to climb. As a result, the Market Pulse rose to 0.6, nearly entering sellers market territory.

Supply decreased by 1% to 6,966 units. This is the first time supply has been below 7K since the middle of July 2020 shortly after the shutdown ended. This week, 360 new listings came to market, a 6% decrease from last week and 39% decrease from the same week in 2019.
Pending Sales increased over 3% to 4,163 setting a new record for the second week in a row.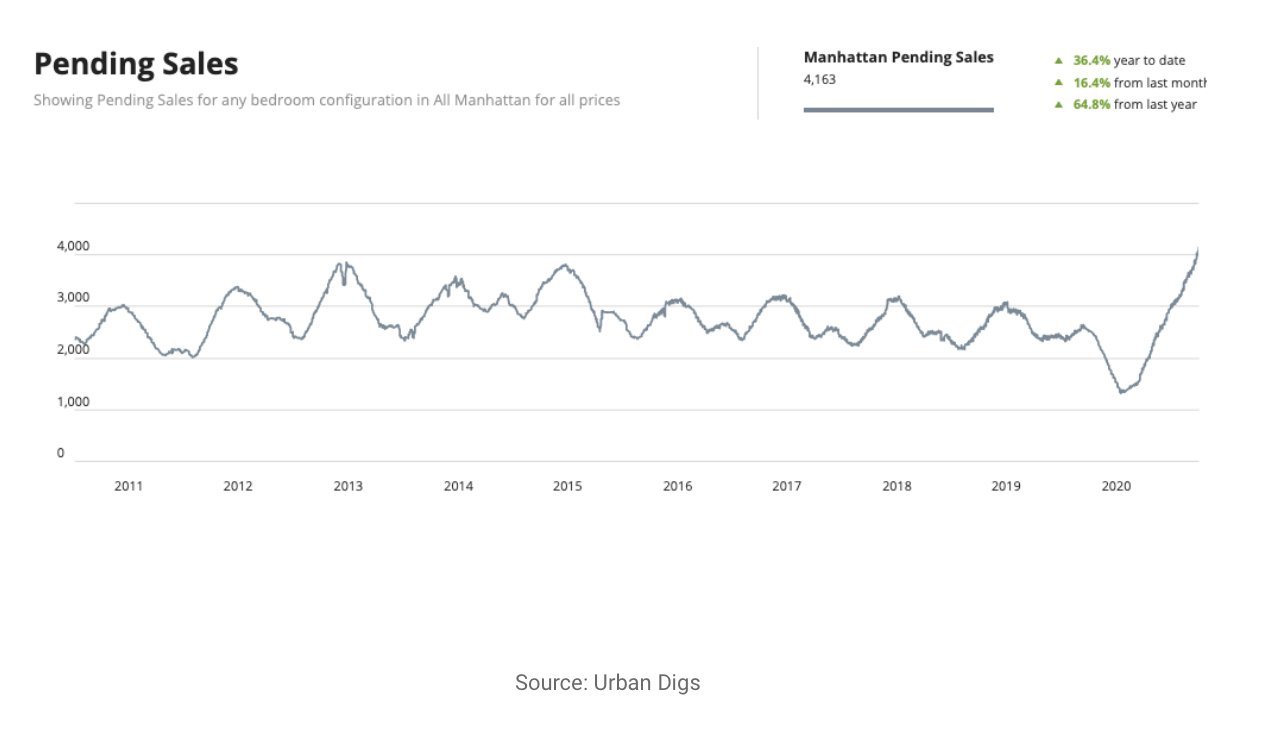 Source: Urban Digs
Contracts Signed - 344 contracts were signed this week a 1% increase from last week and a 58% increase from the same week in 2019. Weekly contract activity continues to set new records.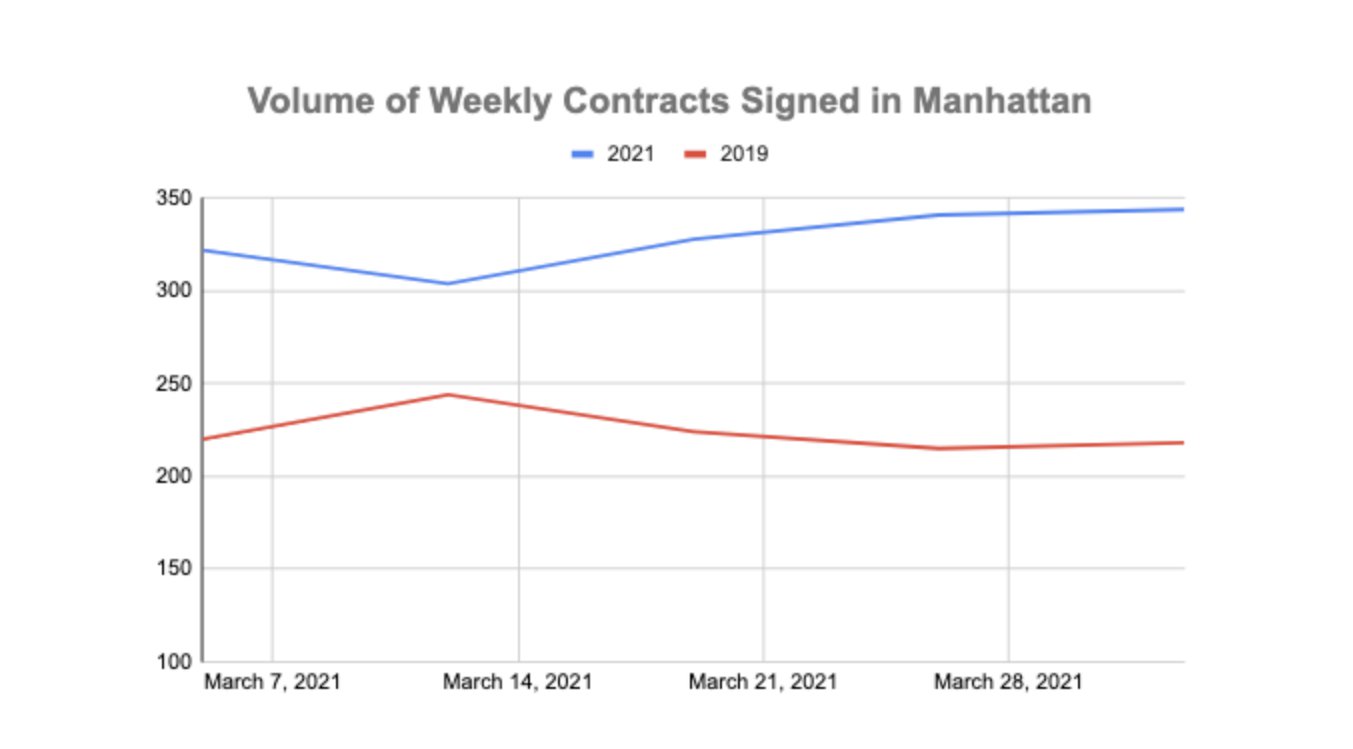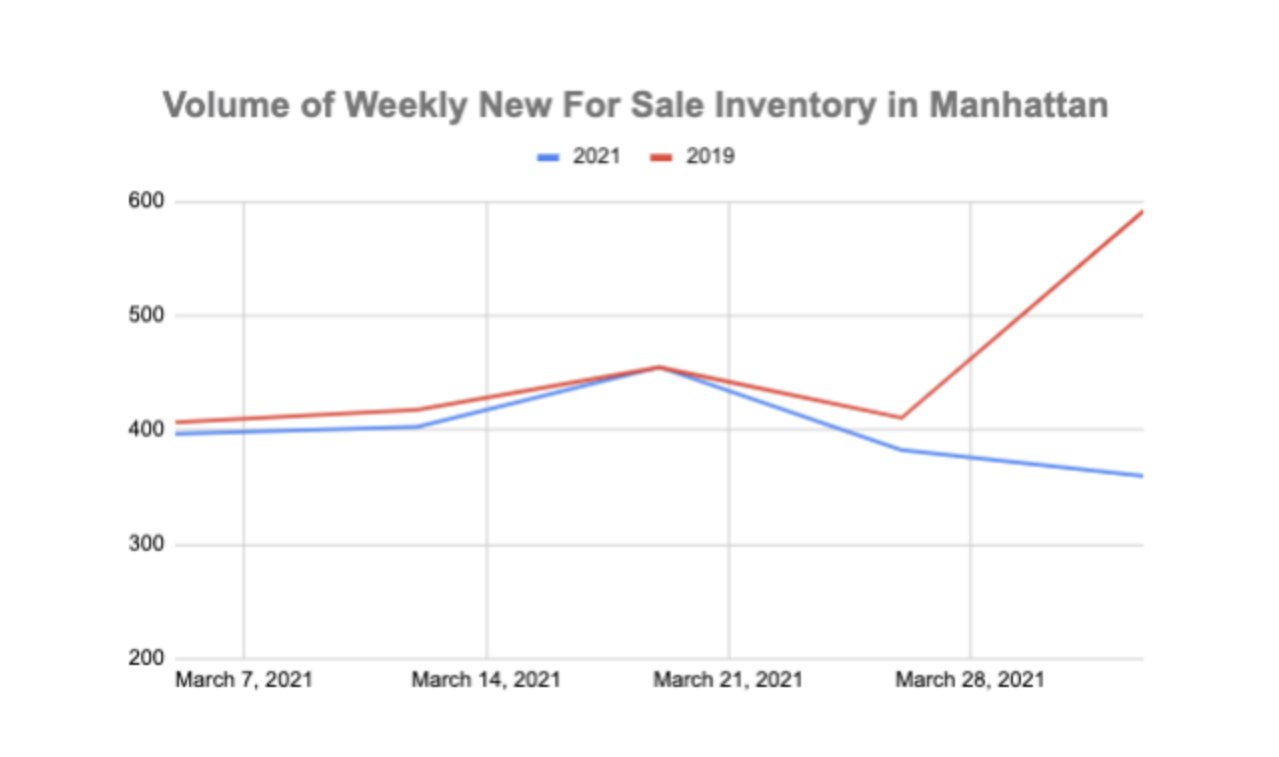 Weekly Contract Activity Analysis - Of the contracts signed this week, and based on the last asking price, the median price was $1.2M and the median size was 1,100 square feet.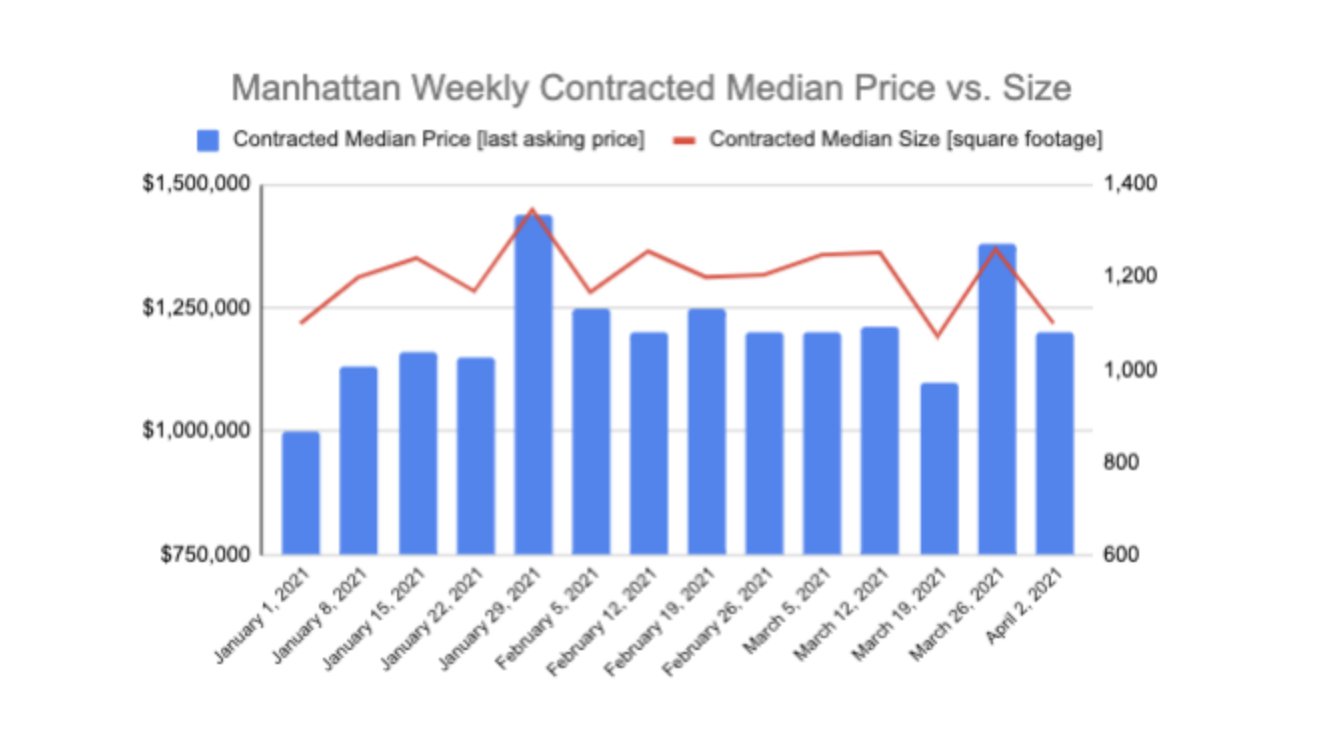 The Weekly Market Pulse increased again to 0.96 indicating nearly as many deals entered contract as came to market this week.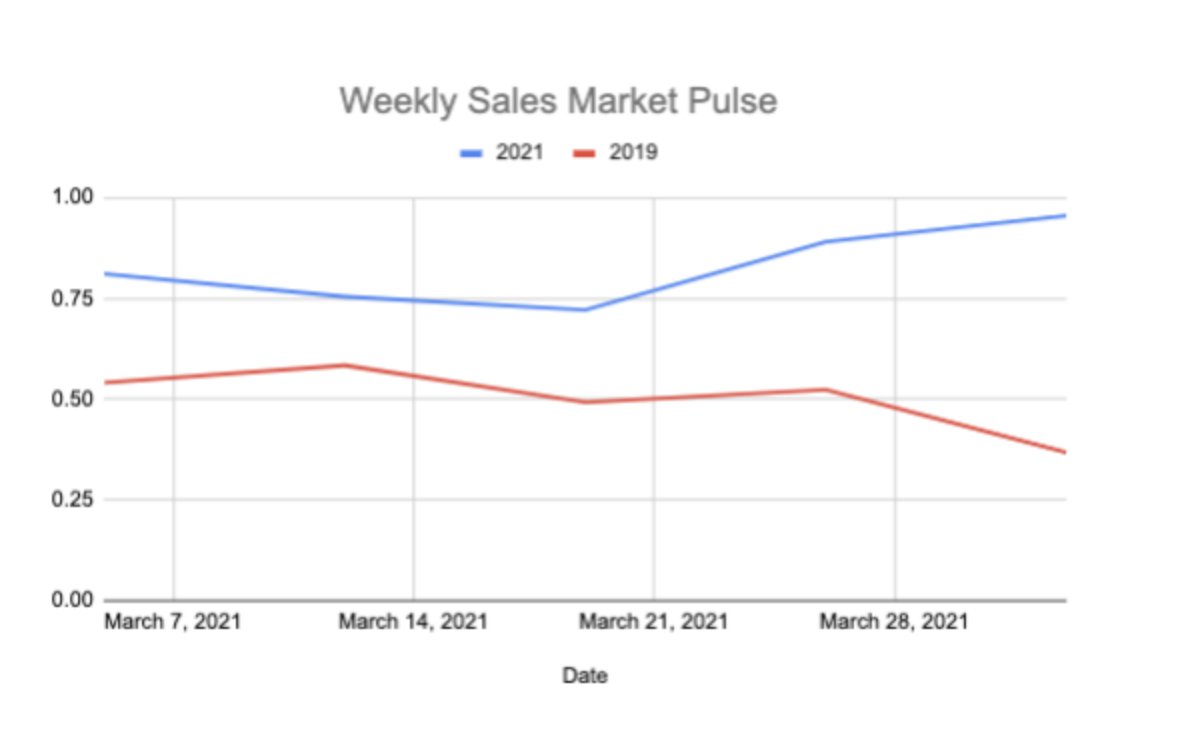 The Rental Market - Supply decreased again to 8,305 units as 689 new leases were signed and only 677 new listings came to market. New supply this week was 28% below the same week in 2019, while 77% more apartments were rented this week compared to the same week in 2019. The rental market pulse this week was 1.02, as more apartments were rented than came to market. As the rental market continues to improve, landlords are holding back inventory, awaiting the market's expected further recovery this summer. While concessions and discounts remain widespread, landlords are reducing the scope of such discounts and concessions.
New Development Insights
As reported by Marketproof, 89 new development contracts were signed this week, an uptick from the prior week. In the month of March, 419 new development contracts were signed, a 60% increase from February when 260 contracts were signed. Overall in March, Brooklyn accounted for 45% of the contract volume, while Manhattan accounted for 39%. By apartment size, 2-bedrooms accounted for 40% of the volume and 1-bedrooms accounted for 33%. In the past week, Manhattan accounted for 44% and Queens 19% of the signed contracts, and by size, 3-bedroom apartments accounted for 26% of the volume.
The following were the top selling new developments in March:
Prime LIC in Long Island City reported 18 new contracts signed.




Skyline Tower in Long Island City reported 12 new contracts.




One Clinton in Brooklyn Heights reported 9 new contracts.




552 Prospect Place in Crown Heights reported 9 new contracts.




277 5th Avenue in Nomad reported 7 new contracts.



Please contact me if you would like to learn more about these, or other new developments.
We will continue sharing the Elegran Insights data analysis with you every week.
If you are interested in learning more about what is possible in today's market and what the data means for you, I am available for a confidential complimentary assessment and consultation.